Reviews & Testimonials
Discover Guest Experiences at Brook Pointe Resort
Are you considering a getaway and wondering what to expect from Brook Pointe Resort? Our reviews and testimonials paint a vivid picture. The "Brook Pointe Resort Reviews" section is a treasure trove of real guest experiences and valuable insights.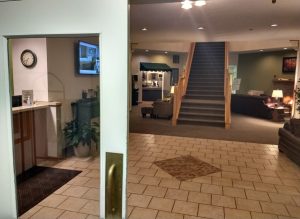 Each guest, upon the conclusion of their stay, shares feedback, and these responses have been accumulated since January 2012. The "Brook Pointe Resort Reviews" reflect our commitment to superior service and an unforgettable guest experience.
From couples recounting their enchanting stays under our Couples Romance Getaway package to families narrating their joyful vacations, every review is a testament to the unique experience that Brook Pointe Resort offers. Individuals seeking a tranquil retreat have found solace in our cozy corners, as depicted in their reviews.
So, as you navigate through the "Brook Pointe Resort Reviews", we hope the positive reflections of our guests inspire you to embark on your own memorable journey with us.
At the end of every stay guests are asked for their feedback. The below comments are just a few of the testimonials we have received since January 2012.
"Breakfast was yummy! Everyone is very nice. We would come back." — Cathy – PORTAGE IN November 2023
"Privacy, Peace, Quiet and Breakfast. Such a wholesome great place to stay." — Jeffrey – PENSACOLA FL November 2023
"Friendliness. We enjoyed it." — Elsie – TOPEKA IN November 2023
"Pool, Hot tub, Walk outside. We love it here." — Rhyneil – VALPARAISO IN November 2023
"Adult hours in the pool. Massage" — Diann – REYNOLDS IN November 2023
"How peaceful and beautiful it was. We received everything we asked for." — Tenaj – CHICAGO IL November 2023
"Friendly Staff. Easy access to things." — Amanda – Indianapolis IN November 2023
"This place is nice and relaxing. Just keep up the good work." — Marion – Ligonier IN November 2023
"Relax, Friendly Atmosphere. Keep up the good work!" — Olen – LAGRANGE IN November 2023
"Helpful staff. The attendant was so nice and extremely helpful" — Christy – SYRACUSE IN November 2023
"The quiet atmosphere and beautiful trails. We enjoyed it!" — Daryl – MIDDLEBURY IN November 2023
"Quiet, Clean friendly. Love it! It is awesome here. We have been here before" — Maynard – SHIPSHEWANA IN November 2023
"All good, Love the pool and the property. Beautiful resort, Very friendly staff." — Michelle – MARKLE IN October 2023
"Great Resort and very clean rooms. Hope to stay again and walk around the property." — Sara – GRANGER IN October 2023
"The hot tub, the adult swim and the egg made to order. Had an amazing weekend! Thanks" — Raven – VANDALIA MI October 2023
"Comfort and Clean. Everyone was nice and helpful." — Jonnie – MILFORD OH October 2023
"Exceptional Service" — Norman – MIDDLEBURY IN October 2023
"Jacuzzi Tub and super soft sheets. Breakfast was wonderful too." — Karen – ASHLAND WI October 2023
"Very quiet and Easy to find. Would stay again" — Joshua – SOUTH BOSTON VA October 2023
""Coming "home" twice a year for the last 6 years we come here. It is always great to see the familiar faces and the care they give" — Jan – LAGRANGE IN October 2023
"Home-Like feel. If we are back in town we will check in here" — Robert – INDIANAPOLIS IN October 2023
"Quiet, Lovely. Great stay! Thank you, We will return" — Randy – AUBURN IN October 2023
"Enchanted Forest, Jacuzzi" — Brad – HAMILTON IN October 2023
"Very friendly staff. Clean facility. We will come back again" — Marc – FORT WAYNE IN October 2023
"Everything! Front desk was nice and helpful. Can't wait to come again" — Tina – CRESTWOOD IL October 2023
"Hospitality, Clean Resort, Room, Kindness. Will stay here again. Alisa does a great job!" — Jeff – OCALA FL October 2023
"We enjoyed the fire pit and the great breakfast. Thanks for the good memories. It is our third time" — Richard – NEW PARIS IN October 2023
"Relaxing, Quiet place. This is a beautiful setting and we enjoyed our stay" — Meru – MIDDLEBURY IN October 2023
"We enjoyed our stay here." — Sheila – TEMPLETON MA October 2023
"We will be back and share with friends! Thank you!" — Ronald – MUNCIE IN October 2023
"The grounds are very nice. Room was very clean" — Robert – SYRACUSE IN October 2023
"We had a nice stay." — David – BRISTOL IN October 2023
"Mostly quiet. Affordable. We appreciated our VIP upgrade." — Lindsey – MORRISTOWN IN October 2023
"Relaxation. Was very enjoyable." — Joe – GOSHEN IN October 2023
"Location and Amenities. Thank you." — Eric – SHEBOYGAN WI October 2023
"The Grounds, The Staff, The Cleanliness. We will be definitely be back." — Suzette – LAFAYETTE MN October 2023
"Quiet, Great Accommodations" — Lonnie – LEESBURG IN September 2023
"Very comfortable bed. Like the snack bar. Big room appreciate "pet friendly policy"" — David – LEHIGH ACRES FL September 2023
"Enjoyed the campfire." — Gary – LIVINGSTON TX September 2023
"The massage was great. Loved the Jacuzzi tub in the room" — Douglas – ALBION IN September 2023
"We were all able to comfortable sleep after a day of celebrating. We appreciated being able to check in earlier than our standard time after a full day and night of travelling" — Brianne – OVERLAND PARK KS September 2023
"Pillows, Blankets, Walking Ground" — Brian – GOSHEN IN September 2023
"Very nice place, Clean, Quiet" — Scott – SAUGATUCK MI September 2023
"Quite. Free soda" — Bridgette – PONTE VEDRA BEACH FL September 2023
"The cabin was very peaceful and we could cook our meals and just stay in and relax" — Jamie – NEW PARIS IN September 2023
"Relaxing and Quiet" — Lynn – MILLERSBURG IN September 2023
"Very quiet and Clean! Overall we had a great stay and will be returning!" — Lyle – Laotto IN September 2023
"Quiet comfortable! Very nice stay. Thank you!" — Kandy – DELPHI IN September 2023
"We really enjoyed our visit, Thank you!" — Jayne – HAMMOND IN September 2023
"Quiet. We will stay here again when in town." — Michael – VEEDERSBURG IN September 2023
"Price, Enchanted Forest, Fire Pit. Love the special packages. Thank you" — Patty – ELKHART IN August 2023
"Quiet, Great staff, Complimentary treats/Food. We would come again happy with service." — Alex – NEW PARIS IN August 2023
"Love the enchanted forest." — Joanne – ELKHART IN August 2023
"The cabin was great. We enjoyed the Enchanted forest. The walk through the forest and the fire pit." — David – CARY IL August 2023
"Great staff, Enchanted Forest and beautiful place." — Shane – ROSEDALE IN August 2023
"The grounds, the staff and the enchanted garden. It was wonderful. Wish it could have been longer" — Charlene – SAN ANGELO TX August 2023
"Personalized service of the Couples Getaway, Jacuzzi room and massage. Very nice inn and location. Staff was great!" — John – ARGOS IN August 2023
"Clean, comfortable rooms, Convenient location. Keep up the great work. We enjoyed the breakfast offerings." — Joseph – NORTH WALES PA August 2023
"Peaceful and beautiful. Everything was great. Thank you for a great weekend. Keep up the great job." — Carol – NEW PARIS IN August 2023
"Weather, the grounds, spacious room, window view. Thank you for making a special space." — Susan – CAVE CREEK AZ August 2023
"Peaceful, Relaxing setting. Great place to unplug! Thank you for your kind management." — Randal – LOUISVILLE KY August 2023
"The pool was fantastic, as well as the breakfast bar. We enjoyed walking around the grounds too." — Crystal – MUNCIE IN August 2023
"Location, Outside games and Everything. Thank you for a nice place to stay" — Ganna – SOUTH BEND IN July 2023
"Spacious Room, Nice Grounds. Friendly employee." — Carolyn – COLUMBUS IN July 2023
"The fire pit with the swings and all of the games and the staff!" — Kathleen – WESTFIELD IN July 2023
"Entire staff was great! We will be back." — Scott – MIDLOTHIAN IL July 2023
"The pool, Zipline and other activities. Thank you for letting us visit" — Mariah – ELWOOD IN July 2023
"Seeing a friendly face, always! Keep up the wonderful service!" — Alexys – NEW PARIS IN July 2023
"Beautiful outdoor property. Had a great stay!" — Eillen – EVANSTON IL July 2023
"We love the woods! The gnomes are wonderful! Thank you so much!" — Rebecca – KIMMELL IN July 2023
"Very kind and helpful. Great Place!" — Deborah – OSSIAN IN June 2023
"The beautiful room with the rose petals and white wine. The staff was very friendly." — Bill – BRINGHURST IN June 2023
"Clean, Comfortable Breakfast. We were happy. Thank you!" — Wayne – OSSIAN IN June 2023
"Really comfortable bed, Clean room, Quiet Hotel. We will be back for the annual reunion!" — Kristine – MINNEAPOLIS MN June 2023
"Quiet, Beautiful grounds. I would do a romance package again. Staff was friendly and accommodating. We will be back." — Sheila – GREENWOOD IN June 2023
"Cabin very clean. Helpful, Friendly, Kind, Courteous and a pleasure to do business at the front desk." — Barbara – ENGLISH IN June 2023
"Breakfast and Atmosphere." — Richard – SPRINGDALE AR June 2023
"Everything was great! Julie was excellent and very helpful." — Kursty – ANGOLA IN June 2023
"Very lovely surrounding area. We enjoyed our stay." — Sigfrido – WEBSTER NY June 2023
"Quiet, Beautiful Grounds." — Richard – MARION IN June 2023
"Checkin staff very friendly and helpful." — Dave – SELINSGROVE PA June 2023
"Clean rooms. The front desk staff and cleaning staff have been wonderful and great!" — George – KANSAS CITY MO June 2023
"Location, Amenities. We appreciated the kind, helpful employees." — James – MARION IN June 2023
"Pool, Outside space. This is a hidden gem that we will tell our friends about." — Mariah – ELWOOD IN June 2023
"The pool room redecoration is very nice. This was our 58th anniversary getaway. Very nice." — Claude – GRABILL IN June 2023
"Pleasant Landscaping and massage." — Paula – WARSAW, IN May 2023
"The atmosphere of the room along with all the extra amenities. We had a relaxing and enjoyable stay. Thank you for everything!" — Eli – FRANKFORT, IN May 2023
"Very nice people and rooms. Thank you Sam and Crew!" — Brian – EATON, IN May 2023
"Quiet and comfort." — Odis – DANVILLE, AL May 2023
"Beautiful area. Shower great. Good Breakfast. Friendly staff. If I come through this area again I would stay again." — Thomas – OSHKOSH, WI May 2023
"Friendly staff." — Helmut – CROWN POINT, IN March 2023
"The staff and the Inn being so comfortable. Thank you for your Hospitality" — Monica – ELKHART, IN February 2023
"We both really liked how the room was set up when we go here. Jacuzzi was awesome too!" — Maddison – CROMWELL, IN February 2023
"The breakfast was so good. Love the home like feel. We will be back!" — Jillian – LOWELL, IN February 2023
"Very quiet. Very comfortable beds. Great Breakfast!" — Ruth – WAKARUSA, IN February 2023
"The room was clean. Brittany did a great job to help us with all the questions. Thank her for her time and kindness." — Matthew – MILLERSBURG, IN January 2023
"Room was nice and clean. Thanks!" — Merlin – SHIPSHEWANA, IN January 2023
"Quite. We love this place" — Cora – MENTONE, IN January 2023
"Clean nice room. The Pool. Good Breakfast. Great place to stay. Thank you!" — Donata – CLAYPOOL, IN January 2023
"Front staff was awesome." — Shareen – ROCKFORD, IL January 2023
"Quiet getaway. Breakfast was great. Value cards was a plus. Staff was very friendly." — Jerry – INDIANAPOLIS, IN January 2023
"Peaceful, Clean, Friendly facility. Alisa did an excellent job of preparing our room!" — Jim – ROCHESTER, IN January 2023
"Room setup was very beautiful and thoughtful. Everyone had a very warm and motivating presence and it was very appreciated" — James – GOSHEN, IN January 2023
"This was a quite stay. We had a great time. Thanks" — Jerry – GOSHEN, IN January 2023
"Clean rooms. Fun pool. Thank you" — Molly – HORTON, MI January 2023
"We always enjoy staying here. The pool, The hot tub, The cookies, the atmosphere, and the staff." — Maegan – ELKHART, IN January 2023
"The staff goes above and beyond to treat guests kindly and assist their needs." — Ashley – SYRACUSE, IN December 2022
"Nice and quiet and friendly staff. Everything was great" — Jeff – BRISTOL, IN December 2022
"Very courteous and helpful staff. Very clean room. Will be definitely return." — William – PITTSBORO, IN November 2022
"The grounds, the staff and the feeling of "clean" when I walked in the resort and my room. It was a unique experience" — Patricia – WINDHAM, OH November 2022
"Love pool and Fire pit. Awesome staff!" — Gregory – AVON, IN November 2022
"Peaceful. It was great" — Harold – HUNTERTOWN, IN November 2022
"The rooms were very clean, Friendly staff. Good job. Nice place to stay." — Zachary – KIMMELL, IN November 2022
"Peaceful surrounding. Our maid Jill did an outstanding job cleaning our room." — Patricia – FORT WAYNE, IN October 2022
"We enjoyed our stay." — Candy – HOHENWALD, TN October 2022
"The walking Trails!" — Tracy – FORT WAYNE, IN October 2022
"The Jacuzzi Tub and the awesome staff (Julie is fantastic). We were impressed with our room, the grounds and being treated so well." — Nicole – FORT WAYNE, IN October 2022
"Everything was nice and satisfactory. We were really surprised how nice everything was." — Carolee – RAMSEY, IL October 2022
"The site is very homely. The grounds were fun to explore. Soft water! so nice" — Carmen – SPENCERVILLE, IN October 2022
"Great overnight stay. Excellent job!" — Christine – LOWELL, MI October 2022
"Really enjoyed our stay. Everyone was very friendly. Will definitely come again and highly recommend others." — Marie – HOMEWOOD, IL October 2022
"Nice quiet rooms. Very nice hotel, Very nice amenities, Loved the fire pit." — Beth – SHELBY, MI October 2022
"Comfortable room. Keep the lady at the front desk on your staff. She was very friendly and helpful" — Hope – SOUTH BEND, IN October 2022
"Nice and quite beautiful facility. We hope to stay again." — David – SEYMOUR, IN October 2022
"Cleanliness, Friendly staff. By far this is the best hotel in the area I stay whenever possible." — Austin – KOKOMO, IN October 2022
"Very quiet, very clean, the entire stat was great! Very nice! Totally exceeded my expectations" — Jennifer – ANDERSON, IN October 2022
"The quite setting and the friendly staff. Thank you." — Phil – FREEMONT, IN October 2022
"Friendly staff, Clean rooms. Would like to bring my siblings sometime" — Daniel – TOPEKA, IN October 2022
"Nice quite place. Thanks for everything!" — Jesse – MISHAWAKA, IN October 2022
"Everything! Breakfast was great. Good Job." — Alaina – New Park, PA October 2022
"Clean, Quiet, The chance to do all the above, facilities maintained. I would stay without changes. Love breakfast" — Mike – New Castle, IN October 2022
"It is always clean and quite here. Nothing we will definitely be staying again." — Bobby – Syracuse, IN October 2022
"Everything! Very relaxing. Definitely we will be back again! Everyone was super nice." — Jeff – STEGER, IL October 2022
"Very comfortable and the staff was very friendly. This is our third time and we will be coming back. This is a great place." — Mike – Fort Wayne, IN October 2022
"Everything other hotels do not offer. Had a really nice getaway!" — Wesley – Ligonier, IN October 2022
"The room was absolutely beautiful. Alisa did a wonderful job. Thank you for your hospitality" — Amarae – Syracuse, IN October 2022
"Friendly staff, cozy atmosphere, Jacuzzi tubs Thank you!" — Maria – Fort Wayne, IN October 2022
"Peaceful, Clean. We are already encouraged to stay again! Considering your loyalty program" — Kevin – FORT WAYNE, IN September 2022
"We enjoyed the outdoors and everything!" — Daniel – DOWLING, MI September 2022
"Quiet and Clean. See you soon." — Jeff – OCALA, FL August 2022
"Clean, Quiet. Enjoyed the grounds. The night front desk girl was very nice and helpful." — Brenda – FOSTORIA, OH August 2022
"Nice Location. Nice resort." — Karen – LEBANON, IN August 2022
"Quite space. We enjoyed our stay!" — Jack – WEST GROVE, PA August 2022
"The Friendliness of the staff. Good Value for the Couples Romance Get Away. The outside area of the property is lovely." — Don – LAFAYETTE, IN August 2022
"Easy to get to, Clean room, Great Breakfast, Very little use of plastic. I would stay here again!" — John – HARLAN, IN August 2022
"Comfort staff. Thank you" — Joan – MILFORD, IN August 2022
"Breakfast was excellent!" — Debra – CEDAR SPRINGS, MI August 2022
"Staff was very accessible, Kind and Helpful. Everything was fine" — Karen – MARQUETTE, MI August 2022
"Quiet, Peaceful and Clean. Loved it. Will come back again." — Bryan – ELWOOD, IN August 2022
"Everything! Please don't change anything!" — Michael – PORT CHARLOTTE, FL August 2022
"Atmosphere and the place itself. We enjoyed every minute" — Nicole – GOSHEN, IN August 2022
"It was the only hotel I found in your town on google map. But it is a nice place." — Mike – JOHNSBURG, IL August 2022
"The Location, Beautiful property, Quite, Great staff, Great facility, Very clean, Great value" — Robert – INDIANAPOLIS, IN August 2022
"We love the big comfy bed, the salt water pool and all the nice people. I would like to say thank you for the amazing experience" — Nicholas – HUNTINGTON, IN July 2022
"Everything! We will return!" — Karen – MARION, IN July 2022
"The private hot tub in the room and the rose petals topped it off. Awesome experience. We would like to come again and stay again. Looking forward to it" — Tina – WARSAW, IN July 2022
"We enjoyed our stay very much." — James – CROWN POINT, IN July 2022
"Relaxing. Thank you for everything. We enjoyed our stay." — Nathan – SHIPSHEWANA, IN July 2022
"Clean, Well kept rooms. Quiet." — Sharon – CLEVELAND, OH July 2022
"Nice clear rooms. We will be back four more times this summer." — Korry – FULLERTON, CA July 2022
"The room is nice and peaceful" — Keith – SILVER LAKE, IN July 2022
"Feels homely, Bed was comfortable. Our time here is encouragement enough to come back. Thank you for a great Couples Romance Getaway" — Mark – FORWAYNE, IN July 2022
"Location and Atmosphere. Very nice and Friendly. Helpful staff." — Rachel – BRYANT, IN June 2022
"Quiet and Peaceful. Fire Pit. Thanks." — Jeff – ANGOLA, IN June 2022
"Jacuzzi. Comfortable bed, Quiet." — Rebecca – GOSHEN, IN June 2022
"The Bed slept good. Quiet, Clean and Comfortable." — Mary – MIDDLEBURY, IN June 2022
"We enjoyed the hiking and ziplining. The employees were great to talk to and did such a great job." — Sam – COLUMBIA CITY, IN June 2022
"Everything was wonderful!" — Carol – FORTWAYNE, IN June 2022
"Accommodations were very pleasant." — Max – AJO, AZ June 2022
"The setup of the resort and relaxed feeling." — Leon – NEW CARLISLE, IN June 2022
"Pet friendly that you trust we will treat it like our own home. Feels like home. Love the pillows. Friendly front desk staff. Breakfast awesome." — Sheri – ANDERSON, IN June 2022
"The courteous staff. They were all vey helpful." — Albert – KOKOMO, IN June 2022
"Friendly, Very nice atmosphere and clean. I will be happy to come back. Everyone is so nice and helpful. Wonderful Breakfast!" — Nicholas – INDIANAPOLIS IN June 2022
"Pleasant room – Loved that the windows opened!. Our room was clean and have a lovely view of the woods" — Linda – TOLEDO, OH June 2022
"Nice room, Friendly staff." — Jay – COLUMBUS IN June 2022
"Staff is awesome. Very helpful. Great people. Loved staying. Will be back." — Bill – INDIANAPOLIS IN June 2022
"The outdoor facilities: Enchanted Forest, Zipline, Fire Pit. We also loved the cookies in the evening." — Joey – SYRACUSE IN June 2022
"Peaceful Grounds. Excellent service. We enjoyed meeting the owner and his daughter. We like a friendly atmosphere." — Ellen – INDIANAPOLIS IN June 2022
"Beautiful setting. Friendly, helpful staff, clean rooms." — Peggy – SAINT JOSEPH, MI May 2022
"The relaxed atmosphere. The friendliness of the staff." — Danny – GOSHEN, IN May 2022
"The room was very comfortable. All staff was so helpful. Everything was great" — Gerald – FORT WAYNE, IN May 2022
"Everyone was friendly and helpful. Everything was perfect. Thank you" — Cassandra – JEFFERSON, IA May 2022
"I liked the cleanliness, and the courtesy of everyone. The stay was great!" — Andrew – CHICAGO, IL May 2022
"We enjoyed everything. Great place for a romantic getaway. We will be back." — Jeff – WARSAW, IN May 2022
"The Room. Hot Tub. We enjoyed everything! We will definitely be back" — Denise – HAMMOND, IN May 2022
"Very cozy, comfortable bed and a nice old quality shower. Good job and Good luck!" — Benjamin – UPLAND, IN May 2022
"The quiet and the beautiful area. The ladies here was so helpful and understanding" — Roger – FORT WAYNE, IN May 2022
"The Gorgeous grounds, Pet friendly, Fresh made Breakfast, Supreme cleanliness" — Dave – DES MOINES, IA May 2022
"Very quiet, nice grounds, Friendly staff. Very nice place to stay" — Sandra – FRANKLIN, IN May 2022
"The Jacuzzi and the quiet. Thank you for a lovely experience. We really enjoyed it here." — Chrissy – GOSHEN, IN May 2022
"Clean and Friendly atmosphere" — Nelson – MILLERSBURG, IN May 2022
"Very quiet and peaceful. All was good" — Kylee – LEESBURG, IN May 2022
"Your staff. They always treat us so well. Sam and Julie always go above and beyond. We appreciate all you do to make our stay wonderful. You always seem to make improvements. Thank you for taking care of the place." — Jan – COLUMBIA CITY, IN May 2022
"Peaceful atmosphere, spacious room. We hope to come back" — Bryan – GREENWOOD, IN May 2022
"Clean, Friendly Staff" — James – YOUNGSTOWN, OH April 2022
"Very nice and peaceful atmosphere" — Rachel – NAPPANEE, IN April 2022
"Everything was perfect! We had a blast" — Andrew – YOUNGSTOWN, OH April 2022
"Everyone was very friendly, Loved the pool. We would definitely stay again. We loved the cozy atmosphere and the Enchanted forest was great!" — Rebekah – SEYMOUR, IN April 2022
"Location, Friendly staff, very clean linens." — Doug – PLAINFIELD, IN April 2022
"Everything – Staff was great. Will be back for sure." — Sherri – TOLEDO, OH April 2022
"Great place!" — Leslie – MILLADORE, WI April 2022
"Breakfast, Spacious Room, Comfy bed. I would stay here again if in town." — Kent – BLUFFTON, IN April 2022
"The atmosphere, the fire pit, pool and Breakfast too" — Joseph – GAYLORD, MI April 2022
"Everything was great. The Jacuzzi and the lava cakes were exceptional." — Lindsay – NAPPANEE, IN April 2022
"Quite, Convenience Location. We will be definitely stay again" — Jae – SYRACUSE, IN April 2022
"Pet friendly, Quiet, Staff. Keep it up, doing a great job. We will be back." — Dawn – MURFREESBORO, TN April 2022
"Being able to swim, Very nice room, Very friendly and Helpful staff." — Thad – WARSAW, IN April 2022
"Heated Pool, Cozy." — Bethany – GOSHEN, IN April 2022
"The pool, the room and Board games. Enjoyed being here. Will be back." — Bethany – SYRACUSE, IN April 2022
"Thoughtful details, Surprises on the grounds zip line, Enchanted forest. We will be back." — Mark – ANGOLA, IN April 2022
"The room was very nice along with the employees." — Shannon – BURKET, IN March 2022
"Great staff. Very helpful and friendly." — Rodney – BERNE, IN March 2022
"Pool, Staff was very and helpful." — Kristy – BRISTOL, IN March 2022
"The staff is so friendly. I love it here. Will be back again for a personal stay!" — Maya – GARY, IN March 2022
"Hospitality was excellent." — Jack – CONNEAUT, OH March 2022
"The wonderful meeting area in the lobby by the fireplace. Very nice staff." — Louise – MARINE CITY, MI March 2022
"The friendly staff, Quiet and peaceful, We had a amazing time and definitely will be back. We enjoyed our massages." — Margaret – FORT WAYNE, IN March 2022
"Clean, Relaxed atmosphere." — David – MILLERSBURG, IN March 2022
"The nice clean rooms and friendly staff. We hope to come again." — Earl – MILLERSBURG, IN March 2022
"Quite and peaceful. Everything great!" — Reynaldo – DONNA, TX March 2022
"Beautiful, Spacious rooms, lounge area upstairs. Friendly staff and check in." — Sarah – CHASE, MI March 2022
"The comfortable beds and pillows. The peacefulness, Great and helpful staff." — Elizabeth – GOSHEN, IN March 2022
"Reasonable price, Friendly and peaceful atmosphere." — Jennifer – KENDAVILLE, IN February 2022
"We loved how quiet the hotel is and the beautiful "bed and breakfast" type of setting. We already want to make plans for our next stay." — Ryan – FORT WAYNE, IN February 2022
"Nice, Quiet, Clean, Romantic setting." — David – SPENCER, IN February 2022
"The staff were courteous and helpful. We also loved the cleanliness of the hotel and air room." — Scott – GREENFIELD, IN February 2022
"The peacefulness and the friendly staff. We really enjoyed the stay. Had a wonderful time." — Nelson – APPLE CREEK, OH February 2022
"Nice. Quiet." — Lavon – TOPEKA, IN February 2022
"How clean it was. We are thinking about our wedding to be here. Perfect. Will stay again." — Jordon – PLYMOUTH, IN February 2022
"Relaxed environment, Friendly staff, Beautiful notes." — Ashley – GOSHEN, IN February 2022
"Large clean room, Comfortable bed, Large TV with firestick and netflix. Friendly and helpful staff. We will definitely be back." — Brandon – MILFORD, IN February 2022
"The Respect. I had a amazing stay and thanks to Colin for the respect he showed me any my visitor" — Stephanie – NORTH WEBSTER, IN February 2022
"Comfortable, quiet, resort, very accommodating. Julie was amazing helping with shower and accommodations" — Denise – GRAYLING, MI February 2022
"Friendly staff. The girl at the front desk was so pleasant and the girl in the kitchen also." — Mandy – NEW PARIS, IN February 2022
"Rooms are nice. TV options are awesome, beds are comfy." — Annie – GOSHEN, IN February 2022
"Quiet, clean. We will always come back!" — Angela – CROMWELL, IN February 2022
"Nice, clean, Intimate facilities and friendly, flexible and helpful staff" — Greg – GOSHEN, IN January 2022
"Clean rooms and conference room availability" — Sylvia – GARY, IN January 2022
"Everyone is super sweet. Will be definitely back." — Dawn Reamer – MURFREESBORO, TN January 2022
"The in-room jacuzzi was great. The special amenities for this getaway was really great. Everything is clean." — Jesse – GOSHEN, IN January 2022
"Dog Friendly" — Nathan – MINSTER, OH January 2022
"Quiet atmosphere and friendliness. We will be back." — Mark – FAIRLAND, IN December 2021
"Everything was clean." — Joshua – LADORA, IA November 2021
"Fire pit, Trails and Games." — Brian – SYRACUSE, IN November 2021
"Amazing customer service. Thanks for everything. We do love coming here." — Pam – MERRILLVILLE, IN November 2021
"Hospitality at delicious Breakfast, Beautiful scenery. This place is so clean! We will definitely be back here." — David – CHICAGO, IL November 2021
"Quiet, Secluded, Love the Inn. Staff did a awesome job." — Ernie – MIDDLEBURY, IN November 2021
"Everything – You had great hospitality. Thank you for everything and may God Bless you!" — Dennis – SAINT PETERSBURG, FL November 2021
"The privacy and nice welcoming room! Thanks for letting us gather in dining room with friends!" — Roseanna – SHIPSHEWANA, IN November 2021
"Jacuzzi, comfortable bed. Had a great I-day getaway. We will back." — Tammy – ANDERSON, IN November 2021
"Very comfortable and quite atmosphere. Really appreciate everything offered with the room even down to the rose petals" — Tonya – MISHAWAKA, IN November 2021
"It was quiet! The jacuzzi tub was warm and the perfect size. We will be back earlier to use more." — Jason – COLUMBIA CITY, IN November 2021
"Love firepit, Enchanted forest, Nice rooms. Nice staff." — Robert – VALPARAISO, IN November 2021
"Quiet atmosphere, Clean." — Roseanna – SHIPSHEWANA, IN November 2021
"The bed and chocolate cake. Great stay and service." — Jason – GOSHEN, IN November 2021
"Room was clean. The front desk staff was very cordial, friendly and most accommodating. we enjoyed their friendliness." — Jerry – SHIPSHEWANA, IN November 2021
"Everything! Especially the beautiful scenery. We already want to stay again" — Devon – FORTWAYNE, IN November 2021
"Very clean and quiet. I will be staying again." — Richard – INDIANAPOLIS, IN November 2021
"Quiet, Relaxing, Convenient Location." — Greg – MCCORDSVILLE, IN November 2021
"Friendly Staff. Enjoyed our stay!" — Marcella – BLUFFTON, IN November 2021
"How well the staff treats us. We keep staying twice a year because of how nice everyone is." — Mary – PLEASANT LAKE, IN November 2021
"We just wanted to thank your hardworking staff. We know you know however we see them all weekend long working hard." — Jan – COLUMBIA CITY, IN November 2021
"Away from town, Quiet, Very nice scenery. Beautiful property. Staff was very nice and helpful. Everything is nice and clean. Place is lovely inside and out." — Michelle – ALBION, IN November 2021
"Nice rooms, Comfortable beds and bedding. Great Location." — Lynda – INDIANAPOLIS, IN November 2021
"Loved the friendly and helpful staff. Loved the lava cakes. Enjoyed the quiet and beautiful atmosphere. Thank you for a great stay!" — Nick – BOYNTON BEACH, FL November 2021
"Friendly and helpful staff, Calm and quiet. This is our 3rd year coming here for the Couples Romance Getaway." — Brittney – WARSAW, IN November 2021
"Room clean and spacious." — Frances – WYANDOTTE, MI November 2021
"Welcoming room, Pretty grounds, Fresh baked cookies, Lava dessert, Friendly staff, Warm pool. Enjoyed our time here." — Dale – HUNTINGTON, IN November 2021
"Clean, Keep it up, Good job. Shawn – Excellent job" — John – WARSAW, IN November 2021
"The staff was absolutely Amazing! So very much enjoyed our stay." — Blaine – SYRACUSE, IN November 2021
"Relaxing, atmosphere, Great Staff." — Monte – MONTPELIER, OH November 2021
"Cleanliness." — Marcia – PIERCETON, IN October 2021
"Friendly people like Brittney to help us out. Room super clean." — Trina – LEESBURG, IN October 2021
"Pleasant atmosphere and Friendly staff. Beautiful Surroundings." — Donnie – BRANDON, FL October 2021
"All was great." — Kent – FORT MC COY, FL October 2021
"Ben you have a great place here. We are moving to FL and choose to stay here last night." — Sherri – NEW PALESTINE, AL October 2021
"Clean, Quiet, Friendly. We would stay again." — Marcia – NEW PALESTINE, IN October 2021
"Nice clean room, very quiet." — Merly – SOUTH BEND, IN October 2021
"We were treated very good. We will be back." — Richard – LAWRENCE, MI October 2021
"Fire-pit, walking trails, friendly staff. It was awesome. Considering VIP next year." — Tony – AVON, IN October 2021
"We loved the Jacuzzi! We really enjoyed our stay! Everything was clean, the staff was friendly, and the nature trails are lovely" — Alaura – CHICAGO, IL October 2021
"Friendly, Clean, Quaint." — Sharon – NORMAL, IL October 2021
"April and Brittany were amazing at customer service! The hospitality was great! Thank you! Be back soon" — Troy – CANAL WINCHESTER, OH October 2021
"Everyone was very nice. Very clean hotel. We will definitely be back again." — Derick – PORTAGE, IN October 2021
"Lovely facility and setting. Comfortable rooms and beds with good pillows. Friendly hard-working staff." — Ruth – WARSAW, IN October 2021
"Great place to stay. Enjoyed the Jacuzzi in our room and the walking paths. Cookies were good. Your staff was very friendly and helpful." — Brenda – LIMA, OH October 2021
"Staff was great! Cookies were yummy!" — Vanessa – WARSAW, IN October 2021
"I liked your amazingly kind and helpful staff. How did you ever find so many good employees? I liked how clean everything is and the beautiful location." — Terry – FRANKLIN, IN October 2021
"We loved the zipline! This inn smell so clean and nice. This place is a great get away from the big city of Chicago!" — Teresa – BOLINGBROOK, IL October 2021
"Quiet, Beautiful Grounds!" — Cinthia – MILWAUKEE, WI October 2021
"The drive for excellence and well thought out amenities and extras. The cookies are an awesome touch." — Michelle – Warsaw, IN October 2021
"Nice big clean rooms" — Ethan – FLEMINGSBURG, KY October 2021
"The staff when we arrived was so nice. She went above and beyond to make us feel welcome. This is a beautiful place. The details are huge. The decor is wonderful." — Lisa – CLAIRTON, PA October 2021
"Very relaxed atmosphere." — Antonio – ELKHART, IN October 2021
"Friendly staff, Room decorated, Beautiful location, Zipline was fun" — Julie – WARSAW, IN October 2021
"Friendly staff, adult swim time, super cute firepit, clean rooms. We will definitely stay here again." — Joseph – FORT WAYNE, IN October 2021
"Everyone was so nice and this place is so welcoming! Well done!" — Brooke – PAYNE, OH October 2021
"The friendly staff members were very welcoming especially at check-in." — Dan – KIMMELL, IN October 2021
"Clean and updated and we had great fun at the zipline and enchanted walkway and trails" — Ken – GRIFFITH, IN October 2021
"Very nice place to relax! Thanks Ben and staff for a great stay!" — Daniel – PREBLE, IN October 2021
"A nice clean place, a friendly welcome. It is a beautiful place and I really enjoyed it. I would enjoy coming again." — Anna – MILLERSBURG, OH October 2021
"Nice and Quiet – We love the trail walking in woods. Good Breakfast. Clean rooms" — Ernest – MILLERSBURG, OH October 2021
"Very quiet. Very nice at front desk, rooms were very clean. Definitely will be back." — Cheri – CONWAY, MO October 2021
"Grounds are beautiful. Relaxing atmosphere. Homey touches that are not in the big chain locations. Love the rural wooded location. Saw a deer run across the yard in back" — Lora Penn – BLUFFTON, IN September 2021
"Staff was excellent. The made to order breakfast was appreciated. We enjoyed the fire pit. The room was clean and beds comfortable" — Maureen Castro – DURHAM, NC September 2021
"Quiet, Clean, Friendly and Helpful" — Norma Eberhart – NASHVILLE, IN September 2021
"Hotel was very clean and breakfast was great. Staff was very friendly – Thanks" — Charles Henn – INDIANAPOLIS, IN September 2021
"Staff was nice, polite and breakfast was good. Clean comfy room" — Whitney Welch – REED CITY, MI September 2021
"Very clean, cordial staff" — Becky Smith – ARLINGTON, GA September 2021
"Friendly staff!" — Joey – CARMEL, IN September 2021
"Nice, quiet stay, Friendly and helpful staff" — Jacob – WEST UNION, SC September 2021
"Everything! We try to come here at least once a year. Always a great time and love the additions to the property!" — Melissa – SOUTH BEND, IN March 2021
"Great accommodations. Enjoyed our stay!" — Susan – SPRING VALLEY, IL March 2021
"The smart TV and jacuzzi tubs were nice. The room was clean and nicely set up." — Scott – FORT WAYNE, IN March 2021
"Convenient location and has a warm and comfy feeling when you walk in both upstairs and downstairs." — Karl – REED CITY, MI March 2021
"Front Desk was very hospitality. Thank you so much. We will recommend you to others." — Nelson, IN March 2021
"It was peaceful and relaxing. Room was awesome, service was great" — Larry, IN February 2021
"Friendly staff, Good breakfast, Jacuzzi room, Salt pool, Cleanliness, Biking trails. The enchanted forest is a nice touch!" — David, IN February 2021
"Friendliness, Convenience. We will be back" — Hann, IN November 2020
"The quietness and Relaxing. We really enjoyed our stay!" — Dennis, IN November 2020
"Hot tub, Bed was comfy, Relaxing. Everything and Everyone was great!" — Jason, IN November 2020
"The rose petals, the candle lights, the sparkling wine, the Lava cakes, the Jacuzzi" — David, IN October 2020
"Your staff. Everyone treats us wonderfully and they always go above and beyond. They represent you well" — Jan, IN October 2020
"Nice, clean, quiet, comfortable, fire pit." — Bonnie, IN September 2020
"I would definitely stay again. Thank you we had an awesome stay." — Patricia, IN September 2020
"Quiet and Peaceful. Enjoyed our stay." — Dale, IN September 2020
"Very Clean room, Good Breakfast, Easy check in-out." — Jeffery, IN September 2020
"Peaceful atmosphere." — John, IN September 2020
"The staff is outstanding. Brittney and Sam have been most attentive and helpful, very friendly." — Faith, IN September 2020
"A very cozy and welcoming place to stay. We enjoyed the atmosphere and will recommend!" — Wesley, IN September 2020
"Personnel's were very helpful and friendly. The grounds were well maintained and beautiful." — Rodel, IN September 2020
"Comfortable quiet room, we loved the cookies. The fire pit and swings and the zipline was greatly appreciated." — Marylov, IN September 2020
"Pleasant surroundings. Availability of "Handicap" room. Very nice place." — Linda, IN August 2020
"Staff were very helpful." — Lacey, IN August 2020
"Husband loved the fire pit. My favorite was the massage. We enjoyed our stay. Thank you!" — Tonya, IN August 2020
"Quiet Place." — Leon, IN July 2020
"Pool, coffee, Jacuzzi, Trails, Price, Lava cake. Will be back again!" — Brinana, IN July 2020
"The bed is very comfortable, and it was nice to have a couch in the room." — Jason, IN July 2020
"Quiet-Clean and friendly. We will be back next month the day before we pick up our puppy!" — David, IN July 2020
"Clean quiet, friendly staff, walking trails, good service, Jacuzzi." — Brent, IN July 2020
"Friendly staff, Pool, wooded Trails, Zipline, gaga ball. Nice property, nice hotel, nice area. We will be back." — Sue, IN July 2020
"The rooms were spacious. I love the Jacuzzi. We enjoyed our stay." — Tristine, IN July 2020
"The outdoor area, lots of cool things to do and see." — Georgette, IN July 2020
"Clean rooms and Location. We would stay again without changing anything." — Ken, IN July 2020
"All the employees here are very friendly and very helpful. I would stay here again. Thank you for everything. Have a good day!" — Mary, IN July 2020
"The peace and quiet with easy access to the lakes. We already plan on being back" — Heather, IN July 2020
"Everything we came here for our 1 year anniversary. So we came back for our 5 year one" — Connie, IN June 2020
"Liked the camp setup, the trails, and the country setting. Enjoyed the couples romance. Consistent warm pool water" — Jack, IN June 2020
"Clean room, Love the towel swan. We plan on returning." — Phil, IN June 2020
"The outside surroundings which were quite relaxing." — Nathan, IN June 2020
"The room was very clean. Everyone employed here was very friendly and very helpful. I swam the pool, it was so refreshing" — Mary, IN June 2020
"How nice and relaxing." — Anthony, IN June 2020
"The entire staff was accommodation and super nice they took very good care of us." — Dawn, IN June 2020
"Room was clean. Staff was friendly and helpful." — Ellen, IN June 2020
"Nice quiet setting – The grounds are beautiful. The room was beautiful. We would like to come back again" — Marsolie, IN June 2020
"Great helpful staff. Quiet" — Bailey, IN June 2020
"It is our favorite place to stay" — Stephanie, IN May 2020
"Friendly Atmosphere, Location" — Robert, IN May 2020
"The hot tub was excellent. It was all great, though." — Chris, IN May 2020
"Cozy. All good!" — Eli, IN May 2020
"We very much enjoyed that any and all of our requests were met, and with the best of attitude." — Isabel, IN May 2020
"All the land with the Zipline and bigfoot out in the back. Also, very friendly and helpful staff." — Stephanie, IN May 2020
"The Bed, Jacuzzi." — Emilie, IN May 2020
"The pool was fun! Great temperature. That's what we came for. The grounds was awesome. We greatly enjoyed the trails and zipline!!" — Michelle, IN May 2020
"Very peaceful. So many activities! We already want to come back soon!" — Darrel, IN May 2020
"The beds were comfortable and having Jacuzzi's in the room were great." — Wesley, IN May 2020
"Cleanliness and friendly." — Summer, IN May 2020
"Quiet – Jetted tub. I will be back." — Cheryl, IN May 2020
"Stay was great. Thanks a lot!" — Henery, IN May 2020
"Pool and nature trails" — Briette, IN April 2020
"Friendly staff! Sam and Brittney have great customer service skills!" — Shandel, IN April 2020
"Comfortable room. We really liked having the love seat to sit back and relax in." — Jeffery, IN April 2020
"Quiet and clean." — Casey, IN April 2020
"The room was set up nice." — Tim, IN April 2020
"The pool was open during Covid 19. Thank you. We will definitely stay again!" — Cindy, IN April 2020
"It was inviting with the tea lights, the little extras." — Delbert, IN April 2020
"Quiet , tub – Jetted in room. Everything was great. Enjoyed our stay." — Cheryl, IN April 2020
"Very helpful front desk staff. She answered all my questions and even showed me the cabin." — Mykel, IN April 2020
"I enjoyed the quietness and cleaning of the room. So peaceful." — Mike, IN March 2020
"The staff and experience were great! It was awesome. We will stay again." — Susie, IN March 2020
"Away from home. Quiet and relaxing." — Oscar, IN March 2020
"A fun at get away." — Julie, IN March 2020
"Peaceful, quiet and cozy. Would stay here again!" — Penny, IN March 2020
"We will be back in summer." — Jon, IN March 2020
"Relaxing. Would be back in summer." — Jonah, IN March 2020
"It was nice birthday romantic get away for my wife. We would come back again. It was nice." — Wright, IN March 2020
"Cleanliness. Felt comfortable and welcome. This is the best value for my dollar. I have ever gotten and cant wait to do it again." — Maeu, IN March 2020
"Special touches that were placed in the room." — Nicholas, IN March 2020
"Property is nice. Room very clean. Great water pressure." — Steve, IN March 2020
"Quiet, relaxing, soft bed." — Cheryl, IN March 2020
"Room was clean and quiet. Enjoyed my stay." — Richard, IN March 2020
"The atmosphere was very relaxing and enjoyed the outdoor areas available. This was just what we needed. Thank you!" — Kim, IN March 2020
"Good customer service." — Katie, IN March 2020
"Pool is great. Thank you." — Adam, IN March 2020
"It was peaceful. I would gladly stay again." — Shane, IN March 2020
"Steve was friendly. It was very nice and quiet. We can't wait to come back." — Marcus, IN March 2020
"Beautiful outdoor area." — Audrey, IN March 2020
"Nice room, Nice location. Off from the more busy road." — Tim, IN March 2020
"Nice place." — Maer, IN March 2020
"Room was very clean! Front desk very polite. Love the romance package. Will definitely do it again when quarantine is done." — Jennifer, IN March 2020
"It was quiet and hidden away." — Douglas, IN March 2020
"Relaxing atmosphere, Friendly staff. Will be back." — Robin, IN March 2020
"Clean, quiet and nice staff." — Josh, IN March 2020
"Brittany is friendly and has a smile her face every time we have questions. The pool is very nice." — Aaron, IN March 2020
"Staff, Location, Clean." — Glenn, IN February 2020
"Staff. Very friendly and helpful." — Justin, IN February 2020
"Quiet and peacefulness." — Elka, IN February 2020
"The room was setup beautifully when we arrived. I will definitely be back!" — Pat, IN February 2020
"Clean room. Everything was excellent!" — Lavern, IN February 2020
"Quiet and relaxing." — Wisler, IN February 2020
"Nice atmosphere." — Amanda, IN February 2020
"Peaceful." — Tammy, IN February 2020
"Great staff! Very helpful. I really enjoyed the wonderful backyard and paths." — Jeremiah, IN February 2020
"Friendly staff. We had a lovely time!" — Shelly, IN February 2020
"Everything was wonderful. Thank you!" — Kimberly, IN February 2020
"Room, Good service." — Galen, IN February 2020
"The valentines day special were great." — April, IN February 2020
"We really enjoyed the Jacuzzi tub in our room and we liked how there was an adult swim only time." — Jeffery, IN February 2020
"Cookies and the pool and beds." — Kelli, IN February 2020
"A clean room with a Jacuzzi. Very relaxing!" — Loren, IN February 2020
"Bed was very well made and very comfy." — Brittney, IN February 2020
"Nice place." — Robert, IN February 2020
"Quiet and clean" — Brian, IN February 2020
"It's just absolutely beautiful here. Thank you for making it what it is." — Hart, IN February 2020
"Relaxing. We enjoyed our stay." — David, IN February 2020
"As always my stay/stays have been relaxing and enjoyable." — Micheal, IN February 2020
"Loved it!" — Craig, IN February 2020
"Romantic and comfy room, nice staff, good coffee, clean!" — Gary, IN February 2020
"It is a nice place." — Joyce, IN February 2020
"I cannot put my finger on any one aspect of my stay here. I liked it all." — Jennings, IN February 2020
"Country and Peaceful and The Cookies. Really enjoyed our stay! Will be back!" — Don, IN February 2020
"Service was wonderful. Lava cakes were wonderful. Bed was comfortable. Everything was clean! Loved the hot tub!" — Diedra, IN February 2020
"The relaxed atmosphere. The set up of the room – Thanks Blanca!" — Sandy, IN February 2020
"Nice lobby and dining room." — Noel, IN February 2020
"Friendly and very quiet." — Carolyn, IN February 2020
"Clean, quiet and pleasant interactions with employees." — Mark, IN February 2020
"Location, quiet during quiet hours, clean and comfortable." — William, IN February 2020
"It was quiet." — Hanna, IN February 2020
"A good bed and good breakfast." — Melbern, IN February 2020
"It was wonderful." — Marcia, IN February 2020
"We loved the lobby, the cookies and the shape of your hotel, since it made us feel at home." — Mauricio, IN January 2020
"Clean, comfy beds and great service." — Joe, IN January 2020
"We like the location. It is close to my parents. When we come to visit and the hotel is very nice!" — Martin, IN January 2020
"Quiet, Nice back view, spacious rooms." — Jody, IN January 2020
"The fact that I could sleep as long as I wanted to! A very nice place, very relaxing." — Norman, IN January 2020
"It was a nice get away that was close." — Sydnee, IN January 2020
"Loved the Jacuzzi room and how private it was nestled in the corner. We will be back." — Amber, IN January 2020
"Everything! What a great room, lobby and breakfast room." — Joyce, IN January 2020
"The staff was very friendly, and everything was perfect. Great place. Will recommend it to friends." — Nancy, IN January 2020
"Price and how quiet it was here. The cookies were good!" — Jon, IN January 2020
"Clean, Clean, Clean! Friendly and helpful staff." — Dan, IN January 2020
"Clean." — Nicole, IN January 2020
"Its quiet attendants are nice and polite." — Paul, IN January 2020
"Friendly staff." — Adam, IN January 2020
"Good housekeeping! Service! Amanda and Betty did a great job!" — Vernon, IN January 2020
"Very nice. Thanks for everything!" — Glen, IN January 2020
"Staff was friendly and helpful. Cookies very good." — William, IN January 2020
"Staff very friendly and very nice get away!" — Bryce, IN January 2020
"Comfort. The Windows. Scenery." — David, IN January 2020
"Came in and the room was warm." — Adam, IN January 2020
"Clean – Friendly staff" — Randol, IN January 2020
"Pool – Nice rooms." — Debbie, IN January 2020
"All was good. Thank you!" — Kimberlee, IN January 2020
"Service, Friendly staff, Cleanliness." — Anglea, IN January 2020
"Clean room!" — Jerry, IN January 2020
"Nice, quiet, comfortable atmosphere. Thank you for being so friendly and hospitable." — Linda, IN January 2020
"Everything was ok. Thank you!" — Marvin, IN January 2020
"Everything was wonderful! Thank you!" — Jay, IN December 2019
"I enjoy the water exercise class. In fact, that is why I thought of the Brooke Pointe when I needed a place to stay." — Denise, IN December 2019
"Very Comfy" — Tracy, IN December 2019
"We had a great time." — Earl, IN December 2019
"We totally loved it!" — Rose, IN December 2019
"Relaxing and clean" — Helen, IN December 2019
"Comfortable Room" — Stephanie, IN December 2019
"Quiet. Clean rooms." — Denise, IN December 2019
"Always comfortable – Clean rooms, Cozy atmosphere. Nice and helpful staff." — Thomas, IN December 2019
"We like the convenience on the location and the landscape of the place." — Pam, IN December 2019
"The pool. I watched my brothers 3 toddlers and they enjoyed it so much. Thank you." — Mandy, IN December 2019
"The room! The bed was just a dream on the clouds. The blankets and comforter was so nice and cozy." — Casey, IN December 2019
"Room decor, candles and rose petals. Wonderful stay. Great staff. Awesome. Thanks!" — Joyce, IN December 2019
"Pool was perfect temperature for this weather." — Carder, IN December 2019
"Very quiet, small. Like everything, Thank you. Very nice place." — Tammy, IN December 2019
"The staff was very nice and was very clean. Had a good time." — Pete, IN December 2019
"Best, cleanest, nicest, hotel we have ever stayed in and would love to come back again! Thank you so much for everything!" — Jamie, IN December 2019
"We will back in the spring/summer. We want to use the walking trails and fire pit with swings. We enjoyed our stay!" — Dustin, IN December 2019
"I love staying. I had stayed at hotels in Shipshewana and Middleburg, but was thrilled to find this hidden gem some years back. Now, I only stay here." — Janie, IN December 2019
"The quietness and the "candles". We will be back." — Braden, IN December 2019
"Very friendly staff" — Fred, IN December 2019
"Everything. It was a great place and I would stay again." — Matthew, IN December 2019
"Friendly. Pool (hours) massage, Lava cake, cookies" — Stephen, IN December 2019
"The beautiful, clean facility and extremely friendly staff. Thank you, thank you. You really seem to make Brooke Pointe feel like home. Wish we could stay longer. Hope to return again." — Tom, IN December 2019
"Great place, Great people. Will come again." — Cary, IN December 2019
"Friendly staff, quiet rooms. This is a beautiful Inn. We greatly appreciate the friendly staff." — Janet, IN December 2019
"Having a Jacuzzi and massages for our over worked bodies. The cookies were an awesome touch as well." — David, IN December 2019
"The room facilities were well kept. Parking lot well lighted. Enjoyed our short stay." — Carol, IN December 2019
"It was very comfortable and quiet." — Mark, IN December 2019
"The relaxing atmosphere. Everything was nice." — Jennifer, IN December 2019
"Peace, Quiet, Clean, Friendly. Thanks Kim." — Thomas, IN December 2019
"Great hospitality! Thank you." — Cody, IN December 2019
"Relaxing. We will be back." — Anna, IN December 2019
"Homely Environment!! Loved the dining area. You have it all. Hope to be back soon. I will recommend this place to others." — Enrich, IN December 2019
"Quiet and Secluded area. Home style feeling. Courteous staff. Very helpful." — Melissa, IN December 2019
"We enjoyed it. It wouldn't take extra encouragement to stay here again." — Dennis, IN December 2019
"Incredibly friendly staff. The lava cakes are yummy!" — Randy, IN December 2019
"Excellent!" — Morris, IN December 2019
"The atmosphere. Everything was great!!" — Senna, IN December 2019
"Everything was great" — Maryse, IN December 2019
"Outstanding staff!" — Rebecca, IN December 2019
"Very nice inn and perfect for us. Enjoyed walking in the woods." — Richard, IN November 2019
"Nature walk was nice. Lava Cake! Romantic touches to room." — Tanya, IN November 2019
"The King beds was great and Grounds pretty. Friendly service." — Young-Hines, IN November 2019
"We could fee the love you put into every detail. It is a lovely place. We will always stay here when in this area." — Karen, IN November 2019
"Cozy atmosphere." — Vernon, IN November 2019
"Very quiet and cozy. We will be back in nicer weather for trails." — Buell, IN November 2019
"Enjoyed the stay." — Margret, IN November 2019
"Comfy bed and comfort." — Toni, IN November 2019
"Tia – Thank you for everything you did for. Very nice. Clean rooms." — Lester, IN November 2019
"Room and staff were awesome. Loved Allyson. Will be here again." — Angela, IN November 2019
"Clean, Hot Tub, Mattress." — Lee, IN November 2019
"The Lava cake, rose petals and the room Jacuzzi. The staff and stay was nice." — Darren, IN November 2019
"The pool was great. Good Breakfast. Tia did a great job!" — Lynae, IN November 2019
"Homestead atmosphere, very friendly staff, nice rooms." — Tina, IN November 2019
"Accommodations (room) very clean and nice. We would like to visit again during the warmer months." — Susan, IN November 2019
"It's very welcoming and beautiful. We enjoyed the peace and quiet. The boy enjoyed the zipline and the pool." — Tiffany, IN November 2019
"I loved the peacefulness of the Inn and the romance package. My husband and I connected on a deeper level." — Keith, IN November 2019
"Very clean and roomy. Very nice welcome at service desk." — Ray, IN November 2019
"Beautiful room. Jackie did a great job getting room rocky." — Lonnie, IN November 2019
"It was very quaint and comfortable. Enjoyed the fresh cookies." — Tracey, IN November 2019
"The whole atmosphere of the hotel and room. It's why we keep coming back. You are our getaway place!" — Jon, IN November 2019
"Room was clean." — Dennis, IN November 2019
"Peace and quite relaxing atmosphere. The Lava cake was divine." — Julia, IN November 2019
"Hot tub was great. Very nice room." — Katlyn, IN November 2019
"It was all very nice, the coffee in the morning is very good. I liked the relaxed feeling here." — Angela, IN November 2019
"Location. Lava Cake – Sparkling Juice." — Tina, IN November 2019
"Good size room, Clean." — David, IN November 2019
"Nice Surroundings. Peaceful." — Cathy Martin, IN November 2019
"Clean rooms, Welcoming atmosphere, decorated nicely, Quiet place." — Allison Cummings, IN November 2019
"Very quiet and private and relaxing." — Hochstetter, IN October 2019
"The room was nice for a couples getaway. Jill did a great job." — Perkins, IN October 2019
"We enjoyed the Jacuzzi, sparkling grape juice and lava cake. We also enjoyed the ambience of the fireplace in the lobby" — Schlabach, IN October 2019
"The beauty and quietness of this place, inside and out. The cookies are great! Thanks for a great place to rest! Thanks to Amanda and Tia for a very nice and clean room! Very comfy and pleasant!" — Michael, IN October 2019
"Wonderful conference room set aside for our use. Thanks! Very comfy beds. Pool was very clean and nice temperature! Love the warm cookies!" — Andrews, IN October 2019
"Nice location and fair price." — Jaquisn, IN October 2019
"Very clean and attentive staff!" — Monler, IN October 2019
"Lovely accommodation. Your staff was always cordial and took care of all our needs." — Antrom, IN October 2019
"Nice grounds, rooms were very clean. Very nice staff. Free wifi." — Bach, IN October 2019
"There were a lot of great things. The atmosphere, staff, bed room, walking trails were all great." — Reid, IN October 2019
"Friendly staff. Enjoyed our stay. Pleasantly surprised." — Wood, IN October 2019
"It's such a relaxing place." — Combs, IN October 2019
"Staff was very helpful. They are really good. My father was 91. I got a 1st floor room for him." — Gunn, IN October 2019
"So clean, homely, staff was so nice and helpful. I had a wonderful time and felt very much at home. Thank you. So such a nice place to stay." — Fredill, IN October 2019
"We enjoyed the atmosphere of the Resort and the grounds. The Jacuzzi is a great addition to the room along with the other panels of the couples romance. After all it was a great times." — Deter, IN October 2019
"The room was nice. I have stayed here before and like it. So I will come back again." — Haydv, IN October 2019
"Comfortable room, close to venue, beautiful grounds." — Langley, IN September 2019
"I stay here often and staff has always been efficient and helpful." — Pershing, IN September 2019
"The wonderful hospitality, employees, Breakfast and cookies was fabulous." — Causey, IN September 2019
"Clean rooms and pleasant environment." — Cole, IN September 2019
"Super clean! Great set up as well. We will come back next summer!" — Pinkerton, IN September 2019
"Your Resort was very comfortable and cozy." — Dittrich, IN August 2019
"Great venue for our reunion." — Tomilison, IN August 2019
"Cleanliness, friendly and efficient staff." — Knoecki, IN August 2019
"Quiet and relaxing atmosphere." — Boltmyer, IN August 2019
"Clean, very accessible pool and tubs were great. Loved the trails out back. Friendly service" — Burhite, IN August 2019
"Everything was very nice. It was our 50th wedding anniversary and girl at desk took our picture. Everyone was so nice." — Williams, IN August 2019
"We enjoyed the quiet atmosphere and comfortable environment. Coming in and relaxing with a fun drink and a big bath tub is so relaxing" — Dean, IN August 2019
"Quiet and Relaxing. Really enjoyed going to the lake. Very close. Also enjoyed our massage. Thanks for great weekend." — Scheraver, IN August 2019
"Felt like home away from home. Beautiful memories made wonderful experience. Will definitely be back. Great staff." — Goodwine, IN August 2019
"Quiet, Warm and Inviting." — Moser, IN August 2019
"The staff and the room was great." — Branson, IN August 2019
"The area is beautiful, and this is unique and gorgeous lot. I found you on google maps, your price and images sold me, along with the ability to reserve online quickly." — Voelz, IN August 2019
"Great room! We would stay here again. Lovely place." — Benjamin, IN July 2019
"We stay here very often and we keep coming back as we always enjoy our stay. So, no encouraging needed. We will be back in a couple months" — Kinney, IN July 2019
"I really appreciate how everyone is friendly and willing to make my stay comfortable." — Deaton, IN July 2019
"We loved everything! The Jacuzzi, the room set up, the late night staff! Such a great getaway." — Wareren, IN July 2019
"Location, Well-grounded grounds, Friendly staff, Comfortable room, Love extra chairs. Carpet in room was nice and comfy" — Best, IN July 2019
"The place is quiet and pretty. Cozy fire in the fire pit" — Collins, IN July 2019
"Clean rooms, Large rooms" — Leetz, IN July 2019
"How quiet and peaceful it is here. Loved the trails and zipline. Discount card was an added bonus. Especially liked the flower petals, candles and drink on our arrival." — Monfreda, IN July 2019
"Peaceful atmosphere." — Barr, IN July 2019
"Everything was great! We enjoyed our stay! Thank you" — Peebles, IN July 2019
"Beautiful grounds, spacious room, friendly staff. Close to Lake Wawasee" — Allen, IN June 2019
"Quite, and the property how well it looks, also with trails" — Gossett, IN June 2019
"We enjoyed the Jacuzzi and the atmosphere of the room. The lobby and the grounds were nice and well kept. In short we would tell our friends that this is a good place to stay. The massages were also a nice touch." — Davis, IN June 2019
"Quaint, friendly atmosphere!" — Schoh, IN June 2019
"Very quiet and private environment. Dessert was fantastic. Romantic decorations was fun!" — Parner, IN June 2019
"Very Relaxing" — Smith, IN June 2019
"It was clean and people were nice and it was lovely. The grounds were very pretty. God bless you!" — Leatherman, IN June 2019
"Peaceful, close to everything, nice grounds" — Hardy, IN June 2019
"Comfy atmosphere, close to everything, where we needed to go" — Causey, IN June 2019
"Staff is so friendly and they are here to meet my every need. Love to come here!! It's like home." — Replogle, IN June 2019
"Nice Place" — Damron, IN June 2019
"Had a nice relaxing time." — Snow, IN June 2019
"The room set up was the most romantic set up we have ever experienced." — Haltom, IN June 2019
"It has a very relaxing atmosphere. This is the third time we have been here and we love it." — Lambright, IN May 2019
"Pleasant, clean room and environment. Friendly staff" — Troyer, IN May 2019
"The staff here is warm and kind to all. Keep up the great customer service. It's rare these days" — Jeff, IN April 2019
"Very clean and comfortable, great mattress and TV, Jacuzzi tub was nice and had plenty of hot water, great service by the staff." — Long, IN April 2019
"Nice warm pool, friendly staff, quiet relaxing atmosphere. Grounds were nice, fireplace and fresh cookies were wonderful !" — Dannenfesler, IN April 2019
"It is a very beautiful place. I would love to bring my husband next time." — Grim, IN April 2019
"Very nice, comfortable place, would love to see in the summer." — Pace, IN April 2019
"Room Set-up was so much fun! Thoroughly enjoyed our stay!" — Fields, IN April 2019
"Cabin was excellent. I loved the view surroundings of nature" — Mumper, IN April 2019
"Cute Room, nice location and friendly staff" — Pickett, IN April 2019
"Room was very nice, Comfortable bed, Nice breakfast buffet, Wonderful staff." — Smith, IN April 2019
"Beautiful rooms and building for an extremely reasonable price." — McOnnell, IN April 2019
"Beautiful facility. We had lots of room to visit. Rooms are clean." — Sparks, IN April 2019
"Spacious rooms. Enjoyed your swings around the fire pit. Scenery beautiful." — Monroe, IN April 2019
"Location, spacious room, beautiful setting." — Haq, IN April 2019
"We love the clean, quiet atmosphere and the walks in the woods." — Rushlow, IN April 2019
"Staff is always friendly and helpful. Beautiful grounds." — Cox, IN April 2019
"We loved the spacious room and comfortable bed. It was nice to have the adults only swim." — Lehman, IN April 2019
"Room was really nice. Bed smelled and felt amazing" — Meyers, IN April 2019
"The friendliness and accommodation of staff. Rooms are great" — Rosinski, IN April 2019
"Peace and Quiet. Warm pool." — Fry, IN March 2019
"It was a wonderful time. Met great people and staff was outstanding." — Rodriguez, IN March 2019
"The facility was very clean and staff was very helpful and friendly. We are already planning another stay." — Mangls, IN March 2019
"The way room was set up was nice. Jacuzzi was nice." — Anonymous, IN March 2019
"Everyone is great" — Deaton, IN March 2019
"Quite, Relaxing and Country setting" — Bradbury, IN March 2019
"The girl at the desk was very helpful, especially accommodating my 90 year old mother to get a room on the main floor so she wouldn't have to go upstairs. I would not need anything to encourage me to stay here again, if we are in the area. In fact, if we are coming back to this area and need to stay some place overnight I would most likely book ahead with you." — John- Taylorsville, KY January 2017
"Relaxation, pool. Everything was perfect. Thank you!" — Ashley- Atwood, IN January 2017
"Very beautiful place. Thank you." — Holly- New Haven, IN January 2017
"Location." — John- Indianapolis, IN January 2017
"The room was very clean (also bathroom)." — Darcy- IN January 2017
"Convenient location." — Lois- IN January 2017
"The friendly service! Our bed! I liked the creamer choices for me. We loved it and plan on coming back soon." — Leslie- Mishawaka, IN January 2017
"We walked the trails. They were very pretty with the sun. The cabin was so relaxing! Really enjoyed our stay. The pool area is really nice from the old pool area." — Shari- IN January 2017
"The bed was cozy- comfortable! Jacuzzi! We've been here before. We enjoy it and will be back." — Anonymous- January 2017
"Jacuzzi, sparkling grape juice, lava cakes. Continue with the great deals and fun weekend activities." — Taylor- Mishawaka, IN January 2017
"I've stayed at Brook Pointe multiple times. You guys are great." — Louis- IN January 2017
"The friendly staff and getting the lava cake at any time! Everything was perfect. Everything was higher than expected and thank you!!" — Anonymous- January 2017
"Dog friendly and our room. <3" — Heidi- IN January 2017
"It was awesome. I had a great stay." — Andrew- IN January 2017
"Jacuzzi. The rose petals, sparkling juice and lava cake were a nice touch. Staff was friendly." — Mike- January 2017
"Everything was wonderful. The place is beautiful. Everyone was very nice and helpful. Thank you!" — Anonymous- January 2017
"The tubs and massage. Kari was absolutely fantastic with her service. Her preparation of the cakes and hot chocolate was excellent. She was enthusiastic and excited about Brook Pointe." — David- Peru, IN December 2017
"Pool and comfy beds. Nice people! Nice place!" — James D. Party- Norwalk, IN December 2017
"Ambiance, price of room." — James D. Party- Norwalk, IN December 2017
"The lack of noise and simpleness. All was well. All went well." — Tyler- Syracuse, IN December 2017
"Hospitality, warmth, a willingness from the staff to help me with the needs I had. Thank you!" — Melissa- Frederick, MD December 2017
"Your staff is very accommodating." — James- Warsaw, IN December 2017
"Quiet!!" — Pam- IN December 2017
"Room and environment is very cozy. Kari was fantastic!" — Patty- IN December 2017
"The bed and breakfast. You all are awesome and amazing!!!" — Carlos- Goshen, IN December 20
"Room size." — Jeremy- Fort Wayne, IN December 2017
"Quietness." — Mitchell- Yorktown, IN December 2017
"Quiet- peaceful hotel." — Sabrina- Fishers, IN December 2017
"Amenities." — Barbara- Goshen, IN November 2017
"My son (8) liked your pool and cozy beds! This is our second stay. We'll be back again!" — Melanie- Geneva, OH November 2017
"Your hospitality is always the greatest. The room is always clean and adorable. All the things outside to keep you busy during your stay. Your lobbies are so awesome. Keep doing what you are doing- We love it here! Breakfast has always been good to us." — Carla- MI November 2017
"How friendly the staff are with us. It was so relaxing here. I would like to come here again in the next future. We love it here." — Nicole- IN November 2017
"Jacuzzi. You've been great." — Barbara- Goshen, IN November 2017
"Service. I would like to come more often if you have more specials." — Mario- Mishawaka, IN November 2017
"The warm pool and cookies! Keep up the continued good service at check-in, clean rooms, the pool hours and the complimentary breakfast!" — Louis- Fort Wayne, IN November 2017
"Convenient location, friendly staff, outdoor trails and game areas are very enjoyable. Loved walking through the woods. We have stayed here before and really like the facility." — Joni- Marathon, FL November 2017
"Scenic, friendly and helpful staff, quiet. Good, hot breakfast. I liked the empathy and extra effort." — Susan- MI November 2017
"The accommodations. It was a perfect stay." — Salmen- Mishawaka, IN November 2017
"Bed was nice as well as the dessert and sparkling juice." — Jeff- IN November 2017
"Clean- well kept. Keep it up!" — Kyle- Goshen, IN November 2017
"Everything!!! Everything was wonderful. The cabin was amazing. Thank you." — Carl- TX November 2017
"Staff very, very helpful." — Charlene- IN November 2017
"The look and feel of the Resort was lovely and comfortable. The in-room jacuzzi was our favorite though. Really loved our stay – thank you. <3." — Nicole- Decatur, IN November 2017
"The room is nice and clean. The staff was helpful and friendly." — Debra- IN November 2017
"The hospitality, I have never stayed at a hotel that made me feel so much like I was at home. Thank you. I want to come back in the summer so I can enjoy your outdoor amenities. I will definitely be back." — Ginger- Morristown, FL November 2017
"Quiet getaway. Lava cake and coffee was great! Loved the room and set up for romance getaway." — Carrie- Bristol, IN November 2017
"Awesome time in God's presence! Keep your wonderful, friendly, hospitable staff. Thank you." — Britnie- Middlebury, IN November 2017
"Friendly staff, cookies, nice room." — Jim- Oh November 2017
"Hospitality and quiet. Stay the same as you always do. Thank you." — Michael- IN November 2017
"It's all good." — William- Muncie, IN November 2017
"Atmosphere. Plenty of things to do. Location." — Bill- Wolcottville, IN November 2017
"Pool, cookies, cafe, great room sizes. I will be back for a murder mystery weekend!" — Thomas- MI November 2017
"The room." — Allan- Schaumburg, IL November 2017
"Free breakfast." — Morgan- West Lafayette, IN November 2017
"Beautiful setting/atmosphere. Staff was very pleasant and accommodating." — Debra- Goshen, IN November 2017
"The jacuzzi and free cookies." — Anonymous- November 2017
"All good." — William- November 2017
"Real, comfortable rooms and good employees. Thank you!!" — Chris- November 2017
"Love the room and the view. Great massage!! -A huge bonus." — Patricia- November 2017
"Staff was extremely friendly. Loved all the detail and the charm. Thank you!" — Cathy- IN November 2017
"Very affordable. Clean. Unique. I liked the night light. The big towels were great. Recycle basket is a great idea." — Sherry- NY November 2017
"Bed was soft. We had a wonderful time." — Steve- November 2017
"Quiet, clear." — Karen- November 2017
"Peaceful setting. This will be my hotel when in the area." — Scott- Memphis, TN November 2017
"Our stay was great." — Dina- November 2017
"The sights and breakfast. Just keep being you." — Andy- Kokomo, IN November 2017
"The Resort is located on a beautiful property. The building is also very nice inside. The staff has been excellent as well. I also love the warm and comfortable feeling the Resort brings- outdoor seating, paths, fireplace, etc." — Robert H. Party- IL November 2017
"Very nice building and staff." — Robert H. Party- IL November 2017
"Everything was great. Everything A-OK. God bless you all." — Judy- LaPorte, IN November 2017
"Breakfast. Have a nice day." — Marilyn- MI November 2017
"Atmosphere." — Anne- Fort Wayne, IN November 2017
"Clean, beautiful, breakfast. Helpful, friendly receptionist." — Christopher- Grove City, OH November 2017
"Place was very pretty. Room was great." — Richard- CA November 2017
"The staff was awesome and rooms are clean! We would stay again." — Lisa- Frost Proof, FL November 2017
"Cookies. Jacuzzi tub. I would like to come in summer to walk the trails." — Cary- IN November 2017
"Friendly staff. I liked the room decorations for the romantic night." — Mark- Fort Wayne, IN November 2017
"It's quaint, availability, close to town, indoor pool. The little cafe is cute, by the way." — Rebecca- Westfield, IN November 2017
"Quaint atmosphere, friendly staff." — Barb- IL November 2017
"The room decorations. Nice, comfortable bed! Cookies were great!" — Paul- Mishawaka, IN November 2017
"Location. Looking forward to the cabin project completion! We enjoyed our stay and we will be back!" — David- AL November 2017
"Quiet place to stay. All was well." — David- IN October 2017
"Atmosphere/staff – Very friendly – professional. Never fire or lose Kari! Every visit is wonderful, always leave with a smile." — Anonymous- October 2017
"Surroundings, night fire. Jacuzzi! Trails! Pool, massages! Considering another visit." — Craig- Fishers, IN October 2017
"Room had necessary amenities; Reasonable price, good location, peaceful setting. We would like to return and stay again. Thank you for the great hospitality." — Jim- Plainfield, IN October 2017
"Nice and clean!! Whoever the housekeeper is, they are great" — Trisha- Findlay, OH October 2017
"Friendly, clean, good food. Stay as you are." — Kevin- IN October 2017
"First off the first greetings at the front desk. Jessica and Kari were absolutely the BEST. Very welcoming and enjoyable. Kari was excellent with being sure everything was done and made my visit with her fun, personal and helpful. This is our second visit and will always make this our destination. Updated room is GREAT." — Anonymous- October 2017
"We enjoyed it very much." — Lisa- IN October 2017
"The quietness and the pampering. We really enjoyed our stay here and look forward to staying again." — Paul- Indianapolis, IN October 2017
"Friendly staff. Clean and pleasant environment. Had a great experience." — James- New Paris, IN October 2017
"It was quiet and peaceful. Staff is friendly." — Tom- New Paris, IN October 2017
"Quiet rooms. We are coming back." — Becky- Centerville, MI October 2017
"Quiet/peaceful. Thank you and God bless. <3" — Lindsey- Nappanee, IN October 2017
"I liked that breakfast was included. Peaceful, relaxing atmosphere." — Heather- Goshen, IN October 2017
"Clean room. Friendly staff." — Laura- Plymouth, IN October 2017
"Rustic feel. Thanks- I'll be back in a few weeks." — Holly- Milford, IN October 2017
"Convenience. Good location." — Michael- Hobart, IN October 2017
"It was quiet and relaxing." — Dan- Fort Wayne, IN October 2017
"Good location. Thank you! We had a good time." — Michael- Hobart, IN October 2017
"Quiet, peaceful surroundings." — Brenda- IN October 2017
"Clean, quiet, relaxing atmosphere in the room." — Wayne- Milford, IN October 2017
"Very quaint, love the hiking trails." — Anonymous- October 2017
"Friendly atmosphere and staff, met expectations of couples getaway." — Rosetta- Burbank, IL October 2017
"I liked your help in getting a room for us. You were very helpful to us. Very good stay!" — John- Vanverwagen, NM October 2017
"Always friendly! Very clean and comfortable! 2 most important things." — Anonymous October 2017
"Quiet- Nice weekend away." — Tim- Carmel, IN October 2017
"It was beautiful and relaxing!" — Penelope- Osceola, IN October 2017
"It was a nice getaway close to home. Very nice to have a heated pool." — Patrina- Anderson, IN October 2017
"Very nice place." — Nicole- New Vienna, OH October 2017
"The pool was so warm that our 1 year old could swim! It was nice to have the pool open for so long as well. We were able to swim before we left. Everything was wonderful. Thank you for having a crib available. That was one deciding factor in where to stay." — Jonathan- Norwalk, IN October 2017
"We enjoyed it. We were really happy with the stay." — Virgil- IL October 2017
"Very nice young man at desk. The lava cake and milk- nice touch. Great that we could still get it at 10 p.m. Nice room. We do want to come back in nice weather to explore the grounds. Really nice to have hot water. We did enjoy our stay and intend to come back." — Dan- IN October 2017
"Cookies… You have a very nice hotel. Friendly, quiet, and beautiful grounds. We will stay again." — Sherly- Holderness, NH October 2017
"The brownies that were brought to our room." — Ricky- Fremont, IN October 2017
"Everything!" — Lorraine- Topeka, IN October 2017
"Staff and location. Great time!!" — Linda- New Haven, IN October 2017
"Great location, great staff. Keep serving chocolate lava cake, my wife loves this!!" — Mark- Liberty, IN October 2017
"Hot tub." — Brendan- IN October 2017
"Proximity to lakes/biking, this introduced us to the area. Clean accommodations, beautiful property. Great customer service and amenities. Friendly staff. Thank you!" — Janie- IN October 2017
"Bedding and camp fire. Great place!!" — Jen- Medina, OH October 2017
"Very accommodating. Great job." — Justin- Elkhart, IN October 2017
"Cookies, fire pit." — Deke- IL October 2017
"Friendly staff. Trails great." — Brian- IN October 2017
"Convenient, close to home, breakfast food and area very nice. We will be back, very nice place. Outside area is very nice. Plenty of gathering areas within the hotel." — Member of the Living Gospel Church Party- October 2017
"Having use of the conference/meeting room." — Member of the Living Gospel Church Party- October 2017
"The spa tub. Rooms very clean. Good job housekeeping!" — Member of the Living Gospel Church Party- October 2017
"Proximity to home- and very beautiful." — Member of the Living Gospel Church Party- October 2017
"The outdoor/woods area." — Member of the Living Gospel Church Party- October 2017
"Friendly staff- working overtime to make our stay as pleasant as possible. We appreciate everything you do to accommodate us and look forward to next year." — Anonymous- October 2017
"Very comfortable bed and tv! Enjoyed the grounds and town. Enjoyed talking to the staff! Liked the zip line too! Thanks, Karl and Linda." — Karl- Vista, CA October 2017
"Hot tub, cookies. Good job, nice staff." — Jim- Ohio October 2017
"Quaint, quiet, cozy!" — Robert- Texas October 2017
"Quiet room. I'll be back." — Adam- Linden, MI October 2017
"Your amazing staff. They went above and beyond to meet my needs, thank you. I had dietary needs and your staff worked very hard to meet them for which I am very thankful. I had an amazing time!" — Anonymous- IN October 2017
"People were nice." — Joe- Ohio October 2017
"The bonfire/swing area. Thank you for letting me store something in your freezer!" — Derrick- October 2017
"Very comfortable, very relaxed setting. Bedding! Front desk was phenomenal! Coffee was good! Stroll through the trails, excellent!" — Michael- October 2017
"Everything. Thanks, great job!" — Bill- Fort Wayne, IN September 2017
"Room and friendly, helpful staff." — Tom- Indianapolis, IN September 2017
"Place makes you feel at home. Very comfortable atmosphere. Beautiful surroundings. Love the fire pit and bean bags. Etc, etc. We will definitely stay here again. We are coming back in November plus bringing 3 other couples with us! Thank you!!!" — Cathy- IL September 2017
"The coffee machine!!!" — Bria- September 2017
"Sitting out by the campfire on the swings in the morning. Very peaceful! Everything's nice and quiet inside too. Very friendly staff. Just keep doing what you're doing!" — Sam- IN September 2017
"Quiet. My room was on the first floor. Staff was friendly and professional." — Brenda- September 2017
"Close proximity to conference location, clean rooms, being able to close to open the window. Nice facility." — Danielle- September 2017
"Quiet, location and value." — David- WA September 2017
"The quiet and friendliness." — Tom- Sydney, OH September 2017
"Atmosphere, fire in the fireplace, big sofa grouping, nice breakfast and camp fire. I was very satisfied. I loved this Resort. The hospitality was awesome." — Ralph- September 2017
"Nice, clean facility. Warm environment, reasonable pricing." — Elva- September 2017
"The staff, the quiet, and the pool. Thank you!" — Gretchen- Roanake, IN September 2017
"Liked the atmosphere and friendliness of staff. Thank you for the stay." — Jerry- New Paris, IN September 2017
"Nice room. Reasonably priced." — Anonymous- Paw Paw, MI September 2017
"Rooms were clean and comfy. Staff was sweet. Thank you." — Natasha- September 2017
"Friendly staff. Quiet." — Jack- Benton Harbor, MI September 2017
"Not your typical motel, very relaxing." — Myron- Crawfordsville, IN September 2017
"Nice pool. Quiet room. Nice hotel. Very helpful staff!" — Douglas- Wixon, MI September 2017
"Large room. Fire pit." — Renee- Farmersburg, IN September 2017
"The quietness outside and your setting. The breakfast is pretty good." — Melissa- IN September 2017
"The view!!! We enjoyed the trails and the campfire area. Great breakfast! You don't have to do anything to encourage us, we will be back!!! We really enjoyed our stay!! Your hospitality was great!!!" — William- Laril, IN September 2017
"Pool, zip line, room, cookies. We had a great time, thanks!!" — Kristi- New Paris, IN September 2017
"Everyone is very friendly and helpful. Room has always been quiet (this is my 2nd stay) and comfortable. Keep all as you are- We were able to enjoy the fire pit this year and had a blast on the zip line! Last year it rained the whole time." — Leon- Berrien Springs, MI September 2017
"Heated pool." — Elva- September 2017
"Quiet." — Kaye- TX September 2017
"I liked the space." — Curtis- MO September 2017
"Great place. Thanks for holding the room for our 2:30 a.m. arrival!!" — Deanne- South Bend, IN September 2017
"Quiet." — Eddie- IL September 2017
"Hospitality. Clean room. We may stay in one of the cabins." — Chris- IN September 2017
"Nice place and great customer service. This is a great place." — Brian- AZ September 2017
"Quite nice and out of town." — Ernest- Milton, FL September 2017
"Very quiet." — Joyce- NY September 2017
"Location, room refrigerator and microwave. Thanks for your presence at the Fort Wayne Home Show where we first heard of BPI. Nice breakfast. Thanks." — Bonnie- fort Wayne, IN September 2017
"Comfortable bed, good breakfast. Thank you." — Daniel- Pierceton, IN September 2017
"Clean, peaceful. Keep doing what you're doing." — Brian- UT September 2017
"Quiet. This is my 2nd time staying here in the past 2 months. Just as good as the 1st time." — Christopher- AR September 2017
"Clean room." — Ron- IL September 2017
"Discount and cookies." — Rex- Mishawaka, IN September 2017
"Being alone with each other. We are rarely in the area but if we are we'd consider staying again. Thank you!" — Dennis- Redford, IN September 2017
"Lovely room, friendly staff, clean room. Very thankful that the gal at front desk took my suitcase up for me." — Sandra- Indianapolis, IN September 2017
"Location and beauty of this property. Very nice rooms. This was our 2nd time. Love it! We'll be back. Love the staff!!" — Donald- Wheeling, IL September 2017
"Liked the price! Appearance. I would stay here again. Very clean and cozy!" — Steve- Woodburn, IN September 2017
"The quiet." — Kathy- Syracuse, IN September 2017
"Room is very nice. We'll stay when in the area." — Tom- Indianapolis, IN September 2017
"Privacy. Be in Portland, Oregon. It's a long drive to stay here again. Great job with the room cleaning!" — Dane- IL September 2017
"Close location- Very nice home atmosphere. Cozy towels. I was just needing a place to stay. If I have to need one in this area I would come back here. I was very pleased with my stay. I wish it had been more than just overnight." — Mary- Hudson, IN September 2017
"Large, clean room! This is a very nice property. I come to Wawasee about 1x every year during the summer." — Michael- Park Ridge, IL September 2017
"Location to Oakwood Resort. Country setting, quiet. Friendly staff. Everyone was very nice and helpful." — Vernon- AK September 2017
"Atmosphere. Setting. Nice place." — Phil- IL September 2017
"Spacious, clean, quiet and comfortable Resort. Beautiful property!" — Kim- IL September 2017
"Closeness to lake." — Stephanie- Indianapolis, IN September 2017
"Clean. I would stay again." — John- September 2017
"One of the nicest I've stayed at. Clean, quiet, great bed and I liked the real door key. Great staff as well- Thank you! Job well done. I left before breakfast but I bet it was a winner." — Tom- Pennsylvania September 2017
"The quiet. Everything's good." — Pat- NY September 2017
"The extras in the room really set the mood for our stay. The staff was very accommodating and willing to do extra things. We are very pleased and couldn't ask for anything more…" — Larry- Middlebury, IN September 2017
"Quiet atmosphere. Outdoor stuff. Thanks!" — Nathan- IL September 2017
"Friendly service, clean." — Anthony- Nappanee, IN September 2017
"Friendliness and courtesy of staff from the moment we walked in. I like the way you decorated the room- very romantic." — Yolanda- South Bend, IN September 2017
"Great location. Great grounds. I would be happy to stay with you again. good job. Friendly staff." — Greg- AK September 2017
"Friendly, kind, accommodating staff! Thank you so much! We had a wonderful time!" — Stacey- West Chicago, IL September 2017
"Cute, clean. Nice and quiet, has a home feeling." — Cindy- IL September 2017
"All the trails and outdoor things to do. Room are very nice. We'll be back!" — Amber- IN September 2017
"Quiet." — Betty G. Party- Bath, NY September 2017
"Nice rooms, quiet. Very nice motel. We will be back." — Betty G. Party- Bath, NY September 2017
"Very nice. Wish we could have been here longer to enjoy it." — Glenna- MI September 2017
"Close to lakes, quiet." — Kim- Amboy, IN September 2017
"Scenery." — Mary- Fort Wayne, IN September 2017
"Cleanliness, low price." — Danielle- Troy, MI September 2017
"Pet friendly. Keep being the way you are. Thank you." — David- MI August 2017
"Clean and quiet! Keep doing what you are doing! Thank you! I will be back!" — Alex- August 2017
"Tv, food, zip line and pool. We will be back." — Amy- Syracuse, IN August 2017
"Fire pit. Enjoyed! :}" — Bryson- Kendallville, IN August 2017
"Had my grandsons with us and they loved the swimming pool and swings. I did also. All employees were very, very nice and helpful." — Rachel- IL August 2017
"Attention to detail with customer service, very nice staff, clean rooms! Breakfast area is great!!! Definitely would stay again!" — Angie- IN August 2017
"Convenience. Outside fire pit/swings." — Angie- Kendallville, IN August 2017
"Big room. Everything was great." — Jordan- IN August 2017
"Everything was very nice. Your manager at the desk is great." — Joselyn- IN August 2017
"Hot tub and great customer service from Mary (always smiling and very helpful), housekeeping, and other female manager who was always busy and happily working! Also, young man in kitchen for breakfast did a great job!" — Kristen- Fort Wayne, IN August 2017
"Close to town. Thanks for a pleasant stay." — Jerry- IL August 2017
"Location, friendly staff, nice room. Everything is fine!" — Anette- August 2017
"The closeness of it to my destination." — Robin- Hoagland, IN August 2017
"The way the room was set up and the friendly staff! Thank you for a great time." — Frannie- Elkhart, IN August 2017
"Convenience/Price. Thank you." — Sharon- MO August 2017
"Friendly staff. I would stay here again." — Dennis- Livonia, MI August 2017
"The peaceful setting. Hoping to return in October." — Carrie- Payne, OH August 2017
"Easy check in. Soft water. ++++ I would stay here again now that I have been here once." — Chris- AR August 2017
"Quiet. Nice to have the trails to walk. Freedom to use the zip line was cool. The staff was happy and helpful. (Good room price)" — Melissa- Lawton, MI August 2017
"Peaceful, tranquil, relaxing stay ~ The outdoor swings, walking trails, and your beds are comfortable! Great job overall!" — Phyliss- MI August 2017
"Great! Great as usual." — William- OH August 2017
"Modern facilities." — Tom- OH August 2017
"Breakfast, dessert, Romance Getaway, bonfire area, cookies at night, the bed!!! (So comfy) -Close to the Round Barn Theatre. I would come back when visiting this area again. Staff was great! We enjoyed everything!" — Fred- Indianapolis, IN August 2017
"Swimming, fire pit. Wonderful place and nice staff." — Devon- August 2017
"Room and grounds. Romantic candles, flowers, hot tub!" — Nina- IL August 2017
"Everyone is accommodating and friendly. We enjoyed our stay and would return because of your staff. *Tami*" — Amy- Bowling Brook, IL August 2017
"Clean rooms, very accommodating staff. Homey atmosphere. We would stay again." — Gordon- Albony, IN August 2017
"Peaceful, trails, swimming." — Kara- Cromwell, IN August 2017
"Sleeping in. Thanks for the stay." — Shekhar- Pittsburgh, PA August 2017
"Very nice atmosphere and room. Breakfast was good. I'd like to come again and bring my friends." — Diane- IN August 2017
"The outside activities. The trails and swings." — Blane- LaGrange, IN July 2017
"Everything. You have a great staff all around, they are here to make sure that your stay is pleasant and you want to come back. I love Brook Pointe!" — Bonnie- Vincennes, IN August 2017
"The location was convenient, it was nice to have a pool, and a hot tub in the room. Staff were responsive." — Daniel- Chicago, IL August 2017
"We enjoyed our stay. Breakfast was great and we enjoyed the no smoking." — Ken- Nappanee, IN July 2017
"The hospitality." — Calvin- July 2017
"My wife and I enjoyed the fire pit and walking around the property. Very clean and the staff was wonderful! Breakfast was good too!" — Helen- IN July 2017
"The manager is awesome. We love her. We love it here. This is the greatest relaxing spot in Indiana." — Lois- Rochester, IN July 2017
"Quiet, very comfortable, super friendly people. Washington State is a long ways away, but if we ever come this way again we would be sure to stay here, a truly lovely spot." — Stephen- WA July 2017
"Quiet- great location- clean." — Donald- IN July 2017
"Stayed here before in August. Daughter made my reservations! Lovely- comfortable rooms! Staff very helpful! God bless you! Nola" — Nola- Syracuse, IN July 2017
"Very nice all around." — Kirk- July 2017
"Location." — Patricia- Stanwood, MI July 2017
"Cookies- Thank you. Very happy with room and condition of hotel." — Gary- July 2017
"Very quiet, large rooms. Thank you." — Norman- Indianapolis, IN July 2017
"Friendly staff." — Jeff- Indianapolis, IN July 2017
"Staff is amazing, helpful!" — Joel- IN July 2017
"Great place to stay, very comfortable. Keep the good staff." — Gerald- Lambertville, MI July 2017
"We had a very fine time." — Anonymous- New Paris, IN July 2017
"It was clean and comfortable. We will stay again- staff courteous and helpful." — Timothy- Fishers, IN July 2017
"Friendly staff." — Joel- IN July 2017
"Outside and fire pit area. Overall a very nice place." — Dawn- Plainfield, IN July 2017
"Quiet and clean! THANKS so much!" — Kacie- Decatur, IN July 2017
"Very clean and refreshing. Love the fire pit, and the extras that come with the stay. Loved the stay!!!! Thank you." — Michele- IN July 2017
"Wife and I were part of the quaker conference at Quaker Lake and we were glad to stay here rather than at campgrounds." — Gene- Lynn, IN July 2017
"Everything was fine." — Rick- July 2017
"I like the Couple's room presents. Cake, bubbly, the pleasant people at desk. Celebrating 46 years." — Sheila- South Bend, IN July 2017
"Access to Dewart Lake. Nice quiet setting. Good room. Good breakfast." — Don- Fairmount, IN July 2017
"Staff. I would stay again. Good value for money." — Jeanne- IN July 2017
"Kari, the staff, location. Everyone goes out of their way for you. Everything is so great. I appreciate how we are made to feel at home." — Kathy- Bristol, IN July 2017
"Very clean and nicely furnished room. Appreciated the very nice staff." — Betty- Selma, IN July 2017
"Convenient, clean, friendly staff." — Erin H. Party- Carmel, IN July 2017
"Salt pool." — Erin H. Party- Carmel, IN July 2017
"The facilities are outstanding! Great fire pit, swings, trails, conference room, sitting areas! Outstanding! Friendly staff!!! Thank you!" — Christopher- Fort Wayne, IN July 2017
"The rooms, conference room, fireplace and swings." — Josh- IN July 2017
"Pool. Perfect as is. Love the cookies! Thank you. Had a great time." — Cheryl- NC July 2017
"Just the two of us spending time alone. We have been here several times. We enjoy each one." — Edwin- Roann, IN July 2017
"Peaceful, quiet." — John- Coal City, IN July 2017
"The beautiful Resort and some of the more down to earth people." — Gary- July 2017
"Friendly staff, very home-like. We loved our stay." — Tim- Vandalia, OH July 2017
"Perfect- Nice people here!" — Sally- Fremont, IN July 2017
"Quiet, peaceful, walking trails." — Anonymous- July 2017
"Friendliness of staff. We already have a reservation for September." — Joe- July 2017
"Room was very nice. Cookies were really good! Great idea to have bug spray available. Trails and zipline were nice." — Shauna- New Palestine, IN July 2017
"The indoor and outdoor gathering spaces." — Dave and Ann- IN July 2017
"Layout of property/outdoors area." — Tony- Grosse Pointe Farms, MI July 2017
"Quiet." — John- OH July 2017
"Peace- quiet. Would stay again. Fine- Just as you are." — James- Indianapolis, IN July 2017
"Very helpful and friendly staff. Comfortable room and bed. We would stay again if we ever came back to Syracuse, IN! Thank you!" — Carol- West Cardwell, NJ July 2017
"Beautiful location- facility- nice staff" — Douglas- Chicago, IL July 2017
"The grounds. Zip line." — Michael- New Haven, IN July 2017
"The coziness and all around comfort of the Resort! Pool hours!" — Vikki- IN July 2017
""Homey" atmosphere. You called us when you had a room available." — Lois- Angola, IN July 2017
"Jacuzzi, relaxed, quiet, retro arcade games. The duo coffee maker is a cute idea." — Steve- IN July 2017
"Cleanliness. We probably will stay again and bring friends." — Joseph- IN July 2017
"Cleanliness- looks." — Syvia- Foley, AL July 2017
"Quiet, peaceful, off the beaten path". It is a very "homey" atmosphere. Loved it!" — Frances- IN July 2017
"Nice facility with amenities." — Richard G. Party- Cullman, AL July 2017
"Something I've never seen before- A recycling container in each room! Bravo! The swings around the fire pit were neat, too. Very nice people, lovely grounds." — Leah- IN July 2017
"Spacious rooms. Wooded setting." — David- IN July 2017
"Staff was great. Also property is very neat. Like the trails, fire pit, wooded area, zip line, etc. Had a great time. Thanks." — Terri- Markleville, IN July 2017
"Friendly, warm and welcoming. Thank you for your hospitality." — Andrea- Coconut Creek, FL July 2017
"Beautiful grounds." — Larry- Coconut Creek, FL July 2017
"Location. Nice, clean place." — Susan- IN July 2017
"Quiet and small location." — Carolyn- IN July 2017
"The location. The campfire and porch swings. I would like to come back with my husband." — Wendy- IN July 2017
"Fast, convenient, friendly." — Joe- Paoli, IN July 2017
"The quiet, clean atmosphere and grounds!! Close to lake. Zip line. Great front desk service and staff. Friendly. Clean and relaxing!! Thank you." — Nancy- Manchester, MO July 2017
"Price. Location. Staff was very polite!" — Karen, Blake and Quinton- July 2017
"Proximity to Quaker Haven. Staff is kind." — Deborah- Mt. Vernon, IN July 2017
"POOL. The bed is GREAT. Nice place to get away! Nice- Thank you!" — Taylor- Syracuse, IN July 2017
"Quiet and comfortable.*****" — Harlow- July 2017
"Setting, pool improved nice, atmosphere." — Gail- Lansing, MI July 2017
"Woods. Thanks." — David- OH June 2017
"Fire pit/swing" — Sandy- Elkhart, IN June 2017
"Quiet." — Roger- OH June 2017
"Privacy. Dog friendly. We'll be back! Staff was very friendly- and went out of their way to make us feel welcome." — Cindy- IN June 2017
"Location. Price. Soaps were nice." — Kevin- IN June 2017
"Quiet and service." — Judy- Kimmel, IN June 2017
"We've had good service and a great time. Thanks!" — Ann- June 2017
"Everyone is so thoughtful and helpful. Loved the warm cookies. I had a great tie and I appreciate the quiet. Kari does a good job of making guests welcome!" — Carol- Seminole, FL June 2017
"The staff." — Marilyn- MI June 2017
"Grounds were pretty." — Sara- Indianapolis, IN June 2017
"Beautiful property, quiet, clean. Really enjoyed our stay." — Sharon- Kendallville, IN June 2017
"The massage. Awesome new mattress." — David- Goshen, IN June 2017
"Chocolate cake on Thurs. Thanks." — Sharon- Somerville, OH June 2017
"Location, bed, staff was very, very nice." — Robert- Gumee, IL June 2017
"Quiet. Pleasant staff." — Ronald- Westmont, IL June 2017
"Beautiful setting and grounds. Everything was great. Staff was courteous! If I am back in this part of the world I will stay here." — Carol- Grove City, PA June 2017
"The freedom to explore area." — Karen- IN June 2017
"The atmosphere- friendly, peaceful, clean." — Sandra- OK June 2017
"The staff were very friendly. We really enjoyed the jacuzzi tub! The trails and zipline were amazing. We liked that Brook Pointe is not a chain hotel and is a great alternative to extremely high priced hotels like in Fort Wayne and such. It was a great experience. We loved talking with Tami Yankey! She was very helpful and so nice! Alex was very nice as well. We loved the staff" — Wayne- Elkhart, IN June 2017
"Thank you for taking care of the situation with our room and making it right." — Jerri- FL June 2017
"Rooms were very nice, it was easy to check in, staff was friendly. Everything was good. Beats places I have stayed." — Amanda- Syracuse, IN June 2017
"Close to camp. Close to lakes. Clean establishment. Nice hospitality, nice clean rooms. Cost was reasonable for location." — Kelly- Bloomington, IN June 2017
"Peaceful." — Ann- Fort Wayne, IN June 2017
"Beautiful and clean. People are very nice." — Louis- MN June 2017
"Room was clean and comfortable. Grounds very beautiful. Zip line was fun. We missed the fire last night but – next time we will be ready for it." — Rebecca- MI June 2017
"Very friendly staff, the pool was open late. Very spacious room." — Gayle- OH June 2017
"Breakfast." — Holly- Russiaville, IN June 2017
"Quiet. It was a nice stay. Rooms were clean, breakfast was good." — Stacia- IN June 2017
"Clean, quiet. Great time- thanks." — Dale- Franklin, IN June 2017
"Property, peacefulness, amenities." — Doug- Fort Wayne, IN June 2017
"Felt very comfortable, warm, friendly. Was excellent- would stay again. Staff was exceptional!! Great experience!" — Bernice- Goshen, IN June 2017
"Beautiful room, great bed, terrific breakfast." — Wayne- IL: June 2017
"Fresh food; A friendly desk employee, (male)." — William- Chicago, IL June 2017
"Walking into a beautifully decorated room. Thank you." — Natasha- IN June 2017
"Clean." — Bruce- MI June 2017
"The swing by the fire pit and the trails. Breakfast was good. The staff was excellent." — John- IN June 2017
"Clean and friendly. Will definitely be back. Very nice place and people." — Wendy- Kokomo, IN June 2017
"Cruises, dinner. Everything was perfect. Thank you." — Linda- IN June 2017
"Grounds. Walking trail." — Patricia- MI June 2017
"Nice location. Very clean. I would recommend this place to people. We will be back in 2 years if not sooner. Nice tv!" — Ashley- NE June 2017
"Very nice room." — Gudenkauf Corp.- June 2017
"Nice bed, convenient, quiet, very quiet. Great place off the beaten path." — Kaitlin- IN June 2017
"Spacious clean room, breakfast- hot." — Renee- Aurora, IL June 2017
"Nice and clean room, price and location" — Hue- MO June 2017
"Cleanliness, free laundry." — Thi- MO June 2017
"Employees here were very nice and very helpful." — Joyce- Mill Creek, IN June 2017
"Besides the chocolate chip cookies? Friendly staff, comfortable room, back porch, swings, proximity to lake, restaurants. Keep price reasonable, continue excellent service. Tammi, Ann, Kari and Alex were very good ambassadors for Brook Pointe." — Cheryl- Anderson, SC May 2017
"Nice place and pool." — Gayle- GA May 2017
"Comfy. Thank you!" — Starr- PA May 2017
"The people were extremely nice! Thanks for a great time!" — Barb- Schaumburg, IL May 2017
"Property and the grounds. Everything was good. Everyone was very polite; Great time! Thank you! David and Chrissy." — Chrissy- Indianapolis, IN May 2017
"Swings by fire pit and "bubbly" upon arrival. It was wonderful." — Tara- IN May 2017
"Beautiful, peaceful setting." — Ragina- Merillville, IN May 2017
"Swings, fire pit, pool and small amenities. Oh, and Donkey Kong. Friendly staff." — John- IN May 2017
"This hotel is quaint and comfortable. I will definitely be back… Thank you for your hospitality." — Matthew- Mishawaka, IN May 2017
"The cabin is awesome, absolutely love the stuff, affordable, staff responds promptly. Always puts guests first. Very impressive. We will return. Thanks so much!!! Ann ROCKS-Tami ROCKS-Kari Rocks Without these 3 "Oh my"! Brook Pointe Resort would be lost! These 3 ladies are absolutely AMAZING." — Shannon- Goshen, IN May 2017
"Everything. Excellent air conditioner, TV and channels." — Robin- Muncie, IN May 2017
"Whirlpool in room. Clean room. Great job, I appreciate the extras you did to get the room ready." — Claude- Pierceton, IN May 2017
"The tub and massage. We loved how clean and quaint it is here. Everyone is so friendly- we enjoyed our stay!" — Brian- Elkhart, IN May 2017
"Clean room, free breakfast." — Shawn- New Paris, IN May 2017
"It's peaceful and the fire pit." — Brandon- Soddy Daisy, TN May 2017
"The staff were so nice! Thank you!" — Christopher- Pompano Beach, FL May 2017
"The fire pit area was by far my favorite! Besides that our room was beautiful, welcoming and comfy. We will definitely be staying again! Best hotel I have been to in a long time- Thank you" — Briana- Goshen, IN May 2017
"The open gathering areas with couches. Nice staff and overall good experiences." — Molly- Westchester, OH May 2017
"Cleaning ladies were on top of everything. Very nice people." — Manuel- Lakewood, CO May 2017
"Quiet, comfortable stay. If and when I'm able to be back in this area, I'll certainly try to stay here again." — Elizabeth- Lucas, TX May 2017
"Laid back and peaceful. I would be honored to stay anytime, Just want to say, "Thanks." — Anonymous- Syracuse, IN May 2017
"The video game was a nice touch! Nostalgic! Cookies were good too!" — Micheal- Anderson, IN May 2017
"Hot water. Friendly staff." — Nick- MI May 2017
"Large room Welcoming staff and decor. Thank you for your hospitality." — Marsha- Kalamazoo, MI May 2017
"The Jacuzzi and location." — Noah- IN May 2017
"Nice place- clean." — Anonymous- May 2017
"Big room! Great indoor pool! Nice breakfast, I really like the addition of hot food. Last time I stayed here it was continental only. Thank you! Beautiful grounds and friendly staff." — Sharon- FL May 2017
"Very clean and such a lovely place and setting! We will certainly be back again!" — Diane- Westernville, OH May 2017
"Nice breakfast." — Scott- May 2017
"Staff are friendly and make you feel and would do anything to help in any way!! Everything's great! Thanks for everything. We appreciated your helping us get to Peterson's fish!!" — Katie- IN May 2017
"Quiet, nice size room. Very nice facility. The staircase is beautiful." — Shirley- Mahomet, IL May 2017
"The staff is awesome. I'll be back. We love it here." — Anonymous- Rochester, IN May 2017
"Swings by fire pit, jacuzzi, cookies, zipline, bed, special (juice/lava cake/coffee), trails, loved large screen TV." — Susie- Brownsburg, IN May 2017
"Plenty of TV channels. I have also given you a high rating on hotels.com. The stay was nice and quiet, clean, and I mentioned the abundant TV channels." — Brad- OH May 2017
"Quiet night of rest." — Philip- IN May 2017
"Location." — Brett- TX May 2017
"It was very quiet and peaceful. We enjoyed our stay. The Couple's Romance package was perfect. Thank you so much! Hope to be back again sometime." — Stephen- MI May 2017
"Beautiful property, quaint and friendly atmosphere. Had a wonderful time! Would like to thank staff for taking part in our enjoyable visit!" — Crystal- IN May 2017
"Quietness." — Gidget- Roanoke, IN May 2017
"Nice place." — Norm- IN May 2017
"Beautiful location." — Robin- IN May 2017
"The room was clean and the staff." — John- North Webster, IN May 2017
"The rooms, food, hospitality and the surrounding area. Like it all- don't change a thing. See you next time." — Mark and Tricia (Word of Truth Church party)- IN May 2017
"The bed and backyard. We will be back again!" — Tim and Katy (Word of Truth Church party)- IN May 2017
"Everything! Just would like to say thank you! – from Word of Truth" — James (Word of Truth Church party)- IN – May 2017
"Fire pit, – soothing, relaxing. All good." — Courtney- Warsaw, IN May 2017
"The friendly staff. We will be back!!" — Anonymous- Lafayette, IN May 2017
"Quiet, friendly staff, free breakfast, swings and fire pit, zip line. I would rather stay here than in a traditional hotel as we usually do – Great concept. Great outdoor upkeep!" — Randall and Kimberly (Graduation party)- Ecorse, IN May 2017
"Kind faces, very welcoming. It's already great and I'll be back. Can't wait to see you again. – Vicki" — Vicki- Geneva, OH May 2017
"Having a place close to home that was enjoyable, trails, campfire, games, pool." — Chad- IN May 2017
"Staff were nice" — Anonymous- IN May 2017
"Friendly, helpful staff; beautiful setting, comfortable rooms. Very quiet!" — Sally- May 2017
"Everything was very clean and the atmosphere was very relaxing and comfortable. We had a very enjoyable time. Your grounds are also very beautiful." — Tom- IN May 2017
"Located close to lake and town, having multiple things to do at Resort." — Joel- IN May 2017
"Nice and quiet. I liked how nice the room is. Assistance to get back in room when locked out." — Jared- Mishawaka, IN May 2017
"Staff was friendly. You can tell this is a newly redone room, it was nice looking." — Scott- Payne, OH May 2017
"Quiet." — Jacob- May 2017
"Peaceful, quiet, clean." — Reegan- May 2017
"Clean, quiet, friendly staff. Totally enjoyed stay." — Richard- IN April 2017
"Jacuzzi! Thanks for the whole wheat bread at breakfast!" — Ann- IN April 2017
"Love this hotel!!! The bed is like a cloud!! I love this place and recommend it every time. You guys are awesome!!" — Paul- IN April 2017
"Front desk girl was a great help. Thank you! 😉" — Gunar- TX April 2017
"Breakfast, the town, hospitality and kindness, my massage and sitting in front of your fireplace in lobby. We enjoyed your free breakfast and the king bed and mattress." — Sarah- IN April 2017
"Pool, room size, homey feel, setting." — Mary- Clarksville, OH April 2017
"We like seeing the growth. The remodel of Room 14 is beautiful. We love your Resort and look forward to watching you expand." — Jesse- Elkhart, IN April 2017
"We enjoyed the zipline – food – everything!! Everyone was very accommodating – Thanks!!" — Danny- Middlebury, IN April 2017
"Nice sofas." — The Vine Church Party- Goshen, IN April 2017
"The friendliness of the staff, the homey atmosphere, and the campfire area." — The Vine Church Party- Goshen, IN April 2017
"That it was more of a country setting." — The Vine Church Party- Goshen, IN April 2017
"Bonfire." — The Vine Church Party- Goshen, IN April 2017
"Peaceful. As Arnold Schwarzenegger would say, I'll be back!" — Ervin- IN April 2017
"The spa tub. Staff was wonderful." — Matthew- IN April 2017
"Romance package. Set up of room – made our celebration romantic! Juice, flowers, the scent when we opened the door – candles, swans. Loved it!" — Cherie- MI April 2017
"Friendly staff, homey atmosphere. Nice breakfast. Clean room." — Carl- Chicago, IL April 2017
"The cozy feel of the Resort. Walking the trails, sitting on the swings. The pool-nice. Enjoyed very much! Kudos to housekeeping-room-very clean!" — Julie- IN April 2017
"Countryside with amenities of city." — Gary- IN April 2017
"It was all amazing. Room 14 was great. We started with room 15. Amazing." — Megan- IN April 2017
"Turning up at the fire pit. Thank you." — Ellen B. Party- IN April 2017
"Room spacious, comfortable, staff very friendly and helpful. We really enjoyed our stay and will recommend Brook Pointe to others." — Ellen B. Party- Fort Wayne, IN April 2017
"Fire pit. We loved it. It was great." — William- IN April 2017
"Hospitality, activities… Simply beautiful atmosphere. We will be back again! Thank you for a comfortable stay… Fire pit/swings are awesome!!" — David- IN April 2017
"Everything, zipline, trails, pool. I will def be back! Best hotel ever.." — Rayanna- Elkhart, IN April 2017
"We get to see things and we get to sleep in this time. Will come back." — Linda- Antwerp, OH April 2017
"You had a room when we were stopping late. Very quaint. Quiet. "AWESOME" The help was very friendly. Made us feel at home." — Dan- Richmond, OH April 2017
"All the amenities, lots of options of things to do. We will definitely stay again, you won't have to do a lot to convince us. This place is beautiful and the staff is very friendly and helpful." — Kevin- IN April 2017
"Peaceful. Very nice place." — Jean- MI April 2017
"The hospitality shown from staff. Cleanliness of room and rest of hotel. Swings and gazebos. Thank you for the hospitality." — Jordan- New Paris, IN April 2017
"It's nice and quiet." — Richard- Milton, WI April 2017
"Clean rooms, best price, friendly staff, great location." — Douglas- Alberta, Canada April 2017
"Kari at the front desk is phenomenal. Excellent job." — James- Richmond, TX April 2017
"Fire pit and swings. Very relaxing!" — Marriann- IN April 2017
"We very much enjoyed our the helpful staff, lovely swings and gazebo, and the great breakfast spread. We also very much enjoyed our dip in the pool along with the complementary cookies!" — Rhonda- Chicago, IL April 2017
"Room 14. Thanks- exceedingly to the evening receptionist." — Anonymous- April 2017
"Friendly. Stay the same- don't change. It was very good." — Pat- New York April 2017
"Bed- very comfy." — Craig- Wroxham, England April 2017
"Swings and the jacuzzi. Liked the pressure in the shower. Staff was friendly and room was exactly as advertised. Thanks for a getaway on our anniversary." — Gary- Wolcottville, IN April 2017
"Fireplace/reading area, friendly staff, snack area and breakfast." — Rod- Toledo, OH April 2017
"Pool, friendly staff, very happy and always doing extra to make you happy. Kari is amazing!! Going the extra mile to her guest." — Anonymous- April 2017
"We really enjoyed the pool and Jacuzzi. Service was great. We had a great time. Staff was great! Lava cake was awesome!" — Clayton- IN April 2017
"Ease of check-in, friendly employees. Everything was great." — William- Los Angeles, April 2017
"Friendly staff and clean room. You did a great job. Thank you." — Delina- Indianapolis, In April 2017
"The nice big room, the beautiful surroundings, clean room and comfy bed." — Dennis- Grabill, IN April 2017
"Comfortable and cost. Thank you!" — Adam- Linden, MI April 2017
"You're the best. Thank you! Warm regards, Shanna." — Shanna- IN April 2017
"Friendly staff. Pool, location, price. Give Alaina and Denise a bonus! Thanks. We enjoyed our stay!" — Anonymous April 2017
"Polite staff members and fountain pop machine available." — Jacob- Elkhart, IN April 2017
"Kari being so awesome and helpful. Everything was awesome!" — Torri- IN April 2017
"Friendly staff and nice country setting! Keep working on the trails… We'll be back. Thanks! Very pleased with the stay! Swings and fire pit are a hit with us!" — Karen- Osceola, IN April 2017
"Relaxing atmosphere." — Amy- IN April 2017
"Hospitality. Very quiet place." — Irene- Middlebury, IN April 2017
"Really enjoyed the Couples Romance Package. Also employees were very friendly and helpful." — Dawn- MI April 2017
"Liked the friendly staff, making sure we had the best room available." — Anonymous- April 2017
"Fresh cookies, comfy beds, daily maintenance! Very nice stay." — Nithin- Troy, MI March 2017
"It was all pretty good." — Rebekah- Niles, MI March 2017
"The quiet, relaxing atmosphere. It was nice walking the trails and sitting by a fire in the swings." — Ronald- Lagrange, IN March 2017
"The room was nice, place was great. We loved this place." — Leslie- Kendleville, IN March 2017
"We liked the jacuzzi and also the sparkling grape juice and rose petals. Thank you for your great service- We enjoyed the relaxing, laid-back atmosphere." — Matt- Middlebury, IN March 2017
"The warm salted pool and the fresh, warm cookies. It was very nice and homey feeling. The staff was friendly and helpful." — Clara- IN March 2017
"Friendly- Very nice." — Wendy- IN March 2017
"Pool, woods, clean." — Dinise B. Party- March 2017
"Location." — Jonah- Bourdon, IN March 2017
"The bed! The quiet, the tv was nice. Everything worked! Also microwave and fridge helped. It is what we expect for this priced room. Thank you- Debbie and Ed" — Debbie and Ed- March 2017
"Cookies and soft bed. Presentation on arrival. Enjoyed water aerobics." — Roberts- Elyria, OH March 2017
"The atmosphere, the trails, the zipline, the grounds. I plan on it." — Jessica- Lancister, PA March 2017
"The staff was great, tons to do that kept everyone busy and happy!!" — Alecia- IN March 2017
"Good home feeling." — Tim- IN March 2017
"The view." — Steve- IN March 2017
"Staff was very friendly and the room was very nice." — Tara- Nappanee, IN March 2017
"Lava cake and cable (We don't have that at home). Plus great gals at front desk at check-in. they really were very engaging. Thank you to everyone who helped make our getaway from the day to day enjoyable." — Bethany- Elkhart, IN March 2017
"Chocolate cookies and memory foam mattress." — Amy- Middlebury, IN March 2017
"Hot breakfast." — Fred- Indianapolis, IN March 2017
"Jacuzzi and lava cake." — Brian- Delphi, IN March 2017
"Comfortable room." — Joseph- Independence, IN March 2017
"Clean room. Good breakfast." — Pam H. Party- IN March 2017
"Quiet, affordable, clean, cookies!" — Pam H. Party- IN March 2017
"Jacuzzi and chocolate lava cake! Swan and petal presentation was nice." — Chris- New Paris, IN March 2017
"The prices and the stairs weren't too steep. Very nice and we would come again." — Kristen- Chillicothe, IL March 2017
"Good shower, nice room- firm bed." — Rob- Cromwell, IN March 2017
"Attentive, friendly staff that weren't overpowering but were on hand when needed. I would stay here again." — Peter- Tamworth, UK March 2017
"Pool. Thank you!" — Matthew- Syracuse, IN March 2017
"Very relaxing, close to home. Awesome place." — Jackie- MI March 2017
"Friendly staff!!! Room very nice, bed ultra comfy. Thanks!" — Cindy S. Party- Lisle, IL March 2017
"Room looks good." — Cindy S. Party- Lisle, IL March 2017
"Lava cake." — Dennis- Shipshewana, IN March 2017
"Nice hotel." — Alison- Leesburg, IN March 2017
"Jacuzzi tub, heated pool. We thoroughly enjoyed our time!" — Tanner- IN March 2017
"Friendly service, cleanliness, jacuzzi. See you this summer." — Mattie- IN March 2017
"Nice room." — Patricia- Churubusco, IN March 2017
"The pool and lava cake." — Judy- IN March 2017
"Everything. Cleanliness of room/hotel. Friendly staff. The beautiful set-up of our room when we arrived. Invite us back…We will be back. We have one more night to use and may extend the stay. Thank you for offering us this special. Very rarely do these ng>"Specials" ever live up to what they promise, but you did." — Renee- Greenfield, IN March 2017
"Very friendly staff. Rooms very clean!" — Chad- Syracuse, IN March 2017
"Quiet! Nice place. Thanks!" — Richard- Westminster, IN March 2017
"Small Resort. Friendly and helpful staff. Thanks for that. Internet works well!" — Marcia- Francisville, IN March 2017
"Nice room." — Patricia- Churubusco, IN March 2017
"Firepit and fresh cookies. Love this place." — Brian- IN March 2017
"On the phone I mentioned it was our anniversary, and upon arrival you guys had decorated the room for us and given us the Couples Package. That totally sold us!" — Sandi- Albion, IN March 2017
"Relaxing. Nice place, friendly host/hostess." — Fay- Mishewaka, IN March 2017
"I loved the way the room was set up as we arrived. ~Romantic and cozy setting~" — Jodi- Osceola IN March 2017
"I liked that it is out in the country. Very friendly staff. We'll be back." — Cameron- Monroeville, IN March 2017
"Comfortable bed and jacuzzi. Everything was great. Thanks!" — Chase- N. Webster, IN March 2017
"The facility itself- Everything throughout the Resort was clean and comfortable. The fireplace and fresh flowers are welcoming. The fitness room is well equipped. The cookies are delicious! Nice breakfast." — Kim- IN March 2017
"The jacuzzi tub was nice and the time away with my girlfriend. The Wi-Fi was above average." — Anonymous- IN March 2017
"Large comfy bed. Very nice staff." — Alex- Chicago, IL March 2017
"The blankets. Thank you." — Richard- Goshen, IN March 2017
"Friday night was very nice." — Kathy- Kendalville, IN March 2017
"Jacuzzi, big bed." — Chase- N. Webster, IN February 2017
"Presentation and the tub was great. We would come again! We had a great time!" — Michael- N. Manchester, IN February 2017
"Staff. Rooms- layout. Stayed extra night with Groupon- Thank you for participating in Groupon! Contact with all staff members was GREAT. Thank you, Kari Bontrager and night staff lady, Ann. We'll be back." — Randy- Paw Paw, MI February 2017
"Quiet, romantic decor in cabin was awesome. Staff was friendly. A great place to stay. Really enjoyed our stay!! We will be back!!!" — James- IN February 2017
"Quiet setting. All fine!" — Raini- Fishers, IN February 2017
"We were well satisfied." — John- IL February 2017
"Tub in our room, would like to come back when swings and fire pit are in use. Everything was just fine." — Terry- IN February 2017
"Very nice, clean and friendly." — Sheryl- Nappanee, IN February 2017
"We always enjoy our stay- very courteous staff. Rooms are always clean and cozy. Loved that there's so much to do outside here on a beautiful 65 degree February day. Nice breakfast too. Everything was perfect once again. Thank you for your hospitality and we will be back in April." — Carla and Tom- MI February 2017
"Loved it." — Judy- Mishawaka, IN February 2017
"The staff was very friendly and did everything they could to help. Thank you!" — Thomas L. Party- NC February 2017
"Quiet and relaxing." — Thomas L. Party- NC February 2017
"The jacuzzi tub plus the peace and quiet in the hotel." — Paul- IN February 2017
"Clean, non smoking, natural setting, quiet, affordable. I like that you don't use disposable cups, etc. Thank you. The earth thanks you too. You've already won us over." — Dore- February 2017
"Fast and efficient staff. Liked that pets are allowed." — Amanda- IN February 2017
"Hot tub, sparkling white grape juice decorated with the rose petals is special." — Mel- IN February 2017
"Very cozy, great service." — Guy- IN February 2017
"Employees were very helpful. Keep doing what you're doing. The lady that checked us in was very helpful and accommodating, very helpful in meeting our needs." — Tonya- Cromwell, IN February 2017
"Friendly staff, great Resort, beautiful grounds. Everything was great. Great staff!!" — Russell- IN February 2017
"Room and facility has so much to offer. We got a special offer at the Home and Garden show." — Jody- Fort Wayne, IN February 2017
"The bed was very comfortable. Nice place." — Jimmy- Georgia February 2017
"The comfortable atmosphere. The employees are very friendly. We will definitely come back. Thank you, we enjoyed our time here." — Cory- IN February 2017
"Everything. We love it here. You rock!" — Laura- IN February 2017
"Jacuzzi, trails, games, real plates at breakfast." — Stan- Auburn, IN February 2017
"Peaceful. Everything was perfect. Great place to stay." — Angie- February 2017
"Everything." — Melody- Goshen, IN February 2017
"The place is great. We will be back. Keep it up! It was great. A+" — William- Elkhart, IN February 2017
"Liked the great service we received and also the romance package was amazing! We loved everything about this place, the staff was extremely helpful! Thank you for being such an attractive place for vacation. We came from Michigan." — Chris- MI February 2017
"Ben, the manager I met when I checked in last Sunday was great. I saw the cabin on your web page. Great place, love the cabin." — Philip- Texas February 2017
"Clean room! Rooms are big and not cramped with furniture. I was very impressed with all your employees and the hotel itself. Beautiful place!" — Mike- Mike, Florence, Al February 2017
"Friendly people, beautiful scenery." — Joann- Lexington, TN February 2017
"The room was beautiful and the food was good as well." — Kip H. Party- Bloomington, IN February 2017
"Clean, comfortable room, candles." — Kip H. Party- Bloomington, IN February 2017
"Loved being able to relax in the Jacuzzi." — Megan- Mishawaka, IN February 2017
"It was relaxing. Everything was good for our stay." — William- Elkhart, IN February 2017
"Very nice stay. Loved the Couple's Romance package. Enjoyed the salt water pool. Very friendly staff. They went out of their way to give us ice cream instead of chocolate as my husband cannot have it. Very accommodating." — Robin- IN February 2017
"Everything. No complaints. Already planed on coming back while checking in. Keep doing what you're doing, it's working great." — Shannon- MI February 2017
"Room price. Happy with stay. You were very friendly." — Wayne- WI February 2017
"Rooms big and comfy." — Lindy- MI February 2017
"I liked most the "Feels like home" feeling you get when you walk in, the super sweet staff, the housekeepers are wonderful, everyone is so nice and friendly! We will be back to stay again! We will also highly recommend you to anyone and everyone we know! We have truly enjoyed our stay and we would just like to say thank you!" — Dustin- KY February 2017
"The price, clean, friendly, breakfast always good, walking path, convenient to my needs, (stores and restaurants). I can count on my room to be comfortable. Keep on doing what you are doing." — Chris- IN February 2017
"Nice room, clean, good breakfast, nice stay. Nice place. Enjoyed my stay here. Employees were also very nice." — Mike- Florence, AL February 2017
"Nice location and view." — Alex- OH February 2017
"Liked the atmosphere. Nice area." — Dave- Vassar, MI January 2017
"My favorite place to stay in the area. Thank you." — Daniel- Fort Atkinson, WI January 2017
"Quiet for the most part and relaxing. We enjoyed our stay and were hoping to come back again." — Anonymous- Carmel, IN January 2017
"Jacuzzi in room. The lava cake was so good!" — Anonymous- January 2017
"The room was quiet. The party was fun. Staff is courteous and helpful." — Stephen (Murder Mystery Party)- Goshen, IN January 2017
"Liked talking to new people. We'll be back. We loved staying here. It had a homey feel." — Anonymous (Murder Mystery Party)- January 2017
"The Murder Mystery and staff as always. Great Murder Mystery and I liked meeting new people." — Clinton (Murder Mystery Party)- Elkhart, IN January 2017
"You have something special here, relaxing, good homey vibe. We would stay again. We liked the theme night." — Tabatha (Murder Mystery Party)- Goshen, IN January 2017
"The room and entertainment." — Ryan (Murder Mystery Party)- Walkertown, IN January 2017
"Liked meeting new people. Everything! This was a blast!!" — Anonymous (Murder Mystery Party)- January 2017
"The pool." — Miles- Syracuse, IN January 2017
"I loved many things. The room's cleanliness and the homey look and feel. The swimming hours. My son said, "The cookies." Great staff too! Just wonderful all around. 5 stars." — Alexis- Syracuse, IN January 2017
"Hot tub and lava cake." — Stephen- Carmel, IN January 2017
"It was very peaceful and romance room for couples was absolutely beautiful… Room 36. Front desk were very helpful and have sweet smiles. I was thankful for the Romance Special." — Michelle- Goshen, IN January 2017
"The entire Couple's Romance was a delight!" — John- Mishawaka, IN January 2017
"Nice staff. Beautiful land. Awesome place!" — Jess- Ligonier, IN January 2017
"3 times I've stayed and the bed is amazing!! Staff has always been very friendly." — Anonymous- January 2017
"The price, hot tub and cake." — Angie- South Bend, IN January 2017
"Spacious room, large grounds for walking. Appreciated being able to bring our Golden Retriever, Max. Thanks." — Duane- Massillon, OH January 2017
"Staff, housekeeping is great! See ya soon!" — John- Roanoke, IN January 2017
"The staff was friendly and helpful, room was clean." — Brian- CA January 2017
"View out back window. Thank you." — Roger- IN January 2017
"We took a 2 1/2-week vacation this summer out West and stayed in numerous hotels/motels, many of which were very nice. None of them were as nice and as inexpensive as Brook Pointe Resort, though. I wish our trip hadn't been so rushed. You have a very warm, welcoming establishment. If our travels ever take us your direction again, we would certainly stay there again. I've already recommended your place to a coworker! Thanks for such a pleasant stay. The little things–such as a pleasant greeting, wide hallways, spacious rooms, homey furniture and decor, comfortable clean beds–really AREN'T little things when you're traveling." — Steve- January 2017
"Affordable. Liked this on our first visit here." — Joyce- New Castle, PA January 2017
"Love the friendly staff, the quiet location, the jacuzzi, the free cookies, the fireplace, the homey feel. Love the warm pool! Love it here! We stay here often and we live in North Webster." — Rachel- IN January 2017
"The hot tub! Continue the Groupon deals. Your facility is cozy and welcoming. We hope to come again!" — Lauri- Mishawaka, IN January 2017
"Homey and quiet. Friendly and helpful staff. Housekeepers very friendly! Nice stay! Thank you!!" — Tanya- Fort Lauderdale, FL December 2016
"Location, friendly staff, reasonable price. Friendliness of staff was top notch." — Bob- Arvada, CO December 2016
"We enjoy the convenience of being able to have the kitchen area for our large group of friends to gather. We will be back." — Shannon- December 2016
"Atmosphere, outdoor activities, jacuzzi, cleanliness of room, comfy beds. Thank you! Look forward to coming back." — Kevin- Elkhart IN December 2016
"Awesome breakfast and hospitality." — Aga- IN December 2016
"Hot tub." — Kevin- IN December 2016
"Staff- Jonelle and Ann. Really, it's all good!" — B. Hiatt Party- IN December 2016
"Everything great as always!" — B. Hiatt Party- IN December 2016
"People are very nice. Love the fire place. Love this setting. Very lovely especially in the spring, summer and fall." — Ernest, IL December 2016
"The area and quaint local flavor. Just keep doing, we know where you are now." — Keith- Bremen, IN December 2016
"Loved the jacuzzi and customer service of the girls at front desk. Thank you!" — Cassandra, Oak Forest, IL December 2016
"Very cozy and friendly." — Carl- IN December 2016
"Enjoyed the bubbly upon arrival, lava cake, and jacuzzi." — James- Nappanee, IN December 2016
"The beds are very comfy. Rooms are clean, nice atmosphere." — Glen- East Jordan, IN December 2016
"We like the pool, the hotel and surroundings are very pretty. The staff is very nice as well." — Angie- Liberty, IN December 2016
"The setting and atmosphere- homelike. Plus it's pet friendly. We'll stay here again." — Kelly- South Charleston, WV December 2016
"Large, reasonably priced room. We liked the pool and breakfast." — Elizabeth- Anderson IN December 2016
"Staff is very helpful and courteous. It's clean and quiet. Liked the location." — Barbara, Decatur, IN December 2016
"Friendly staff, convenient location, price, wi-fi was great." — Karen- December 2016
"Convenience to town, quaint atmosphere, large rooms, reasonable price.." — Christian- NJ December 2016
"The people were very nice. Liked the sparkling juice and lava cake. Thank you. We had a nice time." — Rhonda- Bluffton, IN December 2016
"Clean, nice room and bathroom. Proud to see a former N.W Wawasee Corp. student become prominent and successful!- Mr. H." — Chris H.- IN December 2016
"Really liked how cozy Brooke Pointe is! Front desk was very helpful and nice! See you again! Happy Holidays!!" — Brook- Syracuse, IN December 2016
"Atmosphere. We will be back, next time in the area." — Wilhelm S. party- NC December 2016
"Very nice rooms friendly people. We'll recommend to others!" — Wilhelm S. party- IN December 2016
"The rooms, the exercise room and pool. Nice area. The hotel is really good, I liked it." — Rainer- Freudenberg, Germany December 2016
"Staff. Will visit again." — Anonymous- IN December 2016
"Quaint and convenient. We will stay again." — Joni- Marathon, FL December 2016
"Jacuzzi and very friendly staff. Thank you." — Darlene- December 2016
"The room is very nice and we appreciated how clean everything is. Thank you! It was very relaxing and we needed that!" — Marty- Fort Wayne, IN December 2016
"Calm, cozy atmosphere. We enjoyed our stay and would like to return. We'll recommend to friends." — Randy- IN December 2016
"Everything. We will be back." — Nanci- Fort Wayne, IN December 2016
"Chocolate chip cookies, friendly staff (made us feel comfortable). Thank you! The Resort is very comfy and charming!" — Dave- Sheboygan, WI December 2016
"Small and home-like feeling." — Rex- Goodlettsville, TN December 2016
"Staff, comfortable bed. Large tv, shades are nice, nice decor. Plates at breakfast were a nice touch. Thank you." — Chuck- Edmore, MI December 2016
"Quiet atmosphere. This place was great! It was a lovely stay!" — Alyson- Elkhart, IN December 2016
"Friendly person at reception. Great location for our merry visits." — Gerald- Des Plaines, IL December 2016
"Easy access, early breakfast (very tasty). Friendly staff and very accommodating, thank you. Clean room. Thanks for soliciting feed back" — Susan- Wabash, IN December 2016
"A good atmosphere. good and friendly staff.. Everything went great. Have a great day and thank you, Brook Pointe Resort." — Pam- IN December 2016
"Jacuzzi." — Garry- IN December 2016
"Loved the warm pool! The fact that it goes to 5 ft. (A couple of hotels we called said theirs only goes to 4 ft.). Breakfast was great. Loved the blueberries and chocolate chips for waffles. The afternoon cookies, girls loved them! The property- outside fire pit. We will continue to return." — Kathy- Union Pier MI December 2016
"Great service. Ann at the front desk was amazing. Clean room, nice pool." — Emily- Milford, IN December 2016
"Friendly, generous staff. Nice space in rooms. Thank you!" — Linda- MI December 2016
"Staff. See you next week." — John- Roanoke, IN November 2016
"Everything. From the comfortable room and friendly staff, beautiful setting. My favorite place to stay! This is my third stay and I will be back! Thanks!- D.S." — Danien- Fort Atkinson, WI November 2016
"Hot tub. We will gladly come again. Have a great day!" — Barbara, Goshen IN November 2016
"Very nice facility. Clean, comfortable, nice feel." — Julie- IN November 2016
"Always clean, pleasant rooms, hospitality, cozy atmosphere, nice breakfast. This is our 'For sure to' Resort, love it here. We are very comfortable. Looking forward to our next visit. Love the things you are doing. Looking forward to outdoor activities in our spring visit! Thank you!" — Thomas- Bay City, MI November 2016
"Homey environment, spacious room, pet policy, breakfast included. Great little place, thank you." — Garlette- November 2016
"Free breakfast was nice. Enjoyed our stay." — Pamela- Milford, IN November 2016
"Hot tub." — Michael- Greenfield, IN November 2016
"Friendly front desk people. We'll be back." — Terry- Benton, TX November 2016
"Nice and clean, liked the price." — Thi- Gladstone, MO November 2016
"Peaceful setting." — Lori- Markle, IN November 2016
"Non-hotel feel. This is a nice size and felt personal. Very nice facility!" — Kendra- Auburn, IN November 2016
"Environment, clean rooms. Love the jacuzzi, so relaxing." — Levi- Lagrange, IN November 2016
"Loved the hospitality, the refrigerator and microwave in room, PLUS the discounted PRICE. You were very accommodating to us." — Jackie- Raymond, NE November 2016
"Easy going atmosphere." — Penny- Topeka, IN November 2016
"We were able to use the dining room to play games. The friendliness of staff." — Fannie B. party- Nappanee, IN November 2016
"Comfortable beds, awesome decor." — Fannie B. party- Nappanee, IN November 2016
"Good breakfast and good service while we here." — Fannie B. party- Nappanee, IN November 2016
"Enjoyed our time here." — Fannie B. party- Nappanee, IN November 2016
"Friendly- we made ourselves at home here. Weather didn't permit us outside, but we had a good time inside. Thank you." — Fannie B. party- Nappanee, IN November 2016
"The room was roomy and comfy. Loved the jacuzzi tub. We will definitely be back because we enjoyed our stay." — Robert- Shipshewana, IN November 2016
"Comfy bed. Everything was great." — David- IN November 2016
"Liked the indoor pool. Thanks for letting us bring the dog. Enjoyed the good breakfast and the friendly staff." — Debra- IN November 2016
"Quiet setting." — Pam- Indianapolis, IN November 2016
"The outdoor facilities- swing sets." — Mark- Searcy, AR November 2016
"Jacuzzi tub and breakfast." — Melissa- Syracuse, IN November 2016
"Staff were helpful. Very nice accommodations. Pool was great. Liked being able to walk in the woods and be outside." — Larry- Fort Wayne, IN November 2016
"Very nice room with the Christmas decor. We will be back next year. Great breakfast!" — Michael- MD November 2016
"Privacy, prompt service." — Brice- Huntington, IN November 2016
"Outdoor amenities, zipline, fire pit and swings." — Monica- Steger, IN November 2016
"Mr. Plikerd, your staff is some of the friendliest I've encountered in my travels. I have at least 45 hotel stays since September, 2015 and the 2 here were THE BEST. This stay I saved one day just to savor the beautiful property. I hiked along the trails in the back of the property (gorgeous!) because it was safe to do so with the soft ground. I WILL BE BACK in the spring, for sure, when in the area. This property is truly a 'Hidden Gem'. I have left reviews on hotels and TripAdvisor and will do so again adding the enjoyment of the trails!" — Janie- IL November 2016
"Jacuzzi in room. Very romantic. We got engaged!" — Jessica- Wolcottville, IN November 2016
"Walking trails and zip line." — Sheldon- Sturgis, MI November 2016
"The property, (trails and fire pit). This is our second time here and we plan to come at least annually. This place is awesome! Staff is friendly and helpful!" — Robert- Elkhart, IN November 2016
"Comfort and friendly staff. You guys are wonderful!" — Jason- November 2016
"Very quiet. You are great the way you are!" — William- Kokomo, IN November 2016
"Fireplace in lobby." — Peter- IN November 2016
"Quiet and relaxing. The jacuzzi is great." — Keith- Mantano, IL November 2016
"Fire ring, real dishes, relaxed atmosphere. Staff was very helpful and kind. Can't wait to see the cabins." — William- New Haven, IN November 2016
"Very nice jacuzzi." — Mary- November 2016
"Convenient location. Not too far from home. Country atmosphere- peace and quiet." — David- Columbia City, IN November 2016
"Quiet and relaxing." — Sheri- New Paris, IN November 2016
"Thank you for a nice time!" — Kevin- Eric, Anderson IN November 2016
"The evening desk clerk was very nice. The room was comfortable. We are planning our next year's vacation and hope to stay here. Have a good day!" — Robert- Frankfort, IN November 2016
"Friendly service, clean room, free cookies, good breakfast. Keep the reasonable prices!" — Andrew- Crown Point, IN November 2016
"Jacuzzi, swan towels, rose petals." — Kevin- Elkhart, IN November 2016
"Room is very nice grounds are very well kept. The front desk was very nice and let us know everything you have to offer." — Brittany- OH November 2016
"Excellent everything." — Ramona- Batavia, OH November 2016
"Liked the charm and things it offered. Great breakfast and perks with groupon. Staff was wonderful. We'll be back. Thank you, we enjoyed our stay." — Adrienne- November 2016
"Jacuzzi. Awesome back yard." — Mervin- Shipshewana, IN November 2016
"The quiet, the service, the hours and pool. Thank you." — Andrew- Cromwell, IN November 2016
"Staff. Thank you!" — Dennis- South Bend, IN November 2016
"Scenery and quality of the hotel. Already planning our next visit! Everyone was friendly, very clean and quiet! We very much enjoyed our stay! Thank you." — Jordan- Liberty Mills, IN November 2016
"Swimming, being outside/walks. Loved whole experience. Staff very friendly and helpful. We had a very restful time to enjoy God's world. Ben, thanks for telling us about Chubbie's Wed. Special. Terrific burrito!" — William Churubusco, IN November 2016
"Continental breakfast and jacuzzi. Enjoyed very much. Thank you." — Ronald- Churubusco, IN November 2016
"Friendliness of the people, quietness, hot tub. It was great. Thank you for a nice night." — Mark- Goshen, IN November 2016
"Sleeping in. The jacuzzi, rose petals, and sparkling grape juice were a nice touch." — Ryan- Warsaw, IN November 2016
"Loved all of it. I will be back. Had a great time. Loved the swings!" — David- Fort Wayne, IN November 2016
"Jacuzzi tub, the grounds and the atmosphere. We enjoyed the fall festival." — Trent B. party- October 2016
"Super comfy bed, the tub… everything! we will be back next year!" — Trent B. party- October 2016
"Comfortable, clean, friendly. Thank you!" — Paul- October 2016
"Nice, clean rooms. Nice facilities. Thank you." — Anonymous- October 2016
"I enjoyed everything. 8 year old daughter and friends enjoyed the festival and the pool. Everything was wonderful! Jonelle and the night lady were exceptional. I had an enjoyable stay! Thank you!- Melissa" — Melissa- Syracuse, IN October 2016
"The desk clerk placed us on the ground floor, which was handy because of so much luggage. Very nice place to stay. This is the second year we have stayed here." — Ward- Lafayette, IN October 2016
"Friendly people. The fire pit. Nice room . The flowers and bubbly are great. It is nice that we are not sandwiched between other buildings and have a great area for walks and strolls. It's nice to look out my window and see trees and nature and not other buildings. Thanks- We had a great time." — Joel- Fort Wayne, IN October 2016
"Hiking trails, fire outside." — Lee- South Bend, IN October 2016
"Staff and outdoor space." — Kristin- Chicago, IL October 2016
"Convenient location, beautiful property. Everything is very nice." — Vince- Pierceton, IN October 2016
"The staff. Room was very nice. Place is great." — Lisa- Avon, IN October 2016
"Breakfast was very good." — Brandon- Ravenna, MI October 2016
"Outdoor grounds- atmosphere. Your staff is friendly and quickly accommodating." — Mary- Tippecanoe, IN October 2016
"Size and comfort of room and bed. Friendly and accommodating staff. Breakfast and heated saltwater pool. Very nice stay at Brook Pointe Resort." — Larry- October 2016
"Spending quality time with my wife. We like coming here. It's not too far away from home." — Anonymous- Rome City, IN October 2016
"Staff was very helpful and professional. Rooms very clean. Love the pool hours." — Ann- Fort Wayne, IN October 2016
"FREE amazing breakfast! Fall festival." — Marta- Zionsville, IN October 2016
"Large rooms, friendly staff, fun festival. Liked the extra pillows and waffles." — Victoria- IN October 2016
"Nice big rooms and dessert at night." — Anonymous- October 2016
"Grounds. Nice stay." — James- SC October 2016
"Love the peaceful, quiet atmosphere and open space." — George- Seville, OH October 2016
"The people and the grounds, which are beautiful. Anytime I'm in this area I will absolutely stay here again!" — Donna- OH October 2016
"Country setting, no hustle and bustle, quiet. No need to change anything. God directed us to come here." — Carol- OH October 2016
"I liked the bed and tub" — Anonymous- October 2016
"Quiet, clean, cheerful. Beautiful hotel, can't wait to stay here again." — Justin- October 2016
"Memory foam mattress, the cookies and the friendliness of the staff. It was a lovely facility." — Stephanie- Elkhart IN October 2016
"Staff is very nice and accommodating. The jacuzzi is very nice." — Nathaniel- Bristol, IN October 2016
"Cozy, homey feel. Lovely little place." — Cary- IL October 2016
"Relaxing atmosphere. We'd stay here again if we decide to take another little trip. Staff was very friendly." — Margaret- Greenwood, IN October 2016
"Liked the staff and fall festival. Breakfast. Rooms are nice, love lobby. Katie did a great job. Staff was so nice!!!" — Anonymous- IN October 2016
"Quiet. Pleasant, helpful staff." — Kevin- Joliet, IL October 2016
"Rooms are large and spacious. Thanks for your hospitality." — Pat- Buffalo, NY October 2016
"It was a very homey feeling and we always felt welcome! We enjoyed our stay. The staff and hotel were perfect for what we wanted!" — Cindy T. Party- Syracuse, IN October 2016
"Loved the quietness, fire pit, trails and massage. The staff was very nice too." — Lisa- Mooresville, IN October 2016
"Pleasant location, rooms were adequate and comfortable. Breakfast was good." — Anonymous- October 2016
"Large rooms. It was great." — Stephen- IN October 2016
"Very friendly staff. Love the fire pit! Very cool place." — Cindy' T. Party- Syracuse, IN October 2016
"Fire pit, the jacuzzi in the room." — Stephanie- Bristol, IN October 2016
"Staff is so friendly. Everyone is nice. The fire pit and swings outside with Mother Nature is so peaceful. We've been here several times and yes, we will return. The food is so good, everything is so clean and beautiful." — Lois- Rochester, IN October 2016
"Friendliness of staff. Whirlpool tub in room was nice. Romance package nice as well. Great pillows." — Sarah- Mishawaka, IN October 2016
"Employees and jacuzzi tub. We're very happy with your service." — Kristin- Warsaw, IN October 2016
"The staff are wonderful. They are very nice and try to help you in any way they can. we enjoyed the breakfast very much. We had a good time and business will probably bring us back. Hope to see you soon." — Cass- MI October 2016
"Quietness. Very nice and we will be back." — Marcia- Nappanee, IN October 2016
"Lava cake was awesome! We really enjoyed everything about our stay. We'll be back." — John- Pioneer, OH October 2016
"Quiet hotel and friendly staff. Neat breakfast area and nice assortment of food. If we are ever traveling through we will be seen to stay." — Paul- Auburn, MI October 2016
"Location." — Barry- IN October 2016
"The convenience." — Amy- Durand, MI October 2016
"Clean." — Mari- WI October 2016
"Nice room, friendly staff. Beautiful grounds and hotel! We'll be back!" — Michaell- Garett, IN October 2016
"Nice lobby and cookies." — Anonymous- October 2016
"Relaxing atmosphere and scenery. People/ staff were helpful, pleasant and cheerful. Thank you! The breakfast bar is great. The Couple's Romance was very nice. Loved the lava cake!" — Dennis- Defiance, OH October 2016
"Space of the room. quiet and nice garden." — David- KS October 2016
"Warm friendly greetings, clean, beautiful place. I would stay again next time I'm in town. Keep it clean, friendly and beautiful." — Tammy- Dayton, OH October 2016
"Massage option. Enjoyed flowers. Nice that you offer a nice variety at breakfast." — John- Goshen, IN October 2016
"Private setting- scenic. Keep it as it is" — Loretta- Shipshewana, IN October 2016
"Friendly staff, clean accommodations, rose petals, bubbly on ice, fresh cookies." — Karen- Fort Wayne, IN October 2016
"Affordable, location, clean, cozy atmosphere, very accommodating staff." — Anonymous- October 2016
"Liked the camp fire. Keep doing what you are doing." — Dan- Huntington, IN October 2016
"Breakfast, location, views. NICE." — Will- IN October 2016
"Rooms clean, friendly staff." — Carlene- Clinton, MI October 2016
"Room was comfortable, staff was very accommodating. Bed was comfy." — Leon- Berrien Springs, MI October 2016
"So quiet. I liked that there was no tv in the breakfast room and that there were no plastic spoons. It is perfect." — Joery- October 2016
"Nice facility and setting." — Living Gospel Church Party- October 2016
"Friendly staff. Felt like home. Stay as you are." — Living Gospel Church Party- October 2016
"The zip line and good breakfast. The hot tub was nice. This is a nice place." — Living Gospel Church Party- October 2016
"Location. No extra charges for amenities. The ability to bring food/drinks into the conference room, big room!!" — Living Gospel Church Party- October 2016
"Comfortable, friendly staff, relaxing. Everything was great." — L:iving Gospel Church Party- October 2016
"Room was private and comfortable. The lava cake and sparkling juice is a nice touch. Front desk staff very pleasant." — Living Gospel Church Partys- October 2016
"Convenient, quiet, friendly." — Terry- TX October 2016
"Nice, cozy room." — Anonymous- October 2016
"Romance package was delightful!" — Doug- Fort Wayne, IN October 2016
"I liked the quietness of the area. Enjoyed our stay, very pleasant." — Johnnie- LaGrange, IN October 2016
"The atmosphere. If I'm in the area again, I will stay! Great job!" — Elise- Anderson, IN October 2016
"Everything. Great!" — William- IN October 2016
"Location, very picturesque, convenient, quiet." — Margo- Anderson, IN October 2016
"Staff was very kind and helpful." — Martha- Owosso, MI October 2016
"Bed/pillows." — Anonymous- October 2016
"Beautiful room, beautiful estate, very friendly staff, great breakfast." — Jamie- IL September 2016
"Peace and quiet. This was my second stay and I am planning a third." — Denise- IN September 2016
"Location of facility. Secluded, 'Country' setting. The room accommodations and staff friendliness." — James- Lynn, IN September 2016
"This was the only place with a room." — Doug- Helen, GA September 2016
"Clean and friendly staff. The bed and hot tub." — Steven- Ferdinand, IN September 2016
"Quiet, very quiet. Liked that the air conditioning had a fan only mode to sleep to. Nice, remodeled room is beautiful. Cool job!" — Jim- Crawfordsville, IN September 2016
"Everything." — William- September 2016
"EVERYTHING. Our room was very nice. The warm cookies and sitting under the stars on one of your swings. We would HIGHLY recommend Brook Pointe to anyone we know. We will put our five stars on Facebook. Thank you for all the extra touches you have put everywhere, it shows. We noticed. Your staff was very pleasant and welcoming." — Debra- Lovinia, MI September 2016
"Quiet atmosphere, meal and price. We are very impressed with your staff. You are very reasonably priced." — Richard and Rebecca- IN September 2016
"Beautiful and fantastic place to stay. Can't wait to bring my wife." — Ed- Clayton, IN September 2016
"Great staff, wonderful receptionist, clean bathroom, nice grounds, overall quiet. Thank you." — Martin- Symerton, IL September 2016
"Clean, would stay again." — Preston- Lindenhurst, IL September 2016
"Breakfast was great. Spacious room with two easy chairs." — Craig- IN September 2016
"Quaint, quiet, country location and good price. Friendly check-in staff. Would stay again." — Kristine- IN September 2016
"You've lived up to the pictures and information on your website. The rooms are so spacious and above all VERY CLEAN! Grounds just make you feel at home. No road noise either! I would definitely recommend this to friends who might be coming to this area." — Sandra- Harrod, OH September 2016
"The convenience and hospitality. Thank you!" — Michael- IN September 2016
"Nice and clean. Quiet. All still seems new. The firepit and porch swings by it were cool! Nice job!" — Nancy- Holland, MI September 2016
"Everything was wonderful! I'll be back!" — Michael- September 2016
"Breakfast. Everything was excellent." — Laurie- MI September 2016
"Country feel and "small" atmosphere. The cookies and breakfast were great also. Thank you!" — Jennifer- IN September 2016
"Small size, quiet, quaint. Beautiful grounds. Very helpful staff." — Mary- Delthos, OH September 2016
"Pool, the shower, the cleanliness, the environment, the pool- all lovely. Thank you for all your hospitality! Every staff member we encountered was wonderful!" — Daniel- IN September 2016
"I loved the sparkling grape juice, jacuzzi, trails, swings, relaxed atmosphere and cookies! Your staff does a wonderful job of cleaning and upkeep! You have a beautiful place here! It's very relaxing and therapeutic! Next time we will schedule a massage!" — Jerry- Wolcottville, IN September 2016
"Getting to spend time in the jacuzzi and the peace and quiet. Not a lot of noise. Everything was great. It was a very good stay." — Kayla- Howe, IN September 2016
"Everything, great place." — Bill- IN September 2016
"It's clean. Nice breakfast and sweet staff. We enjoyed our stay." — Anonymous- September 2016
"Updates are great. Comfortable bed, large tv, pool area was very attractive and had warm water. We would definitely stay again. Love this place." — Anonymous- IN September 2016
"Quiet, welcoming atmosphere and clean rooms. We'll be back! The outdoor swings and gazebo are such a nice dimension!" — Anonymous- IN September 2016
"It was close to the business I had in the area. Great place, clean, comfortable." — Maurice- Berlyn, PA September 2016
"Friendly staff." — Roslyn- Indianapolis, IN September 2016
"Environment/atmosphere." — Anonymous- September 2016
"Bonfire and room availability. Thank you." — Jane- Sterling, MA September 2016
"Friendliness of the clerk at the desk. Liked the "Old Timey" Resort atmosphere and the beauty of the area in general. Thanks." — Bill- Sullivan, IN September 2016
"Clean, convenient location, and price. We will stay again." — Thomas- IN September 2016
"Convenient, it was comfortable. Loved the cozy furniture in the upstairs lobby." — Anonymous- September 2016
"Walking around the property with our dog who really loved her stay here. We liked the use of the hot tub. The receptionist was very pleasant and hospitable." — Tim- Fort Wayne, IN September, 2016
"The place and surroundings. We'll be back in the springtime! Thanks!" — Bryan- Shreve, OH September 2016
"Everything." — Christine- Syracuse, IN September 2016
"Thank you! I'll be back!" — Joseph- Pulaski, PA September 2016
"Loved the friendliness and helpfulness of staff, especially the head of the kitchen. I liked the cleanliness of the room. Beautiful area. I will recommend this place. Loved the roses, cake and grape juice!" — Don- IN September 2016
"Large rooms, large breakfast area, television channel selection, and beautiful grounds! Everything has been thought of… I bought insect repellent and then saw that there was some in a storage space on the covered porch! Fantastic!" — Kathryn- Linton, IN September 2016
"This has been one of the nicest hotels I have stayed at. Cool zip line, trails. You guys have sone a good job! If I ever come back here I will stay here. I am a U.S Army Vet and I will tell people on my Facebook page about this place. I will come back." — Terry- Anderson, IN September 2016
"Employees' friendly attitudes and generosity. Thank you." — Laurin- Steger, IL September 2016
"Small room okay for us to feel comfortable or to just hang out. Looking forward to coming back to enjoy the outside amenities. Loved the pool area." — Jodie- Goshen, IN September 2016
"Breakfast." — Kevin- IN September 2016
"Liked the breakfast. Thanks for making things right!" — Wayne- MI September 2016
"Easy access to rooms and the friendly staff. Thank you for a very enjoyable stay!" — Loretta- Akron, OH September 2016
"It was quiet and convenient. We like it here. Keep doing what you are doing." — Kathleen- Vermilion, Oh September 2016
"The towel swans, jacuzzi, lava cake and beautiful grounds. Nice touch!" — Brenda- Goshen, IN September 2016
"Nice, clean and quiet. Would like to return again for a weekend stay to relax. I would recommend this hotel to friends." — Debbie- Akron, OH September 2016
"Liked the location and value." — Mark- Aeworth, GA September 2016
"Very clean, we try to come every year." — Betty- NY September 2016
"Friendly staff." — Ivy- Tiffin, OH September 2016
"Fire pit was a nice touch. Liked the cleanliness of hotel." — Mike- Orland Park, IL September 2016
"Peaceful, we can bring our dog. Staff is very friendly. Thank you!" — David- Noblesville, IN September 2016
"Loved the quiet location, value, and friendliness of staff. We intend to return next year. Thank you for the extended check-out." — Anonymous- September 2016
"Quiet setting. The bed was great, good mattress." — Anonymous- September 2016
"Beautiful. The hotel is warm and inviting. Rooms were clean" — Catherine- Indianapolis, IN August 2016
"The breakfast. Thank you." — Wayne- MI August 2016
"Liked the friendly staff! Janelle and Colin are amazing! Even over the phone! I love this facility and wish I could stay longer!" — Jessica- Maitou Springs, CO August 2016
"Beautiful town. Nice lobby, good cookies. Quiet, nice, clean room. Liked the outside surroundings." — Wayne- Toledo, OH August 2016
"Everything. It's a nice place to stay! Thanks!" — Tiffany- North Webster, IN August 2016
"Great A/C. Rooms were nice and cold. This was a great hotel." — Ashleigh- Canada August 2016
"Beautiful location. We would stay here again just like it is." — Christian- Senegal Republic August 2016
"Liked the location." — Shari- IN August 2016
"Nice grounds. Accommodating staff! Made my husband coffee at 4 a.m.!" — Betty- NY August 2016
"Liked the ambience/grounds. Loved the stay. We'll probably return for a relaxing getaway." — Barrie- Peru, IN August 2016
"Spaciousness and location. Thank you. It was very pleasant." — Jay- Atlanta, GA August 2016
"Rooms clean and comfortable. I'm impressed." — Fred- Bowling Green, KY August 2016
"The surroundings, quiet place." — Tomas- GA August 2016
"Liked the location." — Shari- IN August 2016
"Room had a jacuzzi. Enjoyed that. Enjoyed stay. Wanted to stay another night but you were all booked up! Hope to return sometime!!" — Darryl- NY August 2016
"Clean, spacious rooms." — Paul- August 2016
"Swimming pool and friendly staff." — Susan- Fort Wayne, IN August 2016
"I liked the friendly staff and how calming everything is. I would definitely come back again!" — Katie- IN August 2016
"Convenient location. Front desk was very nice and helpful." — Karen- Fishers, IN August 2016
"Grounds are lovely and the staff was too kind and helpful. Lava cake and cookies was a special touch! Our room was very clean. Love, love, love the candles-nice touch! Great breakfast with friendly attendant!" — Dan- Celina, OH August 2016
"Quiet, helpful employees. Slept well. Close to destination of my school class reunion. Enjoyed staying with you." — Carla- FL August 2016
"Nice room. We were able to pay in advance." — Anthony- IN August 2016
"So close to lake. Liked the clean room and bath." — David- Westfield, IN August 2016
"Quiet. Thanks for rose petals and swan towels. Thanks for the sparkling grape juice on ice. Nice surprise! Thanks you. It was a nice stay." — Georgina- Milford, IN August 2016
"Everything was nice. Room, breakfast, lava cake, etc.. Perfect Couple's Romance" — Michael- IN August 2016
"Clean, quiet. Thanks," — Matt- Anderson, IN August 2016
"The personnel were wonderful, helpful people." — Elaine- NY August 2016
"Comfort, bed, A/C, grounds, location, breakfast, clean room, cork screw, nice linens friendly staff… We are definitely hoping to stay here again!" — Barry- CA August 2016
"Friendly desk folks." — Vaughan- IN August 2016
"I liked the walk-in shower. Liked the grounds, so peaceful." — Anonymous- August 2016
"It was great. Thank you." — Anonymous- August 2016
"Comfortable, clean room." — Mary- OH August 2016
"Hot tub and friendly staff. Really enjoy staying here." — Karen- Fort Wayne, IN August 2016
"Peaceful, friendly. Enjoyed our stay here" — Sean- Carey, OH August 2016
"Pleasant room and area. Calm and quiet. Breakfast was good, staff were helpful and cheerful." — Bill- Roanoak, IN August 2016
"Liked the jacuzzi in room." — Brian- Hoagland, IN August 2016
"Pretty grounds, beautiful lobby, friendly staff. Waffles and blueberries were great." — Anita- MI August 2016
"Pillows were great. Would stay here again!" — Carla- Knoxville, TN August 2016
"Excellent sleeping accommodations." — Mai- Chicago, IL August 2016
"Clean and friendly. Everything was great. Thanks" — Timothy- NV August 2016
"The breakfast. Beautiful scenery. Courteous and friendly staff. Thanks." — Margie- Cleveland, OH August 2016
"Liked the staff and breakfast! Thank you for a great birthday trip!! We had a blast! Love," — Stacy and Joe- Chicago, IL August 2016
"Cozy/homey rooms and grounds. Thank you." — Amy- OH August 2016
"Restful atmosphere, nice pool, nice fire pit area." — Steven- Cicero, IN August 2016
"People and employees were great, friendly and helpful." — William- Green Bay, WI August 2016
"The location." — Todd- FL August 2016
"Quiet" — Ralph- Covington, KY August 2016
"Country setting, the decor and food. Very nice." — Dave Lebanon, OH August 2016
"Quiet, friendly, loved the grounds. Close to Shipshewana. Excellent" — Steven- Westfield, IN August 2016
"Nice and quiet. Good location and good service." — Ginie- Sacramento, CA August 2016
"The pool. Thank you for a relaxing weekend!" — Randy- MI August 2016
"It was very quiet. The bathroom was very clean. The room was lovely and clean." — Charles- IN August 2016
"Very friendly, helpful staff." — Michael- WI August 2016
"Pretty grounds, quiet. We will be back." — Kathy- IN August 2016
"Clean room, quiet area, Amish country, location to Amish Acres." — Ronald- MI July 2016
"I will come back. Very nice." — Russell- IL July 2016
"Great place. Thank you." — William- July 2016
"Enjoyed the large rooms, the zipline, the fire pit, large backyard, breakfast, polite staff and service. Loved our visit, we'll be back!" — Karen- MI July 2016
"Friendly staff. Nice, clean room. The decor and layout is beautiful.." — Daniel- FL July 2016
"Very friendly staff and nice location." — Vlad- July 2016
"Room was very well kept." — Robert- KS July 2016
"Quiet." — Joann- IL July 2016
"Clean room, friendly employees, beautiful setting." — Chris- MO July 2016
"Liked the friendliness of the staff. Great home-like feel. Loved the fire pit. Thank you." — Maury- July 2016
"The quiet surroundings, privacy and friendly staff. I enjoyed my stay. I hope one of the cabins will be available next time." — Richard- Indianapolis, IN July 2016
"Homey. Loved it!" — Eric- Naperville, IL July 2016
"Convenient location. Your rooms are nice size." — Barbara- Batavia, IL July 2016
"Your customer service. I would stay again just because of the customer service and staff. Thank you for your hospitality." — Larry- July 2016
"Quiet location." — Jason- IL July 2016
"I liked how clean the room was and how friendly the staff were. Also the amenities were beautiful. GREAT PRICE!" — Maja- Mexico July 2016
"The room was quiet and quaint with quilts on bed. Property is really pretty. Everything was great, we'll stay again." — Jayne- IA July 2016
"Quiet. We would stay again." — Sherry- IL July 2016
"Nice people, good service." — Danny- Kingston, OK July 2016
"Enjoyed the hiking trails. Everything was great and the price was great too!" — Chad- IN July 2016
"Big room. Nice." — Jonathan- TX July 2016
"Christian, clean, home-like atmosphere. Continue clean, friendly hospitality. Sonell made us feel so welcomed and was so helpful upon check-in and throughout the evening. Thanks!" — Jim- IN July 2016
"Enjoyed the breakfast area. Quaint feeling with fire pit and lounge area. We will be back!" — Ron- IA July 2016
"Enjoyed the sparkling juice and mattress for the Couple's Romance. Awesome!" — Nicole- IN July 2016
"We enjoyed our stay." — Annette- IN July 2016
"We really appreciated the hospitality, breakfast was warm every morning. Kari was extremely helpful with check-in! We loved visiting Brook Pointe Resort!" — Philip- IN July 2016
"Quiet setting and room." — Kesha- IN July 2016
"Nice, clean rooms." — Kathleen- IL July 2016
"Bed was very comfortable." — Harold- IN July 2016
"Jacuzzi was great. Thanks for serving us well during our stay!" — John- July 2016
"Liked the friendliness and helpfulness of staff. Overall excellent." — Mary- Valparaiso, IN July 2016
"Friendly Staff" — Carol- July 2016
"We enjoyed our stay." — Annette- IN July 2016
"Breakfast, location, quiet." — Jonathan- TX July 2016
"Unique overall experience. Good attention to detail. Thank you for a lovely stay." — -John New Paris, IN July 2016
"Friendly staff, nice grounds." — Michael-Ypsilanti, MI July 2016
"Scenery, employees were great, food great, rooms are clean. We would have stayed another night but you were booked! We will be back! Felt like home!" — Duane- MO July 2016
"Clean. Nice place, will return." — Richard- IN July 2016
"Clean and quiet. Desk staff was polite and helpful." — Rick- IN July 2016
"Nice staff. We like Brook Pointe a lot." — Duane- MO July 2016
"Quiet, comfortable facility." — Kyle-Chicago, IL July 2016
"Nice staff. We like Brook Pointe a lot." — Duane- MO July 2016
"Nice room arrangement. Plenty of coffee and towels downstairs." — Betty-Selma, IN July 2016
"Loved the breakfast." — Jennifer-Syracuse, IN July 2016
"The bed was very comfortable and the room was very nice." — Cheryl-Edwardsburg, MI July 2016
"Clean & quiet. Staff were courteous and helpful. Love the pool." — Bruce-MN July 2016
"Beautiful grounds and cleanliness." — Steve-IN July 2016
"Room was comfortable." — Kathy-IN July 2016
"Very friendly atmosphere." — Bridget-Knoxville, IL July 2016
"Clean, good bed, good breakfast! Close parking for room." — Pat-Adel, IA July 2016
"Clean, nice & friendly. A good place to stay." — Douglas- ND July 2016
"We loved everything. Nice place, good service, good food, camp fire & swing. Quiet place to relax." — Austin-Goshen, IN July 2016
"The staff was helpful and very nice. I enjoyed my stay I love the homey laid back feel, a great get away." — Kayla-Ligonier, IN July 2016
"Convenient with good continental breakfast." — Devon-Nappanee, IN July 2016
"Love what you have done outside!" — Cindy- Indianola, IA July 2016
"I loved your pool." — Sophia-West Chester, OH July 2016
"Jacuzzi, dessert, and atmosphere were great!" — Dennis- Elkhart, IN July 2016
"The room was quiet." — Sharonda-IN July 2016
"We liked the romantic touches in the room." — Gregory-Pierceton, IN July 2016
"Everyone was friendly & most helpful. Thanks!" — Leona-Topkea, IN July 2016
"It was quiet & clean with beautiful grounds." — Mike-IN July 2016
"I liked the cookies and swings, bunnies, fireflies and the nice staff, very nice rooms and warm pool." — Dawn-Ft. Wayne, IN June 2016
"Quiet setting & room, comfortable bed, jacuzzi & pool." — Ken-IN June 2016
"It was a very cozy & welcoming place. Very clean with considerate staff. Yummy breakfast, clean & comfortable place." — Anonymous-North Webster, IN June 2016
"Love the firepit and swings." — Michael-IN June 2016
"Room was very nice." — Mark-IN June 2016
"Helpful, friendly staff! Especially the night clerk. Beautiful, quiet setting – big rooms." — Margo-Corpus Christi, TX June 2016
"I love the service!" — Donald-Lambertville, MI June 2016
"The Resort is close to everything nearby." — Raymond-IN June 2016
"The bed was very comfortable." — Nancy-IN June 2016
"Everyone was so nice." — Michael-IN June 2016
"Great service!" — Lance-IN June 2016
"We liked that it was quiet. We had a very nice stay overall." — Amanda-IN June 2016
"Liked the "Swan towels." and the package deal with rose petals, lava cake, privacy! Also the breakfast room, spacious plus nice food. It was affordable! Thanks for your hospitality!" — Diane-IN June 2016
"Quiet." — Donald.-IN June 2016
"Super friendly check-in person, took good care of us including bringing towels to us in the pool before we even had to ask. Very clean, nice facility. Look forward to returning." — Victoria- Ontario, Canada June 2016
"The staff was very welcoming." — Dustin- Valparaiso, IN June 2016
"Very pleasant room. Friendly people at main desk and very helpful! Nice variety at breakfast. (Loved the biscuits and gravy). Thanks for a very nice stay!" — John- Franklin, IN June 2016
"I liked the bed and the massage. Thank you." — Jeff- Ceesburg, IN June 2016
"The room itself was amazing. The continental breakfast was the best I've seen anywhere. Thinking about staying again." — John- Mishawaka, IN June 2016
"Friendly, clean. Continue what you are doing." — Gary-OH June 2016
"Liked the lava cake, cookies in lobby, HGTV on cable tv, pool toys." — Josh- IN June 2016
"All good, excellent staff." — Brian- Eaton, IN June 2016
"I liked the "home" atmosphere and price. Really enjoyed it!" — Charles-OH June 2016
"I do not know how to put it in words ~ Such a lovely experience on this property." — Jeanie-Ft. Wayne, IN June 2016
"Breakfast was good, nice variety. Everything was neat and clean. Grounds are beautiful and well kept." — Joseph-Eden, WI June 2016
"Very nice and reasonable price." — Becky-IN June 2016
"Loved the hospitality, cookies, breakfast, comfortable bed and jacuzzi." — Michael-Ft. Wayne, IN June 2016
"Very friendly & loved the country setting. The staff was very helpful." — Fay-Brazil, IN June 2016
"Clean with great customer service." — Jeffrey-IN June 2016
"We liked everything: The grounds, the room, and great customer service." — Dominique-Milford, IN June 2016
"Nice quiet location." — Dale-Goshen, IN June 2016
"Nice clean hotel & nice breakfast. Love the swings by the fire pit!" — Erica-Greenwood, IN June 2016
"All the staff really were the best!" — Danielle-Noblesville, IN June 2016
"Convenient. Enjoyed breakfast" — Reed-CO June 2016
"I like the clean rooms. Enjoyed stay, would come back again." — Gary-IN June 2016
"Quiet, comfortable beds, nice breakfast, & pleasant staff." — Jack-PA June 2016
"You smile when I come in." — Carl-Dekalb, IL June 2016
"Staff was very nice & helpful & rooms were nice & clean! Beautiful outside, nice bed and nice pool." — Timothy-Wawaka, IN June 2016
"Quaint location & fresh chocolate chip cookies." — Jill-Grinnell, IA May 2016
"Comfortable rooms." — Helen-Morris, IL May 2016
"Everything is clean, the breakfast is super., and the bed sleeps good." — Don-KY May 2016
"Nice green space. All staff seemed nice & helpful." — Sally-KY May 2016
"Very accommodating when we decided to extend our stay." — Bob-CO May 2016
"We loved the outdoors, trails, fire pit, and swings." — Lorrain-Milford, IN May 2016
"Clean and comfortable with a friendly staff." — Sandra-Columbiana, OH May 2016
"Love the ambience. If I'm ever in area again, I'll stay here." — Marjorie-IN May 2016
"In room jacuzzi was nice." — Jaclyn-Ft. Wayne, IN May 2016
"Relaxed, quiet atmosphere. Unique walking trails, etc. that show a real dedication to your guests." — Wayne-Milford, IN May 2016
"Beautiful grounds (firepit, gazebo, trails). Rooms were nice too." — Erma-Oskaloosa, IA May 2016
"We felt very welcomed." — Trey-IN May 2016
"Staff was very friendly." — Dwight-Elkhart, IN May 2016
"Loved the service!" — Charity-Kenosha, IA May 2016
"Thank you for making us feel welcomed." — John-LaGrange, IN May 2016
"Location was quiet & private but close enough to the town to be practical." — Gary-Ft. Wayne, IN May 2016
"Clean room, felt comfortable, helpful staff, and nice buffet breakfast." — Karen-IL May 2016
"Nice, quiet, and comfortable atmosphere. The room was done very nice." — Russell-IN May 2016
"It was extremely clean and was well decorated." — Sandy-Morrisville, IN May 2016
"Lady at front desk was so friendly & helpful." — Maria-IL May 2016
"Quiet and relaxing atmosphere." — Don-Milford, IN May 2016
"Fire circle was nice, zip line was great!" — Karen-IN May 2016
"Good friendly service – Lots of smiles." — Sam-IN May 2016
"How quiet it was. Very nice calm getaway. I loved staying. Breakfast was great." — Rachel-IN May 2016
"Nice & quiet. Rooms were clean." — Rodger-Warsaw, IN May 2016
"Nice swimming pool & jacuzzi." — Rachel-Middlebury, IN May 2016
"Great location and friendly staff." — Kathleen-IN May 2016
"Clean, easy access, friendly staff, beautiful grounds and great amenities such as the pool, firepit and swings." — James-MI May 2016
"Neat and clean." — Barb-IL May 2016
"I loved the location, the price, and the swings." — Cheryl-SC May 2016
"Enjoyed our stay and loved the little touches. Made me feel like home." — Christine-IL May 2016
"The front desk was very friendly, helpful, and understanding. We loved the swings and open spaces." — Noah-Warsaw, IN May 2016
"Friendly staff, laid back atmosphere, reasonable price, and comfortable." — Mark-KY April 2016
"Your staff is super fantastic! Room extremely clean, bed comfortable, and water in shower is perfect." — Jodie-IN April 2016
"Room was clean and comfortable." — Rebecca-Chicago, IL April 2016
"Thank you for making us feel welcomed." — John-LaGrange, IN May 2016
"Great value with breakfast included." — William-Boston, MA April 2016
"Staff was friendly with great customer service." — Matthew Liethen- April 2016
"Nice place, nice people." — Blanca-Cromwell, IN April 2016
"Friendly staff." — Dale-Kimmel, IN April 2016
"Staff are very friendly and helpful. Your Resort is one of the nicest I have stayed in." — Pamela-Decatur, IL April 2016
"The walk around the property and the land is beautiful. Love the fireplace inside and the coffee. Rooms are very spacious." — Steve-Meridian, ID April 2016
"We liked the area, woods, zipline, pool and fire." — Chera-Tipton, IN April 2016
"I like the fire pit" — Clifton-Muskegon, MI April 2016
"Room was nice, cozy and romantic." — Lee-Pierceton, IN April 2016
"Love the 'by the lake' atmosphere, campfire, etc." — Theresa-IN April 2016
"Hospitality, including breakfast, was great!" — Russell-Andrews, IN April 2016
"A friendly, welcoming feeling. When I travel by myself, I know I need to stay where I feel safe, and I do here." — Peggy-Evansville, IN April 2016
"Beautiful scenery. Fire pit was very nice." — Mike-IN April 2016
"Very quiet" — Barbara-Houston, TX April 2016
"Nice people and front desk staff." — Michael-Niles, MI April 2016
"Comfortable bed and clean room." — Charles-New Paris, IN April 2016
"Friendly staff." — Howie-Millersburg, IN April 2016
"Everything was great." — Kaely-Goshen, IN April 2016
"Very friendly staff. Very clean. Outdoor surrounding area very nice, clean & peaceful setting." — Margaret-IA April 2016
"Laid back, very homey, lots to offer. We loved it!" — Nicole-IN April 2016
"I like your hospitality and friendliness." — Jan-Indianapolis, IN April 2016
"Courteous staff, clean room." — Ron-IN April 2016
"Very pleasant personnel and nice clean room." — Nancy-IN April 2016
"Very relaxing and peaceful." — Luann-Peru, IN April 2016
"Nice clean place, good mattress, & spacious room." — Andrew-Milford, IN April 2016
"Great place to get away." — Greg-Ft. Wayne, IN April 2016
"Staff was very friendly." — Joshua-Marion, IN April 2016
"Everything was great." — Douglas-Sherwood Park, AB, Canada April 2016
"The breakfast was wonderful." — Linda-Syracuse, IN April 2016
"Everything was great." — Heather-IN April 2016
"Meeting room was perfect. Staff was awesome. Thank you so much for everything" — Linda-Elkhart, IN April 2016
"Pleasant staff. Great food, great rooms, great price, great stay." — Randy-Paw Paw, MI April 2016
"Love the location and cleanliness. Keep doing what you're doing!" — Ernest-MI April 2016
"Peaceful area, friendly, nice rooms, very comfortable." — Dan-Elkhart, IN April 2016
"The staff was quite helpful and the pool was awesome!" — Penny-Cromwell, IN April 2016
"It was a great stay. Great job." — Travis-Goshen, IN April 2016
"Everyone is so nice." — Sam-Rensselaer, IN April 2016
"Down home feeling & very friendly, helpful staff." — Joan-Milford, IN April 2016
"Peaceful and quiet." — James-Goshen, IN April 2016
"Room was clean. It's really nice for the price!" — Michael-New Palestine, IN March 2016
"Affordable, friendly staff, homey feel, roomy, clean. Thank you for a great stay!" — Mike-IL March 2016
"Quiet. Everything was great." — Regina-Millersburg, IN March 2016
"Everybody at front desk was very friendly." — Sal-Findlay, OH March 2016
"We've traveled many places but this place is great. Best in Indiana by far." — Brook-North Webster, IN March 2016
"Staff was friendly, room was clean." — Thomas-Cicero, IN March 2016
"Friendly and extra mile service." — Bill-Marshall, IN March 2016
"Large room, clean place! Love the hospitality, fire pit, zipline and atmosphere." — Tammy-IL March 2016
"Our room was amazing and clean. Thank you! Everything was great." — Kerri-Syracuse, IN March 2016
"Rooms are very clean. Front desk very accommodating." — Polly-IN March 2016
"Very nice, clean. Nice second shift staff." — Troy-Tecumseh, MI March 2016
"The staff was very courteous & the accommodations were priced right." — Brenda-Defiance, OH March 2016
"Friendly staff, clean rooms." — Sam-IN March 2016
"Friendly atmosphere. Love the country like setting. Very clean & tidy." — Tammy-Springfield, OH March 2016
"Very relaxing, so comfortable." — Marisa-Raymond, ME March 2016
"The feel is like a bed & breakfast rather than a cold motel. Great breakfast area & food." — Ralph-IN March 2016
"Very friendly staff – helpful." — Penny-Dubuque, IA March 2016
"Quiet, nice views, great breakfast, great price." — Jill-Wheelerburg, OH March 2016
"Helpful staff." — Vicki-Geneva, OH March 2016
"Always a nice stay." — Thomas-Bay City, MI March 2016
"Feels like home. Pool was great. Breakfast choices were great." — Raheem-IL March 2016
"We liked the clean room, friendly staff, pool, and zip line." — Wanda-Colon, MI March 2016
"Friendly staff – room very clean." — Lisa-Anderson, SC March 2016
"Loved the grounds and the hotel room w/the jacuzzi. Everything was great." — Gina-IL March 2016
"We really enjoyed staying here." — Ken-Griffith, IN March 2016
"Clean, quiet, good breakfast, low price. Very nice facility!" — Richard-Cullman, AL March 2016
"Our visit was awesome and the staff is great!" — Jerry-Ft. Wayne, IN March 2016
"Clean and neat, nice breakfast." — Joseph-Grant, MI March 2016
"The bonfire pit and the back woods area was very nice! The rooms, the pool, the service, was all very nice." — Martin-Syracuse, IN March 2016
"Enjoyed our stay." — Kyle-Wabash, IN March 2016
"Cute decorations greeted us." — Stacy-Etna Green, IN March 2016
"Clean room. Very happy with staff and amenities." — Gregory-Elgin, IL March 2016
"Nice staff, great price." — Steve-New Paris, IN March 2016
"Room was lovely." — Dee-Ft. Wayne, IN March 2016
"We enjoyed our stay." — Niceole-South Bend, IN March 2016
"I liked the staff, location, how comfortable it was and the reasonable price." — Matt-Vaughn, MT March 2016
"Quiet, clean, spacious room." — Dorothy-OH March 2016
"The staff was very friendly and sweet. I would love to stay again." — Lea-Lakeville, IN March 2016
"Friendly staff, nice pool & warm jacuzzi." — Josh-Warsaw, IN March 2016
"Great job. Loved the stay!" — Justin-Mishawaka, IN March 2016
"Everyone was really nice. You guys are doing a wonderful job." — Trevor-Wolcottville, IN March 2016
"Very nice & clean." — Lonny-OH March 2016
"Super friendly staff, really clean rooms." — Stacy-Goshen, IN March 2016
"Kind and accommodating staff, clean and decorative room, and a delicious breakfast. Love the location. Price was right." — Joy-Greensburg, IN March 2016
"Quiet location." — Sidney-Three Rivers, MI March 2016
"Comfortable bed, friendly people." — Linda-Antwerp, OH March 2016
"Very peaceful and nice staff." — Kimberly-IN March 2016
"We like the staff, home like feeling, quiet at night, and the salt water pool." — Marcy-OH March 2016
"Love how quiet it is. Great stay." — Sandra-Pierceton, IN March 2016
"It was wonderful! Very clean rooms. Everyone was just great!" — Jason-Warsaw, IN March 2016
"Rooms are very nice with great price." — Chelsey-IN March 2016
"Nice place with good price." — Ralph-WI February 2016
"Impressed by how clean everything was!" — Tim-Upland, IN February 2016
"Like the attention to detail. Staff was great!" — Heather-New Paris, IN February 2016
"Nice, clean, reasonably priced hotel with friendly staff that we will definitely recommend." — Michelle-Woodburn, IN February 2016
"Staff was all super kind & accommodating! You have a very nice facility." — Steve-Albion, IN February 2016
"Quiet & relaxing. Nice room. Friendly staff." — Linda-Claypool, IN February 2016
"We liked everything. Keep doing what you are doing so well!" — Cathy-Portland, MI February 2016
"Relaxed atmosphere. Nice place!" — Daryl – IN February 2016
"Staff was friendly and rooms were nice and clean." — Courtney-Warsaw, IN February 2016
"Excellent service and rooms. We liked everything." — Melody-Goshen, IN February 2016
"How nice the staff was. Great job!" — Austin-Anderson, IN February 2016
"Beautiful and pleasant environment." — Evan-Alliance, OH February 2016
"A very peaceful and pleasant place to relax. Very nice staff, most accommodating." — Russell-IN February 2016
"Friendly service. Thank you!" — Brett-MI February 2016
"Great place to stay. The staff was excellent." — Carole-Edgerton, OH February 2016
"I liked the cost." — Tracy-Ft. Myers, FL February 2016
"We liked relaxing in your quiet Resort. Very cozy & nice." — Marcie-Howe, IN February 2016
"We loved the comfort, cleanliness, the hospitality of the staff. A+" — David-Fortville, IN February 2016
"Everything was great." — Ashley-North Webster, IN February 2016
"Nice place." — Herbert-Syracuse, IN February 2016
"Friendly, happy people. Really enjoyed the stay, thank you." — Charles-Anderson, IN February 2016
"Great service, thanks for everything." — Larry-Millersburg, IN February 2016
"Hot tub, clean room, very pleasant staff." — Kent-Goshen, IN February 2016
"Clean! Clean! Clean! Very friendly staff. Breakfast is much more than continental – very good! Dining room is roomy, grounds are nice." — Jerome-Auburn, IN February 2016
"Peaceful setting." — David-Columbia City, IN February 2016
"Friendly and fun." — Vern-Toledo, OH February 2016
"Comfortable beds. So quiet!" — Kelly- IN February 2016
"Good hospitality" — Myron-Shipshewana, IN February 2016
"This is a lovely, quiet, comfy hotel. My room was great. Staff was very helpful & quick." — Katherine-Malta, MT February 2016
"Romantic room." — Lyle-Nappanee, IN February 2016
"Friendly staff." — Eugene-Bunker Hill, IN February 2016
"Respectfully quiet hotel which was nice for rest." — Heidi-Hudsonville, MI February 2016
"I like how friendly & helpful the staff is." — Martha-Pierceton, IN February 2016
"Hospitality – It's just a cute little place to get away." — Heather-Middlebury, IN February 2016
"Always a nice comfortable stay. Courteous staff, clean rooms, cozy." — Tom-Bay City, MI February 2016
"Quiet. We will be back again." — Carl – IN February 2016
"Room was nice & bed was comfortable." — Reggie-Sturgis, MI February 2016
"I was very impressed with the room. Your hotel has a homey feel. Overall a wonderful experience!" — Jeremy-New Paris, IN February 2016
"Great job! Thanks!" — Jerry-Mishawaka, IN February 2016
"The room is very comfortable." — Violet-New Paris, IN February 2016
"Nice facility." — Duane-Nappanee, IN February 2016
"Pool was great. Staff always asking if we needed anything else." — Camille-Syracuse, IN February 2016
"The room was very cozy and the staff were very hospitable and polite." — Heather-Ft. Wayne, IN February 2016
"The hospitality and some of the upgrades. Doing everything good." — Teresa – IN February 2016
"Spacious rooms, clean, great romantic ambience, salt water pool, friendly staff, great massage!" — Larry – IL February 2016
"Don't change a thing! Best place we've ever stayed!" — Belinda-Gainsville, GA February 2016
"Very nice staff and jacuzzi. Impressed with cleanliness." — Nancy – IN February 2016
"We love the atmosphere. The hotel is beautiful." — Jennifer-Nappanee, IN February 2016
"Very relaxing, warm, and welcoming." — Brian – IN February 2016
"Love the hospitality" — Darin – IN February 2016
"Quiet room, homey feeling." — Christopher-Elkhart, IN February 2016
"I feel like I stepped back in time. The rooms are very quaint & comfortable." — Sharon-Valparaiso, IN February 2016
"I love this place! Thanks so much!" — Jonell-NY February 2016
"The service was very nice." — Chris-Cromwell, IN February 2016
"Clean, friendly atmosphere, and comfortable rooms." — Gretchen-Syracuse, IN February 2016
"Friendly staff. Everything about the room was perfect." — Bob-Ft. Wayne, IN February 2016
"Nice setting, quiet, nice amenities. Room set up was very nice." — Michael – IN January 2016
"Great service & kind employees!" — Clair-Goshen, IN January 2016
"Don't change the country hospitality. It was inviting and relaxing." — Benjamin-Mentone, IN January 2016
"This was a fun place to stay. Thank you!" — Taylor-South Whitley, IN January 2016
"We like the staff and the down home feel. We will be back again." — Jeremy-New Paris, IN January 2016
"The room was set up amazingly. Everything was perfect." — Patricia-Ft. Wayne, IN January 2016
"The personal feel of the entire hotel. Feels like home, not a reproduced cubicle." — Alan – IN January 2016
"Friendly staff & great breakfast. Clean room & a great, quiet location." — Kalen-Trenton, GA – January 2016
"You're doing a good job!" — Davy-Topeka, IN January 2016
"Love the attention to detail. Staff went above and beyond to make us feel at home." — Ray – IN January 2016
"You have a friendly staff and the customer service is priceless." — Mark-, IN January 2016
"Nice relaxing atmosphere." — Dennis – January 2016
"Cozy, relaxed atmosphere." — Daryl-Goshen, IN January 2016
"Quaint and very clean." — Larry – January 2016
"Staff members are very friendly and accommodating. Couples Romance package is a good deal too." — Emily-South Bend, IN January 2016
"Clean & friendly." — Melvin-Ramona, OK January 2016
"Friendly staff members." — Brenda-Ft. Wayne, IN January 2016
"The hotel is gorgeous! Everything was great!" — Therese-Kouts, IN January 2016
"Reasonable price, quiet, and comfortable." — Robert-Ft. Wayne, IN January 2016
"Comfortable and quiet night. Pool is good and breakfast was awesome. Soft water shower." — Barbara-Kokomo, IN January 2016
"Everything was super." — Leetta-Middlebury, IN January 2016
"We loved everything. It's a very nice place." — Tommie-Germantown, OH January 2016
"Clean room, nice hotel, helpful staff." — Vicki-Geneva, OH January 2016
"The hotel is gorgeous!" — Therese-Kouts, IN January 2016
"We loved the hot tub in the room and the Couple's romance package." — Allison-Ft. Wayne, IN January 2016
"Friendly staff members." — Brenda-Ft. Wayne, IN January 2016
"Clean and friendly." — Melvin-Ramona, OK January 2016
"The staff members are very friendly and accommodating. Couple's Romance package is a good deal too." — Emily-South Bend, IN January 2016
"The bed, it was set perfectly and extremely comfortable!" — Kevin-Milford, IN January 2016
"Cozy rooms." — Wilma-January 2016
"I liked the location of the hotel. It gave us a chance to get away." — Constance-Crete, IL January 2016
"Quiet and friendly." — Leah-December 2015
"Staff was very friendly and accommodating." — Jacquelyn-Valparaiso, IN December 2015
"Friendly atmosphere." — Sara-December 2015
"Nice rooms with lots to do." — Ida-Wolcottville, IN December 2015
"Nice grounds and fireplace area." — Trent-Lafayette, IN December 2015
"Clean, friendly, and easy access." — Doug-December 2015
"Loved the privacy, comfort, cleanliness and quiet." — Rita-New Haven, IN December 2015
"Good price." — William-Milford, IN December 2015
"Very nice front desk and cleaning crew! Everyone we spoke with or encountered was excellent!" — Cailan-Syracuse, IN December 2015
"Nice and homey feeling of room." — Alyson-December 2015
"Love how friendly everybody is." — Christina-December 2015
"Hospitality and staff are great." — Steve-Elkhart, IN December 2015
"We love how you had it set up just for us. The candles and the cleanliness." — Harvey-Millersburg, IN December 2015
"As soon as I walked in the front desk clerk was very welcoming. Beautiful lobby and room. Very nice and pleasant." — Cheyne-Milwaukee, WI December 2015
"Good pool and workout room hours, varied breakfast options, more home like atmosphere than most hotels. Nice grounds and setting." — Ellen-Goshen, IN December 2015
"Clean room and friendly front desk staff." — Mark-Leesburg, IN December 2015
"The very nice rooms and comfortable bed." — Roger-Ossian, IN December 2015
"Friendly staff." — Holly-Columbia City, IN December 2015
"Clean, convenient and affordable." — David-Denver, CO December 2015
"Quiet, clean, great value, and the people at the front desk have always been great. Always something new to see every visit." — Gary-Defiance, OH December 2015
"Staff is friendly and bed is comfortable. We enjoyed our stay." — Susan-Syracuse, IN December 2015
"The room was very clean and inviting. The staff was friendly and helpful." — Andy- December 2015
"It's a good place to get away, even if just for one night." — Charles-Bristol, IN December 2015
"Nice quiet place." — Roy-Albion, IN December 2015
"Friendly staff and atmosphere." — Joan-Milford, IN December 2015
"Loved the time away and your beautiful setting. Very relaxing and refreshing." — Floanne-Paulding, OH December 2015
"Very comfy and accommodating." — Nancy- December 2015
"Good location, breakfast. Clean." — Jed- December 2015
"Clean, comfortable with quiet rooms and hot tub." — Homer-Nappanee, IN December 2015
"I loved how I was greeted!" — Cheryl-New Buffalo, MI December 2015
"Good price, convenience & friendliness of staff." — Nick-Indian River, MI November 2015
"Extra amenities and the way we were treated on our honeymoon. Really romantic." — Myron November 2015
"Quiet, well-kept, pleasant facility & surroundings." — Jerry-Pioneer, OK November 2015
"Love the new camp fire. Always enjoy the back porch." — Cathy-New Lenox, IL November 2015
"Love the friendly staff and jacuzzi tub." — William-Evansville, IN November 2015
"Very clean, friendly staff, and good breakfast." — Kerie-Huntertown, IN November 2015
"Friendly staff. Nice and clean rooms." — Thomas-Germany November 2015
"Clean. Friendly staff." — Meredith-November 2015
"Friendly. Courteous staff and beautiful grounds." — Michel-November 2015
"Bed/Mattress very comfortable! Loved the special treatment w/Couple's Romance Package." — Chris-South Bend, IN November 2015
"Very nice place to relax. The snow made it especially beautiful." — Michael-November 2015
"Friendly staff." — Cassandra-Valparaiso, IN November 2015
"It was quiet and fun." — Tricia-November 2015
"Friendly environment and peaceful place." — Emma-November 2015
"The quietness, friendliness, just everything!" — William-November 2015
"Peace and quiet." — Jackie-Raymond, NE November 2015
"Very nice atmosphere. Comfortable beds. Good breakfast." — Robin-Edwardsburg, MI November 2015
"Friendly staff and clean environment." — Justin-Waterloo, IL April 2015
"Clean." — Jeff-Burlington, WI April 2015
"Everything was amazing. Staff was awesome!" — Devon-Columbia City, IN April 2015
"Hot breakfast was a treat." — Frank-Anderson, IN April 2015
"The stay was peaceful and quiet. Very good service and friendly staff." — Mary-Chicago, IL April 2015
"The staff was welcoming and took care of all our needs." — Kimberly-Fayetteville, NC April 2015
"Beautiful property, good service, clean room." — Yvonne-Pierceton, IN April 2015
"How beautiful your hotel/resort is. Also, your staff is very nice & helpful!" — Tina-Ft. Wayne, IN April 2015
"Personable, quiet, pretty and affordable." — Angelina-Noblesville, IN April 2015
"Loved breakfast and the pool." — Doug-Goshen, IN April 2015
"We liked the pool, the large clean room. It was very welcoming with comfy beds." — Mandy-Ft. Wayne, IN April 2015
"We really enjoyed the jacuzzi" — James-Goshen, IN April 2015
"Great to be able to relax" — Diana-Syracuse, IN April 2015
"Very friendly staffing>" — Toni-San Antonio, TX March 2015
"Enjoyed the romance set-up" — Devon-Shipshewana, IN March 2015
"The Hotel was very clean and inviting" — Veronica-Syracuse, IN March 2015
"The salt water pool was great" — Kathy-Middlebury, IN March 2015
"We really enjoyed the Jacuzzi room" — Kurt-Elkhart, IN March 2015
"It was very pretty and a nice clean room" — Mandy-Warsaw, IN March 2015
"The Bed was very comfortable" — Michele-South Bend, IN March 2015
"Room was very welcoming" — Kristy-Zealand, MI March 2015
"Room was nice, loved the romantic touches" — Debra-Rochester, IN February 2015
"Liked the Romance Room, swans, rose pedals" — Judy-Fort Wayne, IN February 2015
"The Lava cake" — Leah-Fort Wayne, IN February 2015
"The room was nice and clean and the staff was very friendly" — Victoria-Roscommon, MI February 2015
"Liked the room and the atmosphere" — Colleen-Fort Wayne, IN February 2015
"Very nice rooms, and very nice ladies in the from office" — Amanda-Goshen, IN February 2015
"It was quiet and peaceful" — Sherry-Warsaw, IN February 2015
"Quite and Clean" — Kyan- Mishawaka, IN February 2015
"We both loved how calm everything was, and all the staff were very friendly" — Shania-Topeka, IN February 2015
"Staff went out of their way to make us happy" — Diane-Bourbon, IN February 2015
"The hospitality was great. The Staff was very friendly and helpful" — Tiffany-Bristol, IN February 2015
"It was very relaxing, private and quiet" — Lynn-Nappanee, IN February 2015
"The staff was friendly and always available and helpful" — Abigail-Oak Creek, WI February 2015
"Peace and quiet and undisturbed privacy" — Toby-Bristol, IN February 2015
"Exceptionally friendly staff" — Michaelina-Plainfield, IN February 2015
"Very relaxing! The rooms were very clean" — Roy-Shipshewana, IN February 2015
"The pool was great!" — Lucinda-Ligonier, IN February 2015
"You staff is very friendly" — Amy-Peru, IN January 2015
"We enjoyed peace and quiet" — Tricia-Botkins ,OH January 2015
"Great service from Kari and outstanding housekeeping staff!" — Dave- January 2015
"The hotel environment is very comfortable and the grounds are beautiful" — Mark-Lawrenceburg, IN January 2015
"Very nice location and the rooms were nice" — Jordan-Sidney, OH January 2015
"The woods and trails were nice. We bring our dog and enjoy walking through the trails" — Richard-English, IN January 2015
"The rooms were very clean" — Theresa- January 2015
"The staff was very helpful" — Jonas-Nappanee, IN January 2015
"The fudge cake was amazing" — Rachelle-Mishawaka, IN January 2015
"Hotel was very peaceful" — Frank-Walkerton, IN January 2015
"The staff was very friendly" — Janet-Syracuse, IN January 2015
"Had very warm and homey feeling" — Kelly-Bluffton, IN January 2015
"Liked how the rooms were prepared for the couple getaway" — Devon-Topeka, IN January 2015
"Very quiet and relaxing" — Melvin-Shipshewana, IN January 2015
"The hotel was very clean and quiet" — Barb-Logansport, IN January 2015
"The room was very clean and the breakfast was good" — Shura-Defiance, OH January 2015
"The rooms were quiet and the resort was quaint" — Karen-Protage, IN January 2015
"The hotel is clean and quiet, and the staff was very friendly" — Sheila-Warsaw, IN January 2015
"I really enjoyed the rose pedals and swan towels on the bed" — Chris- South Bend, IN January 2015
"The romance package was lovely and the desserts were fantastic" — Todd- Milford, IN January 2015
"We enjoyed the romance package" — Kate-Greenfield, IN January 2015
"The rose swan was beautiful, Thank you" — William-Niles, MI January 2015
"The warm pool was nice" — Ruth-Lafayette, IN January 2015
"The Gazebo was great. My husband blind folded me and walked me out to it and danced with me to our song in the middle of the night. Thank you!!" — Crystal-South Bend, IN December 2014
"The staff was very helpful and friendly" — Tim-Elkhart, IN December 2014
"The rooms were clean and the fresh cookies and lava cake were a big hit" — Jaclyn-Fort Wayne, IN December 2014
"The layout of the room was nice" — Kailyn-Warsaw, IN December 2014
"The staff was pleasant and accommodating and the free WIFI was nice" — Yori-Walton, IN December 2014
"Hot baked chocolate chip cookies! What a surprise!" — Tracy-Elkhart, IN December 2014
"The rose petals and swan towels were very cool" — Mary-Syracuse, IN December 2014
"Very Cozy and relaxing and lots of space to enjoy" — Celeste-South Bend, IN December 2014
"Was very quiet and peaceful" — Dale-Silver Lake, IN November 2014
"Beautiful and quiet atmosphere" — Richard-North Webster, IN November 2014
"The Jacuzzi in the room was great" — Shell-Quinton, MS November 2014
"The Breakfast was really good" — Leesburg, IN November 2014
"Was nice to be able to have our dog with us" — Joyce-Carmel, IN November 2014
"Rooms were very clean and the staff was friendly" — Jon-Huntington, WV November 2014
"The romance package was nice and the lava cake was so good" — Joe-Indianapolis, IN November 2014
"It is beautiful here" — Joy-Deer Foot, IN November 2014
"We liked the warm homey atmosphere" — Todd-Decatur, IN November 2014
"The beds were very comfortable got a great night sleep" — Jessica-Grand Rapids, MI November 2014
"Very Homey feel. Great chocolate cake!!!" — Betty-Goshen, IN November 2014
"A very comfortable cozy place and Most courteous staff" — Tom-Bay City, MI November 2014
"The jacuzzi in the room was great" — Sarah-Sturgis, MI December 2014
"The rooms were very clean and the breakfast was delicious" — Anthony- Three Rivers, MI December 2014
"We liked the jacuzzi in the room and memory foam bed" — Fort Wayne, IN December 2014
"We really like the hot tub in the room" — Kyle-Goshen, IN November 2014
"It was very peaceful got, got a great night sleep" — Katie-Goshen, IN November 2014
"The rooms were clean, and the breakfast was good" — Paul-Depere, WI November 2014
"The Staff was friendly" — Charles Maryville, TN November 2014
"The special touches in the room for that romance feel" — Goshen, IN November 2014
"We liked the chocolate lava cake, rose pedals, swan shaped towels and the messages were awesome" — Case-Hicksville, OH November 2014
"We enjoyed the great staff and clean rooms" — Jeff-Coldwater, MI November 2014
"The room was set-up amazingly! And the staff was very friendly" — Ceressa-Shipshewana, IN November 2014
"The atmosphere and staff were nice" — Amanda-Elkhart, IN November 2014
"The hospitality was amazing! Brenda was attentive and welcoming." — James-Goshen, IN November 2014
"The rooms were quiet and inviting" — Travis-Elkhart, IN November 2014
"Great staff! There were very friendly." — Nathan-Elkhart, IN November 2014
"Very Friendly Hospitality!" — Loranna-Topeka, IN November 2014
"The secluded, quiet area around the hotel was great." — Nathan- New Paris, IN November 2014
"The Chocolate desert was very good." — Ben-Jenison, MI November 2014
"The rooms were very inviting, and it was awesome the way the towels were fixed on the bed." — Daniel-Shishewana, IN November 2014
"The rooms nice and clean" — Barabra-Millersburg, IN November 2014
"We loved the atmosphere of the hotel, the rose petals and the swans were a nice touch." — Bailey-Ft Wayne, IN November 2014
"We enjoyed our visit. Please do not change what you do!" — Scott-Goshen IN, October 2014
"The room was beautiful with Rose Petals and Swan Towels, nice clean personal touch." — Naomi-Winona Lake IN, October2014
"Our stay was very relaxing. The candles and rose petals were a nice touch" — Christina-Howard, IN, September 2014
"This is a beautiful establishment, I would recommend it to anyone" — Patricia-Fairland IN, September 2014
"We really enjoyed our stay here. The warm cookies and milk were a treat" — Cheryl- Paulding OH, September 2014
"The grounds are lovely" — Evan-Pauling OH, August 2014
"We loved the homey atmosphere, and the fire place" — Kevin-Mount Vernon OH, August 2014
"We will be back! Our excellent experience is all the encouragement we need." — Ronald-Ft. Wayne IN, July 2014
"We have already made plans to come back next month" — Necole-Sauk Village, July 2014
"The hotel manager did and exceptional job. She is an excellent people person. Very helpful when I was trying to book online" — John-Semindle FL June 2014
"This will be my choice if I am back in this area" — Sara-Salt Lake City UT, June 2014
"We will be back if we are in the area." — Cindy-Peru IN, June 2014
"We really liked the rocking chairs on the porch" — Heather-Goshen IN, June 2014
"We loved the atmosphere and the attention we received from the staff" — Lynn-Goshen IN, June 2014
"We loved it! Great package at a great price." — Chris-Ft Wayne IN May 2014
"We will stay again whenever we are in the area" — Margaret- Greenwood IN May 2014
"The staff is always friendly and looking for ways to help." — Orlando FL, May 2014
"The property is beautiful and peaceful" — Milissa-Jorithie CT, May 2014
"Everything was amazing here" — Steve-New Haven IN, May 2014
"This place is perfect, we will be back" — Brett-Middlebury IN May 2014
"I love that you put on events for different organizations. I also love to hop on the website" — Mary-Valparaiso IN, May 2014
"I really enjoyed myself here, it is a nice place to stay" — Katrina-Laporte IN, May 2014
"I've been coming here for years!" — Ken-Griffith IN, April 2014
"The hotel manager was awesome" — Cassandra-Leesburg IN, April 2014
"Your prices are reasonable and the service is good." — Adam-Big Rock IL, April 2014
"The nice staff had our room nice and warm when we arrived" — Terry-Milford IN, April 2014
"Brook Pointe is a quaint and cozy place to stay" — Jerimiah-Syracuse IN, April 2014
"The customer service was great! We will be back" — Julie-Shipshewana IN, April 2014
"There was no motel feel. It felt like we were visiting someone's home" — Michael-Anderson IN April 2014
"The spacious rooms were nice" — Melissa-North Webster IN, April 2014
"Quiet place with good value, will return" — Chris-Ft. Wayne IN, April 2014
"We loved the romantic get away" — Karen-Dowagiak MI, April 2014
"The staff was very helpful" — Jean-Marysville OH, April 2014
"We loved the walk through the woods" — Jan-Carmel IN, April 2014
"We loved the quiet, country setting and cozy atmosphere" — Jean-Bay City MI, April 2014
"It was very quiet and relaxing" — Sage-Milford IN, April 2014
"The breakfast room was very nice and attractive" — Robert-DeKalb IL, April 2014
"We have recommended you to anyone coming this way." — Glen-East Jordan MI, March 2014
"It was all together a great stay. Very good service and cleanliness" — Samantha-Goshen IN, March 2014
"I enjoyed the quiet" — Mike-Milford IN, March 2014
"I really like that the rooms are no smoking" — Jeff-Greenwood IN, March 2014
"This is a very quiet and great setting" — Tricia-New Paris, IN, March 2014
"The atmosphere is cozy. Loved the convenient location." — April-Muscation IO, February 2014
"The staff made us feel very comfortable, right at home" — Amanda-Syracuse IN, February 2014
"We loved the Romance Package" — Ryan-Bristol IN, February 2014
"The couples get away was very nice. Loved the cake and fancy towels" — Megan Ft. Wayne IN February 2014
"Your pricing is affordable. Hotel is quiet and clean." — Lynn, Belina OH, January 2014
"The room was beautiful and room service was great" — Joseph-Goshen IN, January 2014
"The staff is fantastic" — Derek-Anderson IN January 2014
"Cleanliness, friendliness and atmosphere. We were made to feel so welcome" — Alice – Champaign IL, February 2013
"We love that you are close to everything but out of the way" — Alan-Alexandria IN, February 2013
"Room was nice and clean. Great staff" — Janet-Carmel IN , February 2013
"The whole place smells fresh and clean" — Julie-Elkhart IN, November 2013
"Beautiful property, friendly staff, very welcoming" — Thias-Churubusco IN, November 2013
"The people here are great" — Lana-Willard WI November 2013
"We had a couple's getaway, loved the jacuzzi room" — Mike-Goshen IN, October 2013
"The hotel was clean, quiet and close to everything" — Brad-Mishawaka IN, October 2013
"We loved how nice the room looked when we came in." — Kathlene-Ft. Wayne IN, September 2013
"The size of the cookies is fantastic! Very friendly staff" — Alan-Rochester MN, September 2013
"The lobby and rooms are very cozy" — Cathy-Louisville KY, August 2013
"The kitchen area and rooms are clean" — Amenity – Plainfield IL August 2013
"It is beautiful" — Dave, August 2013
"We enjoyed the breakfast" — Edgar – Fallbrook CA, August 2013
"Homey Atmosphere" — Linda – Battlecreek MI, August 2013
"It was relaxing" — Dawn – Jones MI, August 2013
"We liked the "homey" feeling." — Darwin -Sisco IL, August 2013
"The rooms are spacious and comfortable" — Arnold – Bloomington IN, August 2013
"Quiet and Clean" — Bryce – North Fort Meyers FL, August 2013
"Beautiful grounds" — Derlene – Bloomington, August 2013
"Comfortable Beds" — Emmar – Comstolk Park MI, August 2013
"We liked the jacuzzi" — Kim – Syracuse IN, August 2013
"Convenient to location" — Milton- Powder Springs GA, August 2013
"Friendly service-Very Helpful" — Donell- Kentucky, August 2013
"Very peaceful surroundings and very accommodation staff" — Charlene- San Angelo, TX August 2013
"Liked the desserts, hot tub, towel sculptures and the room was lovely" — Terry- Goshen, IN August 2013
"Friendly staff and it feels like home" — John- New Paris, IN August 2013
"Liked the people, pool and the property was nice" — Ricky- Leesburg, IN August 2013
"It was clean, quiet, and close to the lake" — John- Indianapolis, In August 2013
"Liked the hospitality and cleanliness" — Janet- Tinley Park, IL August 2013
"The people are so warm and friendly and patient with our young relative, who were not quiet" — David- Bethesda MD August 2013
"Comfort of the rooms" — Elmer- Angola, IN August 2013
"Liked the pool, cable, and breakfast" — April- Cromwell, IN August 2013
"Liked the price, the location, the clean rooms, and the great personal" — Gerald, Des Plains, IL August 2013
"Liked the Jacuzzi tub. The room looked nice with rose petals and swans on the bed. The staff was nice" — Tracy- Elkhart, IN August 2013
"Friendly Staff at front desk! the memory foam mattress was so comfy!!" — Shaela- Goshen, IN August 2013
"Liked the Pool" — Timothy- Miamisburg, OH August 2013
"Jacuzzi and walking trails. Also great quite setting" — James- Middlebury, IN August 2013
"Quiet and Clean" — Russ- Louisville, KY July 2013
"Simple, clean, attractive, inexpensive and a good value" — Dick- Meridan Hills, IN August 2013
"Very nice and quiet" — Jeffrey- Centerview, MO July 2013
"Peace & quiet and the staff was friendly" — David- Naperville, IL July 2013
"Very nice and quite" — Jeffery- Centerview, MO July 2013
"The room and bed was very comfortable. The waffles were delicious as were the cookies" — Tipka- New Philadelphia, OH July 2013
"I liked everything!!" — Jo Ann- Ferguson, MO July 2013
"The check in and check out process was fast and easy. I loved the big room" — Isley- Nobelsville, IN July 2013
"Liked the swimming pool, country setting and complementary air mattress" — Lynnnette- Whitewater, WI July 2013
"Home-like, Warm cookies, Breakfast and staff" — Leslie- Indianapolis, IN July 2013
"Quiet and friendly staff" — Bryan- Knightstown, IN July 2013
"Quiet and clean" — Dusty- Indianapolis, IN July 2013
"Convenient, and nice accommodations" — Betty- Deerfleld, IL July 2013
"Quiet, the price is right and it is clean" — Dawn fort Wayne, IN July 2013
"Quiet, spacious rooms, beautiful grounds and helpful staff" — Fran- Syracuse, IN July 2013
"Quite, Nice pol, clean room, friendly staff, nice sized room pretty setting for the Resort" — David- Moravia, NY July 2013
"Quiet, Very clean. Your crew was excellent" — Cheryl- Whitmore Lake, MI July 2013
"Very friendly staff! and helpful too" — Benjamin- Lowell, MI July 2013
"Very clean and smoke free" — Kelly- Milton, IN July 2013
"Quite and friendly like home atmosphere. Beds are very comfortable" — Hal- Avon, IN July 2013
"Liked the people, the staff was very helpful" — Wendy- Fort wayne, IN July 2013
"The staff was AMAZING!" — Susan- Rushville, IN July 2013
"Liked the staff, bed and breakfast. ALL GOOD!" — Brian- Eaton, IN July 2013
"The peacefulness of the hotel, the chocolate chip cookies and the recycle bin is a great idea. Beautiful facility and grounds." — Berny- Waunakee, WI July 2013
"Nice Spacious rooms" — Ion- Goshen, IN July 2013
"Nice room, Nice People" — Baetbel- Germany July 2013
"Room was very clean" — Johnathon-Warsaw, IN July 2013
"Liked the Quietness" — Jarad- Syracuse, IN July 2013
"Very nice, Like to get away from chain hotels" — Henry- Waunakee, WI July 2013
"The relaxed home-like feel" — Crystal Lake, IL July 2013
"Large rooms & counter space in bathroom. Friendly and helpful staff" — Karen- Muskego, WI July 2013
"Friendly Staff, clean room. Noticed and appreciated updates to breakfast room" — David-Chatham, IL July 2013
"Clean room, Friendly Staff, Healthy type breakfast options" — Jane- Fort Wayne, IN July 2013
"Everyone is helpful & friendly. Our rooms has new shades & mattress, seats and a coffee maker" — Annie- Fairmount, IN July 2013
"Immaculately clean room and comfortable climate" — Nyleen- Anderson, IN July 2013
"People working here, very friendly & new gym equipment" — Miranda- Leesburg, IN July 2013
"Convenience, comfort, and the ambiance of the exteriors" — AJ- Florida July 2013
"Friendliness & prompt service of staff" — Deborah- July 2013
"Over all cleanliness is great. Staff was friendly" — Mike- Bristol, IN July 2013
"The handicap accessories and the walk-in showers" — A.J.- Melbourne, IL July 2013
"Very clean" — Cheryl, Cortland, OH June 2013
"The lobby fire place, breakfast-good job" — Teri- Syracuse, IN June 2013
"Cost, where located and Resort not a hotel" — Traci- Indianapolis, IN June 2013
"Nice clean rooms" — Bev- Syracuse, IN June 2013
"Breakfast and plenty of towels" — Ray- West Chester PA June 2013
"Beautiful building and grounds. Restful surroundings. Comfortable bed and good air conditioning" — Stephen- Welland, Ontario June 2013
"Clean Rooms. Liked the pool and exercise room" — John- Muncie, IN June 2013
"Quiet, clean and nice breakfast" — Mike- Springfield, OH June 2013
"Friendly Staff and Clean facility" — Darwin- Cisco, IL June 2013
"Location, very nice breakfast area, large room and 7 good prices" — Curt- Indianapolis, IN June 2013
"It is a quiet beautiful setting. All the staff was very friendly & helpful. I really like the screened in porch" — Donna- Webster City IA June 2013
"The Staff was professional and attentive, the room were immaculate the grounds were the loveliest I'd ever seen" — Bethany- Round Rock, TX June 2013
"Quiet and Peaceful" — Curt- Indianapolis, IN June 2013
"Quiet, Convenient, Clean" — Cathy- Villa Grove, IL June 2013
"Jacuzzi, the candles, rose petals and sparkling drink were nice" — Anita- Goshen, IN June 2013
"Was a "Home" like atmosphere! Friendly staff" — Gerald- Elizabethtown, IN June 2013
"Quiet and peaceful. Glade to see you have recycling" — Chuck- Blue Ridge, GA June 2013
"The romance package was perfect, The hotel staff is very very close second. Very friendly and professional" — Mark Brown- Noblesville, IN June 2013
"The Value! Its worth every penny!" — Karen- Indianapolis, IN June 2013
"Location and Cleanliness" — Patricia- Jacksonville, FL June 2013
"Liked the indoor pool, cookies, Had Plenty of towels and Michelle who checked us in was great and the girl after that" — Lynda- Goshen, IN June 2013
"Plenty of Towels, Cleanliness and attractive entrance and Lobby" — Merle- Highland Park, IL June 2013
"Comfortable Bed and quiet" — Michael- Fenton, MO June 2013
"Gorgeous outside Environment & very gracious employees" — Andrew- Mechanicville, NY June 2013
"Clean rooms and Helpful staff" — Simmons- Green Valley, AZ June 2013
"Friendly Staff, Clean rooms, Peaceful atmosphere for a hotel" — Nancy- Bradenton, FL June 2013
"The Staff was very friendly and helpful" — Laura- Elkhart, IN June 2013
"Liked the Staff, Breakfast and the cookies" — John June 2013
"Romantic Evening, Hot tub and wine" — Brent- June 2013
"Friendly and helpful staff" — Kris- Avon, OH June 2013
"Peaceful and everyone was very nice" — Maria- Goshen, IN June 2013
"Friendly and helpful staff. Yoga was a bonus" — Amy- June 2013
"Excellent service & hospitality. Jennifer was especially helpful in assisting us, with clean up and providing material, etc. She is to be commended for the help above and beyond the call. Thank you!" — William- Breman, IN June 2013
"Roomy rooms and extra chairs. Very Clean. Loved the breakfast and Warm cookies. Everyone is very friendly. Loved the location" — Dixie- Warsaw, IN June 2013
"Homey Feel and accommodating Staff" — Hunter- Alexandria, VA June 2013
"Friendly People, Size of the room, breakfast, grounds, Pool and internet" — Dog- Warsaw, IN June 2013
"Very peaceful, Syracuse is a favorite destination" — Herbert- Elkhart, IN June 2013
"Clean room, good bed, window shades and friendly staff" — Debbie- Ballwin, MO June 2013
"Nice and Clean" — Koger- Clinton, OH June 2013
"Warm, comfortable bed, and size of the room" — Gerald- Greentown, IN June 2013
"The staff is friendly, rooms are clean and big, breakfast is awesome" — Kelly- Pierceton, IN June 2013
"We like the fact that you're "green". Recycling is so important to us, too" — Roger- Akron, OH June 2013
"The pool and your new breakfast staff" — Mike- Grand Haven, MI May 2013
"Friendly accommodating staff" — Randy- Fort Wayne, IN May 2013
"Very relaxing" — Robert-Elkhart, IN May 2013
"Friendly staff and clean" — Vickie- Akron, IN May 2013
"Price is reasonable. Message therapist was a nice addition. Everyone (staff) is very friendly" — Richard- Schaumburg, IL May 2013
"The hospitality from everyone. How Clean everything was. How comfortable the bed was. All the singing birds" — Jean- Wakarus May 2013
"Very pretty, friendly staff and a nice place" — Billy- Marshall, IL May 2013
"Clean rooms and quiet environment" — Cassandra- Leesburg, IN May 2013
"Courteous desk staff, clean room, and convenient" — Tracy- Olmsteed, OH May 2013
"Very nice place, breakfast and very clean" — Linda- Conestoga, PA May 2013
"Liked the peace and quiet" — Glen- Lake Zurich, IL May 2013
"Liked the overall feel of cleanliness" — Laura- Fort Wayne, IN May 2013
"Friendly staff, clean, breakfast was much better than previous stays. Great staff!" — John- Hudson, IN May 2013
"Very roomy and a good breakfast" — Jason- Syracuse, IN May 2013
"Very nice" — Leonard- Woodhaven, MI May 2013
"Cleanliness is always the prime factor when staying anywhere but home" — Leonard- Syracuse, IN May 2013
"Quite Setting" — Amber- Syracuse, IN May 2013
"The staff was friendly" — Joshua- Muncie, IN May 2013
"Cozy, comfortable, breakfast, pool and friendly Staff" — Nancy- Paoli, IN May 2013
"Comfortable, beautiful setting, and affordable" — Melanie- Geneva, OH May 2013
"Very Friendly and Quaint place" — Patricia- Astaeula, OH May 2013
"Clean and comfortable" — Joseph- Eden, WI May 2013
"Liked the real glasses, cups and dishes" — Rachael- Marshall, IL May 2013
"Very close to the lake" — Nusbaum- Hobart, IN May 2013
"Very Beautiful Resort. Everything was very nice" — Lee- Middlebury, IN May 2013
"Staff was super friendly" — Jurek- South Bend, IN May 2013
"How Quiet it is" — Dan- Denver, CO May 2013
"Nice Setting and Friendly Staff" — Lisa- LaPort IN May 2013
"Liked the bed, relaxed staff" — Debra- New Paris, IN May 2013
"Quiet, clean and friendly staff" — Jackie- Heartford, IN May 2013
"The staff was great, and by far the most helpful and friendliest that I've stayed with while being on the road" — Nathon-St. Leouis, MO April 2013
"Friendly Staff, Clean Facilities, nice breakfast, warm cookies" — Ryan- Kimberling City, MO April 2013
"Convenience and comfy Atmosphere" — Dick- Omaha, NE April 2013
"The Price is Right. Convenience and beauty of setting" — Carl- Dekalb, IL April 2013
"Very Quiet, Friendly Atmosphere, Very comfortable beds, and very helpful" — Diana- Mansfield, OH April 2013
"Swimming Pools and Waffles!" — Jay-Milford, IN April 2013
"We loved the new memory foam beds" — Kyle- Fairmount, IN April 2013
"Liked that was a place to stay in a Small town" — Debbie- Syracuse, IN April 2013
"Quiet, Comfortable, Clean and friendly Staff" — James- N. Charleston, SC April 2013
"The Staff was very welcoming!" — Natalia- Syracuse, IN April 2013
"Friendly Staff" — Jo- Terra Haute, IN April 2013
"The rooms are clean & comfortable. Housekeeping is excellent!" — Regina- Crossville, TN April 2013
"How quiet it was and the scenery. The staff was very nice and helpful. Thank you for helping me make my husband's birthday special." — Venessa- Granger, IN April 2013
"Its relaxing and quiet. The hot tub was great. Great price for room. Good Breakfast. Nice location for a hotel." — David- Winona Lake, IN April 2013
"Rooms were clean" — Chris- Cromwell, IN April 2013
"YOUR EMPLOYEES ARE THE BEST!!!" — Andrew- Cedar Lake, IN April 2013
"Beautiful Place and good breakfast" — Dori- Warsaw, IN April 2013
"Helpful staff" — Vicky- Warsaw, IN April 2013
"Friendly Staff" — Ed- Syracuse, IN April 2013
"It was Quiet" — Veronice- Cromwell, IN April 2013
"To the wonderful people at Brook Point Resort, we want to thank you for your warm welcoming and hospitality. We enjoyed spending our 5th anniversary with you. We are looking forward to visiting again. Until then, Thank very much!" — Tyler & Samantha- April 2013
"Staff was Friendly, Clean Facility" — Greg- April 2013
"Very quiet" — Tom- Castalia, OH April 2013
"Everything was perfect, the room was beautiful and very clean. The staff was very friendly & nice" — Jesus- McAllen, TX April 2013
"Friendly Staff" — Jeff- Plainfield, IN April 2013
"Warm Pool" — Peter- Indianapolis, IN March 2013
"Location and quality of room" — Kaleigh- Bremen, IN March 2013
"The pool" — Jaimee- Leesburg, IN March 2013
"Staff goes out of the way to make your stay welcoming" — Joe- Morristown, TN March 2013
"It was peaceful" — Paul- Goshen, IN March 2013
"Homey and cozy atmosphere. Cleanliness of room. Friendliness of Staff" — Jeremy- Faith Baptist Church March 2013
"Very peaceful setting" — David- Faith Baptist Church March 2013
"Entire romance package" — Zachary- Syracuse, IN March 2013
"Convenience of location" — Wendy- Ft. Wayne, IN March 2013
"The room/bathroom was very clean" — Jeff- Faith Baptist Church March 2013
"The room was very welcoming when i walked in, with the light in the window, the decorative towels on the bed, the special little things. Breakfast with real dishes" — Scarlet- Witchita, KS March 2013
"Very Accommodating, Room was excellent, Staff was superb!" — Frank- Ft. Wayne, IN March 2013
"Convenient and friendly staff" — Peter- Santa Barbara, CA March 2013
"Feels like staying at home" — Kevin- Milford, IN March 2013
"The room, everything was clean and the staff was very nice" — Danielle- Pierceton, IN March 2013
"The rose Petals were a very nice, surprising touch. AND THE JACUZZI!" — Peg- Mishiwaka, IN March 2013
"Hot Tub!" — Andrew- Indianapolis, IN March 2013
"The pool was wonderful & the staff was very friendly" — Renea- North Webster, IN March 2013
"Remote quiet location & Friendly Staff" — Dave- Ennis, MT March 2013
"Clean room, friendly staff, & Quite" — Ethel- La Fontaine, IN March 2013
"Great personal, clean rooms, breakfast and reasonable price" — Gerald- Des Plains, IL March 2013
"The room was very nice" — David- Carrollton, OH March 2013
"Friendly, Clean room" — Stephen- Olathe, KS March 2013
"The close location" — Scott- Lexington, KY March 2013
"Quite, Clean, Very Nice!" — Lisa- Atlanta GA March 2013
"Very relaxing, not the hotel chain "corporate" feel of the other places" — Paul- Constantine, MI February 2013
"Not over crowded, the pool hours (till midnight)" — April- Syracuse, IN February 2013
"When we drove in we loved the fact that it was beautifully lit up outside and it was clean and quiet" — Merv- Middlebury, IN February 2013
"Room very clean & friendly staff" — John Elkhart, IN February 2013
"Close to home, quiet and clean. Good internet service" — Kent- Goshen, IN February 2013
"How nice everyone was. The room was very clean" — Wesley, Bristol, IN February 2013
"The in room hot tub" — Vagn- Elkhart, IN February 2013
"The hot tub" — Brook- Milford, IN February 2013
"Coziness and hominess" — Ray- Goshen, IN February 2013
"The people are great. We had an unusual request to park our big horse trainer, and they showed us the best place. We will be back again and again" — Joey- Arapaho, OK February 2013
"Warm & welcoming staff, the chocolate chip cookies, clean room And the helpful restaurant suggestions" — Brenda- Indianapolis, IN February 2013
"Live Music at dinner was nice. GREAT BAND!" — Melissa- Nappanee, IN February 2013
"Nice looking room, clean" — Olga- Indianapolis, IN February 2013
"Hot tub room and romantic theme" — Randy- Milford, IN February 2013
"Staff-Friendly and helpful, A++" — Andrew February 2013
"Comfy bed" — Jacob- Crawsfordville, IN February 2013
"Clean and comfortable" — George- Battle Creek, MI February 2013
"King sized bed and Jacuzzi!!" — Eric- February 2013
"Nice and comfortable" — Dewayne- Millersburg, OH January 2013
"Close to destination and easy to find" — Jimmy- Pleasant Lake, IN January 2013
"Very pleasant, clean, accommodating, good breakfast choice, and nice conference room" — Joe- Goshen, IN January 2013
"Staff was friendly and professional" — Danielle- Cromwell, IN January 2013
"The staff was really friendly and the room was nice" — Heather- Middlebury, IN January 2013
"The unbelievable hospitality of the staff" — Ryan- Three Rivers, MI January 2013
"Convenience to Syracuse. Parking and large rooms" — Sarah- Traverse City, MI January 2013
"Always comfortable and clean" — Milton- Celina, OH January 2013
"Quite and relaxing" — Dana- New Paris, IN February 2012
"Very Homey feel. A real key was great too" — Josh- Syracuse, IN February 2012
"Great place, Comfortable beds" — Gregory- Painsville, OH February 2012
"Pleasant and friendly staff. Quiet and clean" — Kevin- Maple Leaf Farms February 2012
"Friendly, quaint atmosphere and they are very accommodating staff. Enjoyed meeting Ben ( the Owner)." — Garry- February 2012
"Jacuzzi in the room. The location is a quite area, very appealing. Very clean and the staff was so nice and friendly" — Dana- Milford, IN February 2012
"The hot tub and the staff" — Christian- Syracuse, IN February 2012
"Convenience and comfort" — Kathline-Vermillion, OH February 2012
"Warmth of the pool and the location" — Jennifer- Brownsburg IN February 2012
"The beds were comfortable, the rooms are nice and the pool and breakfast was awesome." — Amy- Kendallville, IN February 2012
"It's beautiful and looks like home" — Alfredo- Maumee, OH February 2012
"The romantic atmosphere, the Jacuzzi tub, and the friendly staff" — Mike & Rhonda Lowell, IN February 2012
"Jacuzzi and pool" — Joseph- Warsaw, IN February 2012
"Everyone was polite and it was peaceful" — Jennifer- Syracuse, IN February 2012
"Everything, pool, Jacuzzi, Chocolate cake" — Robert- Elkhart, IN February 2012
"Personal attention of the staff, comfortable rooms. The massage!" — Liz-Warsaw, IN February 2012
"Beautiful place and wonderful staff" — Kassie- Syracuse, IN February 2012
"This whole weekend was very awesome. We got great service from Margret and enjoyed the whole stay!" — Kenny- Syracuse, IN February 2012
"Friendly staff" — Katie-Goshen, IN February 2012
"Clean Bright Room and facilities. Courteous staff, excellent coffee" — John- Pickerington, OH February 2012
"Staff was very!!! helpful and accommodating" — John- Tucson, AZ February 2012
"Nice rooms, very friendly staff and owner. Assisted with every need or wish" — Sue- Colonial Beach, VA February 2012
"Convenient to Town" — Al- Clare MI February 2012
"The Quietness and friendliness of the staff" — Heather- New Paris, IN February 2012
"Very clean, beautiful surroundings. Staff very nice and friendly" — Mary-Lynwood, IL February 2012
"Comfortable bed. the staff was very helpful. Convenient to Redwood Factory" — Tim- Barrie, Ontario November 2012
"The room was huge" — Ben- Evansville, IN November 2012
"The rooms were nice" — Brad- Naperville, IL November 2012
"The Comfy beds" — Wendy- Bowling Green, OH November 2012
"Couples romance getaway and everything that came with it" — Jason- Defience, OH November 2012
"Very relaxing" — Fritz & Kris Shipshewana, IN November 2012
"Nice clean room" — Mike- Waterman, IL November 2012
"Helpfulness of the front desk, Clean, Size of the Room" — Jim- Eddyville, KY November 2012
"Very Quite, Very Well Decorated" — William-Vicksburg, MI November 2012
"Clean Rooms, Very friendly, Close to where we enjoy being when in town. Love the larger Towels" — Korky- Morristown, TN November 2012
"We really liked the small details, the rose petals and the towel swan. We also enjoyed the hot tub" — Charlse- Fairmont, IN November 2012
"Discounts for anniversary, jacuzzi" — Richard- Shipshewana, IN October 2012
"Price, heated pool, attention to detail for romance getaway" — Vicki- Goshen, IN October 2012
"Very clean, nice and homey" — Carla- Westfield, IN October 2012
"The pool late at night" — Marcus- Syracuse, IN October 2012
"Rooms were very nice" — Crystal- Goshen, IN October 2012
"Liked everything, great place!" — Gary- Worthington, IN October 2012
"The friendly staff and quite setting" — Alisa- Fort Wayne, IN October 2012
"Cookies, And Pleasant Staff" — Aleta- Grand Rapids, MI October 2012
"The Whole Experience! Amazing place and service" — Micha- Syracuse, IN October 2012
"Clean and pretty rooms, Nice staff" — Michael- South Bend, IN October 2012
"Everyone was friendly, courteous and helpful, the accommodations were clean and comfortable, everything was peaceful and pleasant, we specially liked the information notebook and Gideon Bible in the room." — Graham- Syracuse, IN September 2012
"The laid back, country like atmosphere, so comfy we felt like we were at home. Nice and quiet yet very close to town." — Samantha, Fort Wayne, N September 2012
"Nice big rooms." — Brenda- SK, Canada September 2012
"Quiet, peaceful, affordable and clean rooms." — Carl- Chicago, IL September 2012
"There were multiple spaces to meet up with a larger group." — Erin- Lafayette, IN September 2012
"Quiet and clean." — Louis- Loveland, OH September 2012
"Peaceful, cozy and the hospitality." — Sherry- Westfield, IN September 2012
"Staff was very helpful, friendly and the rooms were clean." — Dawn- Ypsilanti, MI September 2012
"Quiet, hiking path through woods in the back and the friendliest employees anywhere." — Daniel- Cincinnati, OH September 2012
"I was very impressed with how nice the room was. It made me feel like I was at an extremely expensive hotel." — Dawn- Dublin, CA September 2012
"The quiet and peaceful setting." — Ricky- Indianapolis, IN September 2012
"Nice room, romantic touches were wonderful, very clean and personable." — Helen- Elkhart, IN September 2012
"Quiet location and jacuzzi." — William- Grand Ledge, MI September 2012
"Great service." — Marla- Noblesville, IN September 2012
"Clean room and nice outside area." — Craig- Gas City, IN September 2012
"Clean and comfortable beds and pillows." — Carl- Chicago, IL September 2012
"Everything was so clean and the staff was very pleasant." — John- Evanston, IL September 2012
"Very clean and friendly." — John- Evanston, IL September 2012
"So clean and comfortable." — Brian- Eaton, IN September 2012
"Close to Wawasee Lake and staff very friendly and helpful." — Catherene- Washington, IL September 2012
"The hospitality, cleanliness of the entire facility." — Tary- Fort Wayne, IN September 2012
"Nice location and homely feel." — Sarah- Fort Wayne, IN September 2012
"All is nice and very accommodating." — Janice- Zionsville, IN August 2012
"Friendly and clean environment." — Pricilla- Chillicothe, OH August 2012
"Very nice and clean." — Joseph- Union City, PA August 2012
"Friendly employees and quiet remote setting." — Mike- Warnsburg, IL August 2012
"Great views and very peaceful." — Karl- Vista, CA August 2012
"Friendly and clean." — Bessie- Indianapolis, IN August 2012
"Clean and staff was friendly." — Tim- Fremont, IN August 2012
"Very quiet and peaceful." — Duane- Kattering, OH August 2012
"Clean rooms, comfortable beds, very friendly and accommodating staff." — Peggy- Dallas, TX August 2012
"Clean spacious rooms and free WiFi." — Peter- August 2012
"Comfortable bed and lovely scenery." — Edwin- Mishawaka, IN August 2012
"Very clean, pretty and a nice staff." — Lea- Indianapolis, IN August 2012
"Polite staff and quiet rooms." — Anita- Plymouth, IN August 2012
"The rooms were clean." — William- Battle Creek, MI August 2012
"It is lovely here. Peaceful, quiet and a friendly staff." — Kathy- West Lafayette, IN August 2012
"Clean pleasant accommodations and staff always friendly." — David- Indianapolis, IN August 2012
"Cleanest motel I've ever been to." — Gary- Matteson, IL August 2012
"Location, comfortable and friendliness." — Dick- Meridan Hills, IN August 2012
"The room was very nice and clean." — Jonathan- Syracuse, IN August 2012
"Coffee at 5:30 AM." — Kim- Fort Wayne, IN August 2012
"Quiet pleasant facility, breakfast was very good and staff friendly." — Catherine- Palo Alto, CA August 2012
"Clean room, quiet atmosphere and friendly front desk staff." — Douglas- Butler, IN July 2012
"Comfortable, home feeling and clean." — Colleen- Bonita Springs, FL July 2012
"It was quiet." — Terrie- Fort Wayne, IN July 2012
"Rooms are very nice, clean and comfortable." — Karl- Loogootee, IN July 2012
"The availability and it was quiet." — Linda- Brandon, VT July 2012
"Rooms are clean and atmosphere is very pleasant." — Richard- Downers Grove, IL July 2012
"Close to Quaker Haven." — Cathy- Greenfield, IN July 2012
"The desk staff was very nice." — Jeff- Carmel, IN July 2012
"A beautiful facility." — Nancy- Indianapolis, IN July 2012
"Quiet, homey atmosphere, rural setting." — Mike- Atlanta, IL July 2012
"Comfortable rooms and nice setting." — Lenora- Venice, FL July 2012
"Quiet location." — Kelley- Orion, MI July 2012
"Very clean. Also appreciated your book showing history and area places" — Ken- Griffith, IN July 2012
"The quiet atmosphere, very kind, helpful staff and excellent room." — James- Ring Gold, GA July 2012
"Clean, spacious room and friendly staff." — Sandra – Saginaw, MI July 2012
"Very comfortable, quiet and appreciate the breakfast." — Joan- Fountain City, IN July 2012
"Very nice, no complaints." — Terri- Chicago, IL July 2012
"Nice room and hot tub along with a friendly courteous staff." — B.- Bedford, IN July 2012
"We liked the setting and the large rooms." — Katie- Winfield, IL July 2012
"Large room and quiet." — Karen- Muskego, WI July 2012
"The staff during breakfast was wonderful." — K.- Winfield, IL July 2012
"Clean and large room." — Kathleen- Fremont, MI July 2012
"The serenity of the place was nice." — David- Windsor, ON July 2012
"Friendly and helpful staff." — Patricia- Indianapolis, IN July 2012
"We liked the recycling in the room, the location and the hospitality." — Char- Harrisonburg, VA July 2012
"Clean and quiet." — Russell- Syracuse, IN July 2012
"Rooms (beds, carpets, and bathrooms) are very clean." — Joe- Bluefield Hills, MI July 2012
"Clean place." — Aaron- Carmel, IN July 2012
"Very nice and quiet." — Sally- Fremont, IN July 2012
"Hotel was clean." — Ryan- Batavia, IL July 2012
"It's comfortable and spacious, while maintaining quiet country charm." — K- Anderson, IN July 2012
"Beauty of the lobby area, surroundings and pretty decor in room." — Donald- Buchanan, MI July 2012
"Quiet and peaceful." — Debbra- New Palestine, IN July 2012
"Pool and friendliness, basically all of it." — David- Peru, IN July 2012
"Quiet, clean and close to lake." — Jane- Plainfield, IN July 2012
"The location and cleanliness." — Paul- Grand Rapids, MI July 2012
"Room was spacious, well appointed and comfortable." — Daniel- Carmel, IN July 2012
"Clean and friendly." — Celeste- Chicago, IN July 2012
"Close to The Frog." — Jamey- Elkhart, IN July 2012
"Very quiet and friendly." — Jonnie- Forest, IN July 2012
"It was a great location, picturesque, convenient, clean and had a friendly staff." — Ken- Fishers, IN July 2012
"Very comfortable, clean and reasonably priced. We also appreciated that it's locally owned and operated. We can see that employees take pride in the business." — Francie- Oakland, CA 2012
"The friendliness and kindness of the staff. They went the extra mile to make sure we enjoyed our stay, pool and the fireplace." — Earl- Upland, IN July 2012
"Everything, especially the glass cups for our coffee." — Rosemary- Vincent, OH June 2012
"Clean, quiet and friendly." — Clara- Fort Wayne, IN June 2012
"Cleanliness, setting and courteous staff." — Mitchell- Dunkirk, IN June 2012
"The clean rooms and continental breakfast." — Lynn- Wheaton, IL June 2012
"Clean and convenient." — Robert- Fort Wayne, IN June 2012
"Great staff and attention to detail." — Edwin- Greenville, WI June 2012
"We really enjoyed our stay, no complaints." — Matthew- Nappenee, IN June 2012
"Convenient location and excellent service." — Clara- Trumble, CT June 2012
"Quiet, cool and comfortable retreat away from the heat." — David- Manchester, CT June 2012
"It's clean, private, relaxing and friendly." — Devon- Nappanee, IN June 2012
"We liked the handicapped room. The shower was great for someone that uses a walker, and the swan towels." — Cindy- Tipton, IN May 2012
"We enjoyed the heated pool, continental breakfast and the reasonable prices." — Debbie- Kokomo, IN May 2012
"The room was neat!" — Frank- Crawfordsville, IN May 2012
"The service was nice. It was very peaceful and quiet. Very Serene and nice." — Justine- Milford, IN May 2012
"Nice area with a beautiful Scenery! Very friendly staff." — Erin- Davenport, Iowa May 2012
"Very pretty and attractive facility." — Colleen- Norwalk, Iowa May 2012
"Friendly staff and clean facility." — Ann- Anderson, IN May 2012
"Great environment." — Carl- Dekalb, IL May 2012
"I loved the swan on the bed." — Charles- Milford, IN May 2012
"Beautiful grounds, friendly staff and screened in porch" — Donald- Menheim, PA May 2012
"Clean and friendly facility. Loved the pool!" — Rick- Kokomo, IN May 2012
"Very quiet" — Randy- Asbeboro, NC May 2012
"Beautiful setting and friendly staff." — Jenna- Plymouth, MN May 2012
"Clean room and friendly atmosphere." — Gary- Balesville, IN May 2012
"Clean rooms and we enjoyed the jacuzzi." — Ken- Griffith, IN May 2012
"Quiet and cozy. Loved the pool." — Georgio- Milford, IN May 2012
"Friendly and clean." — Amy- Russiaville, IN May 2012
"Nice, clean and quiet." — Todd- Markle, IN May 2012
"Quiet and well appointed." — Kathy- Portage, IN May 2012
"Peaceful and quiet." — Tatiana- Chicago, IL May 2012
"Clean and comfortable with a friendly staff." — Wendy- Fort Wayne, IN May 2012
"Quiet and clean." — Barb- Schaumburg, IL May 2012
"Extremely clean, and no smell of smoke anywhere." — Amy- Lapel, IN May 2012
"Not a normal hotel, it has it's own personal touch. Very clean." — Bob- New haven IN May 2012
"The staff is very accommodating, then Resort is also very comfortable." — Alicha- LaMonte, IL May 2012
"Quiet and comfortable." — John- Orland Park, IL May 2012
"Friendly staff and continental breakfast." — Curt- Steger, IL May 2012
"Great privacy and quietness." — James- San Antonio, TX May 2012
"Clean, friendly atmosphere and good prices." — Leon- Beatrice, NB May 2012
"Quiet, locally owned and accommodating staff." — Mary- Atlanta, GA May 2012
"Convenient, clean, and friendly staff." — Virginia- Maple Glen, PA May 2012
"Great location." — Gerald- Desplains, IL May 2012
"Lighting is great outside and in the hallways." — Morgan- Morristown, TN May 2012
"Cleanliness" — Joseph-Shediac, NB April 2012
"Convenient, quite & comfortable." — Wendy-Fort Wayne, IN April 2012
"Friendly accommodating staff." — Robert-Crown Pointe, IN April 2012
"The setting is very nice." — John-Ligonier, IN April 2012
"Attractive, convenient location, woman at front desk very helpful." — Bruce-W. LayFayette, IN April 2012
"The quiet and calmness and hospitality." — Elsbeth-Switzerland April 2012
"It is quiet and peaceful" — Becky-Leesburg, IN April 2012
"Peaceful, charming environment, friendly staff." — Elson-Milton, WI April 2012
"All is excellent, great staff." — Sam-Montreal, Quebec March 2012
"Convenient, quiet, friendly, fair pricing per night." — Lenore-Boynton Beach, FL March 2012
"Pool, new towels & quiet." — Stephen-Rossiville, IL March 2012
"Quiet" — Keith-Indianapolis, IN March 2012
"Hot tub" — Theresa-Milford, IN March 2012
"Quiet and staff was friendly." — Garnet-Oxford, MI April 2012
"The homey atmosphere." — Garnet-Oxford, MI April 2012
"Clean, accommodating, free Wi-Fi, attentive." — Matt-Syracuse, IN March 2012
"Staff/surroundings" — Cruz-South Bend, IN March 2012
"Very nice place, clean & very homey, staff very friendly, close to town with country beauty." — March 2012
"The room was quiet and private, room size. Dining room is really nice and the food." — Ken-Portsmouth, OH March 2012
"It was quiet and rooms are comfortable." — Mike-Martinsville, IN March 2012
"The friendliness & personal attention" — Karen-New Albany, IN March 2012
"Pool area is nice, good Wi-Fi signal in room. Hotel is quiet and staff is friendly and helpful." — Daniel-Leesburg, IN March 2012
"Comfortable room, clean bathroom with great shower & great bed." — Cora-Warsaw, IN March 2012
"Quietness-Peaceful-Friendly staff" — Linda-Portage, IN March 2012
"Nice & quiet!" — Dawn-Syracuse, IN March 2012
"Peaceful "homey" atmosphere." — Winnie-Portage, IN March 2012
"Quiet" — Paul-Atlanta, GA March 2012
"Quiet & Clean overall, nice staff" — Christopher-Brunswick, OH February 2012
"Nice place!" — Flynn-Urbana, IL February 2012
"Close to home." — Paula-Syracuse, IN February 2012
"The bed was among the most comfortable in any hotel that we have stayed in." — Jacob-Crawfordsville, IN February 2012
"Quiet, non-chain, non-cookie cutter rooms." — Paul-Monroe, MI February 2012
"Close to Wawasee Lake" — Thomas-Indianapolis, IN February 2012
"Courtesy was given by employees towards guests." — Richard-Benton, IL February 2012
"Peaceful" — Michael-Benton, IL February 2012
"The young woman manning the front best both mornings was very helpful." — Chad-Raleigh, NC February 2012
"Hot tub & quiet" — Jennifer-Anderson, IN February 2012
"Good price" — Shawn-Syracuse, IN February 2012
"The Cookie Crisp cereal you had for breakfast!" — Ivy February 2012
"Nice place" — Flynn – Urbana, IL February 2012
"Close to home" — Paula – Syracuse, IN February 2012
"The bed was among the most comfortable in any hotel that that we have stayed in" — Jacob – Crawfordsville, IN February 2012
"Quiet, non-chain/cookie cutter rooms" — Paul – Monroe, MI February 2012
"Close to Wawasee" — Thomas – Indy, IN February 2012
"Peaceful" — Michael – Benton, IL February 2012
"The young women at the front desk both mornings was very helpful" — Chad – Raleigh, NC February 2012
"Hot tub & Quiet" — Jennifer – Anderson, IN February 2012
"Privacy" — Brittney – Marion, IN February 2012
"Fresh clean smell and the lady up front was helpful" — Charles – Milford, IN February 2012
"The friendliness of the staff and the way they made us feel welcomed and making sure we were" — Ricky – LaPorte, IN February 2012
"Staff very nice and helpful" — Lynn – Montgomery, IN February 2012
"Friendly service – everyone was very polite and helpful" — Josh – Lacamia, IN January 2012
"Staff is very pleasant and accommodating, I love the quiet beauty of the building" — Tammy – Leesburg, IN January 2012
"Convenience to office" — Slvia – Cleveland, OH January 2012
"Hotel is clean" — Michelle – Cleveland, OH January 2012
"Comfortable Bed & Room – Clean – Nice front staff" — Carla – Alpena, MI January 2012
"Feels like home now, always friendly, always clean, and soft water" — Joe – Morristown, TN January 2012
"Quite & Clean" — Steve – Rossville, IL January 2012
"Makes you feel at home" — Kristopher – Lafayette, IN January 2012
"Homely atmosphere, quiet" — Mary – Kokomo, IN January 2012
"In town & friendly great staff" — Gary – Lafayette, IN January 2012
"The clerks were very pleasant and made our stay pleasant, very clean" — Sally – Marion, IN January 2012
"It is always very clean and everyone is always so nice. It is a beautiful place and very well maintained" — Arvilla – Fairfield, OH January 2012
"We have been staying here for the past 10 years and there has never been anything we weren't happy with." — Arville – Fairfield, OH January 2012
"How friendly the staff is and always there is I needed anything." — Robert- Fairfield, OH January 2012
"Good value and you are not a chain hotel, close location to where I needed to be." — Marisa – Sidney, NY January 2012
"Location & Atmosphere" — Fried – Decatur, AL January 2012
"Quiet friendly staff, pool is clean" — Phillip – Pachuta, MS January 2012
"It is quiet." — Thomas – Indianapolis, IN January 2012