At Brook Pointe Resort, we've crafted unique "Travel Agent Deals," offering a myriad of options to suit every travel agency's needs. Plus, we extend a special invitation for you to experience the charm of our resort firsthand. For a free stay, use CODE: TRAVELAGE99 when making your reservation.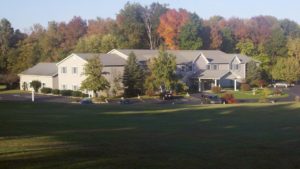 The romance begins when the couple walks into a Jacuzzi room decorated with candles and rose petals. A chilled bottle of sparkling bubbly is waiting on ice for them. We offer all guests a discount card to use at local restaurants. When the couple returns to the room and are ready for dessert, we deliver two chocolate lava cakes with coffee or milk to their room. Each morning a hot breakfast is served in our dining room for each of our guests.
Travel Agent Deals – Option 1: Referral Partnership
If your agency policy is referral-based, this option fits you perfectly. Refer your clients to Brook Pointe and enjoy a complimentary stay to experience our exceptional services.
Travel Agent Deals – Option 2: Direct Booking with Discount
If your agency is involved in client reservations, this deal allows you to make the booking over the phone and receive a 20% discount. Subsequently, you can charge your client the full amount. Use CODE: TRAVELAGE81 when booking for this deal.
Travel Agent Deals – Option 3: Direct Billing
This deal allows you to make a reservation on your client's behalf and receive a direct bill from us. You're free to add a booking fee on top of our charges. This option does not include a discount.
We're open to new ideas and innovative collaborations. If you have a suggestion for other "Travel Agent Deals", please email us at info@brookpointeinn.com.
Testimonials
Don't take our word for it, this is what some of our customers had to say!


Marketing Brochures and Links
To better assist you in promoting Brook Pointe Resort, we provide downloadable Couples Romance Getaway brochures for your clients. If you require physical brochures, please email your request to marketing@williamjamesmorris.com with your travel agency's name, address, and the quantity needed.
You're also welcome to share any links or brochures from our website, and feel free to engage with us on our Twitter and Facebook pages.